One of Tuscany's finest 5 star hotels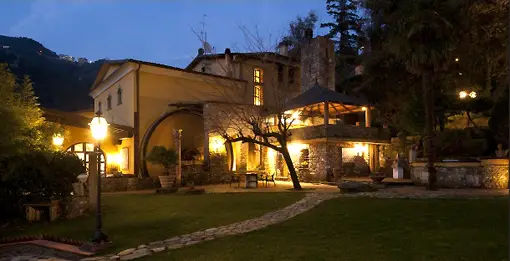 Located at the foot of the green hills of Forte Dei Marmi, enjoying both the reflection of the Mediterranean Sea and the peace of Apuanian Alps, Il Bottaccio Relais & Chateaux is an elegant hotel and a superb restaurant created around a seventeenth century water-powered olive mill  transformed into an oasis of refinement and serenity.
Part luxury resort, part country house, Il Bottaccio di Montignoso is one of Tuscany's finest 5 star hotels ever: offering awesome accommodation, incredible cuisine and superb spa facilities, all within minutes of the sea and the beaches of Versilia.
Il Bottaccio is an aristocratic Relais with few exclusive suites tastefully furnished in every detail and created in the spirit of offering even the most demanding gourmet traveller hospitality which rivals the level of the cuisine. Each suite is different in its ambience and mood. The prestigious Italian designs are carefully blended with precious antique pieces from the 17th century. The owners, Elio and Laura D'Anna synthesized their formula as: "the hospitality of a refined Tuscan villa where the pleasures of the table are harmonized with the savouring of comfort and calm".
The Hospitality provided by the Bottaccio to its gourmand travelers matches the quality of its cuisine. The freedom of the guests and the respect for their habits and privacy is paramount. Large spaces with open views on the greenery complement the very large private suites, whose name is different for each one of them, as well as different is the character of the atmosphere.
The 18th century pieces dotted in the suites sensually blend with prestigious contemporary furnishing. Il Bottaccio successfully blends the charm of a country mansion with the pleasure of refined catering and the luxury of absolute peace.
In order to provide Clients with an experience of total wellness and relaxation, Il Bottaccio guarantees 24 hour room and bar service, free Wi-Fi connection everywhere in the building, a wake-up call service, security boxes and the convenience of an inside parking lot.
There is also a cooking school that runs throughout the year. Small classes with a maximum of eight participants, ensures you have a hands-on learning experience with personal instructions. At Il Bottaccio you will have the chance to participate in a working kitchen, giving you the behind-the-scenes experience of a top Italian restaurant.
For more information visit: Il Bottaccio Luxury Suites & Restaurant