An Italian foodies piece of Italy… and heaven, in NYC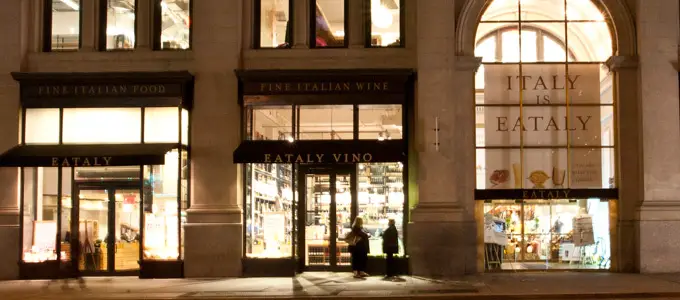 If someone were to ask me to describe Eataly to them in just a few words, I would tell them that the 50,000 square foot marketplace is the Disneyland of all things Italian. Opened on August 31st, 2010, Eataly is owned by Italian powerhouses and culinary household names, Lidia Bastianich and Mario Batali. The two, with other various partners, have successfully created the largest Italian marketplace in the world, drawing crowds of thousands through their doors daily.
While there are countless Italian joints in Manhattan, dining and shopping at Eataly is a unique experience that cannot be duplicated anywhere else. As a foodie, you will find delectable and Instagram-worthy dishes to feast your eyes on. And as an Italian, you will appreciate the authenticity of every inch and detail of the venue. So, without further ado, here are my 5 reasons to stop everything and go to Eataly right now!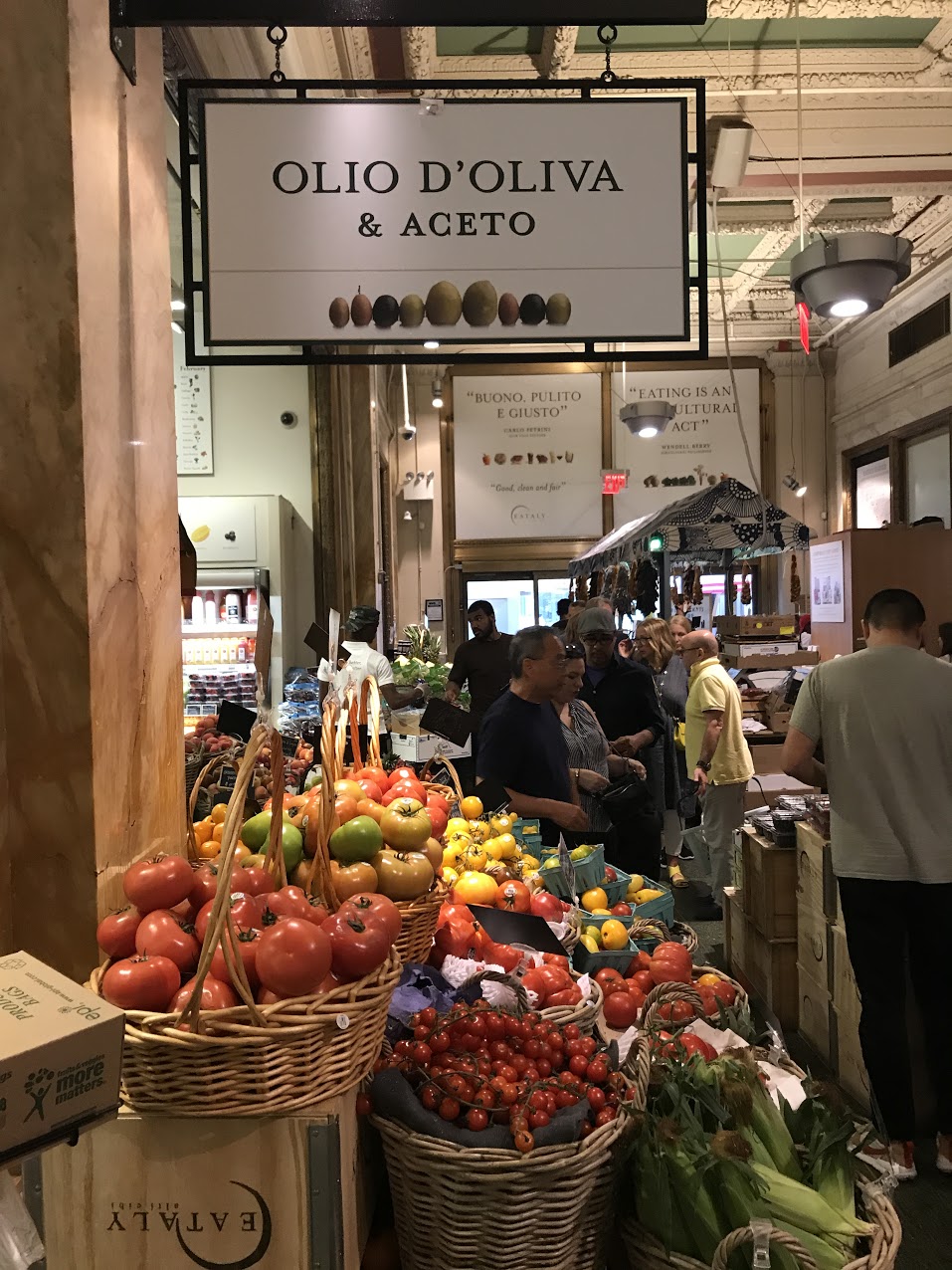 Lidia Bastianich and Mario Batali are both owners of award winning restaurants, and in Eataly, they have joined forces to bring unique specialty restaurants to the New York City scene. Whether you are in the mood for steak, seafood, or a classic dish of pasta or pizza, Eataly has got you covered. Check out their restaurant simply called La Pizza & La Pasta for a heaping bowl of Bucatini all'Amatriciana and a brick oven margherita pizza. Although they do not take reservations, put your name in with the hostess (there is usually a wait for this restaurant), and pass the time by perusing their pasta aisles. At Manzo, you will experience their fresh cuts of meat, and at Il Pesce, you will find fresh and authentic Italian seafood dishes. If you are on the go, make sure to stop by their casual sandwich stand and pick up a juicy prime-rib sandwich. Whenever I am at Eataly, this is my go to, whether I eat it there or take it home with me. It is simply delicious!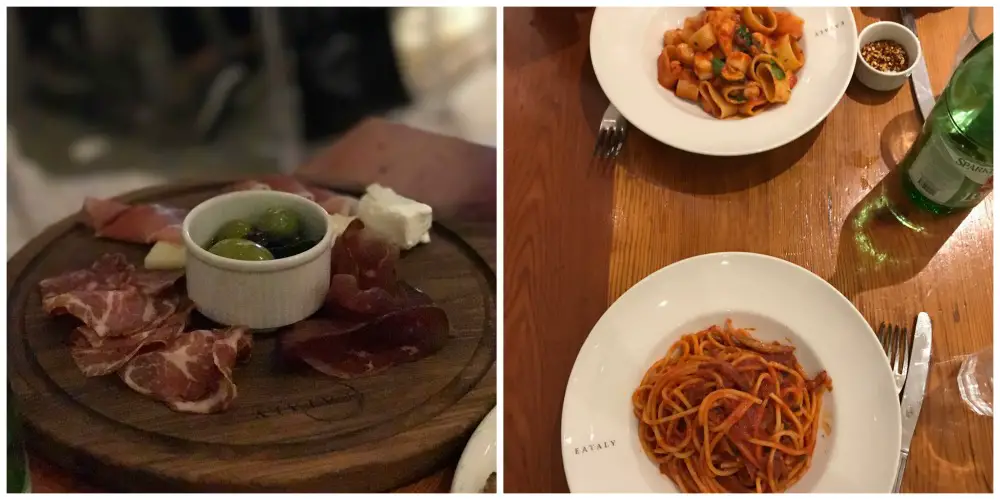 Speaking about pasta, Eataly boasts one of the largest pasta selections out there. With long, sweeping aisles lined with various brands and shapes, your basket will quickly fill up with box after box of pasta, trust me, I am speaking from personal experience! This past Sunday, I picked up a box of Monograno Penne Lisce (among other types of pasta) to pair with my signature marinara sauce, and it did not disappoint! These pastas also make great gifts. Make sure to check out their extra long bags of mafalda and linguine! Not only does Eataly have an extensive selection of dry pasta, but they also have an entire section of handmade pastas which are made in house (you can watch the employees hand make cavatelli!). Handmade pastas are usually lighter than dry pastas, but if you aren't convinced, you can give them a taste test first at La Pizza & La Pasta restaurant, where select dishes are made with their handmade pasta.
In all honesty, need I say more? As if Eataly wasn't amazing enough, they recently added in this Nutella installment where you can pick up yummy desserts, all made with Nutella, and an espresso to go with it. If you've got some time on your hands, check out one of their free classes. This Sunday, they closed the bar for an hour for a demonstration on how to make Nutella crepes! The yummy chocolate hazelnut spread is reason enough to go to Eataly to satisfy your sweet tooth!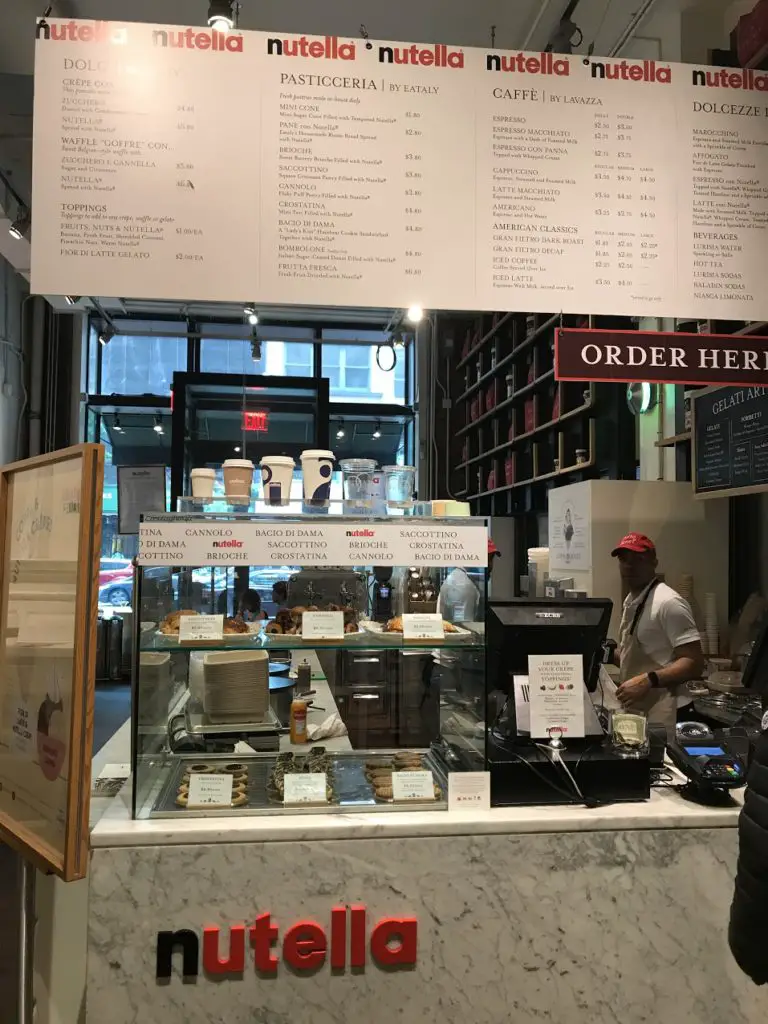 Eataly boasts several bars within the venue where you can sip on a glass of Chianti and taste some of their imported meats and cheeses. Whether you are in Manzo grabbing a cocktail before dinner, or having a glass of wine in La Piazza, which is located in the heart of Eataly and is modeled after Italian town squares – each bar boasts its own ambiance. La Piazza is my favorite bar, where guests can stand at the tall tables and dine on the cured meats and cheeses surrounding them, and is a hot spot during the week. This past Sunday, Eataly also had a summer pop up bar where they were serving up refreshing drinks such as the Aperol Spritz, an iconic Italian cocktail.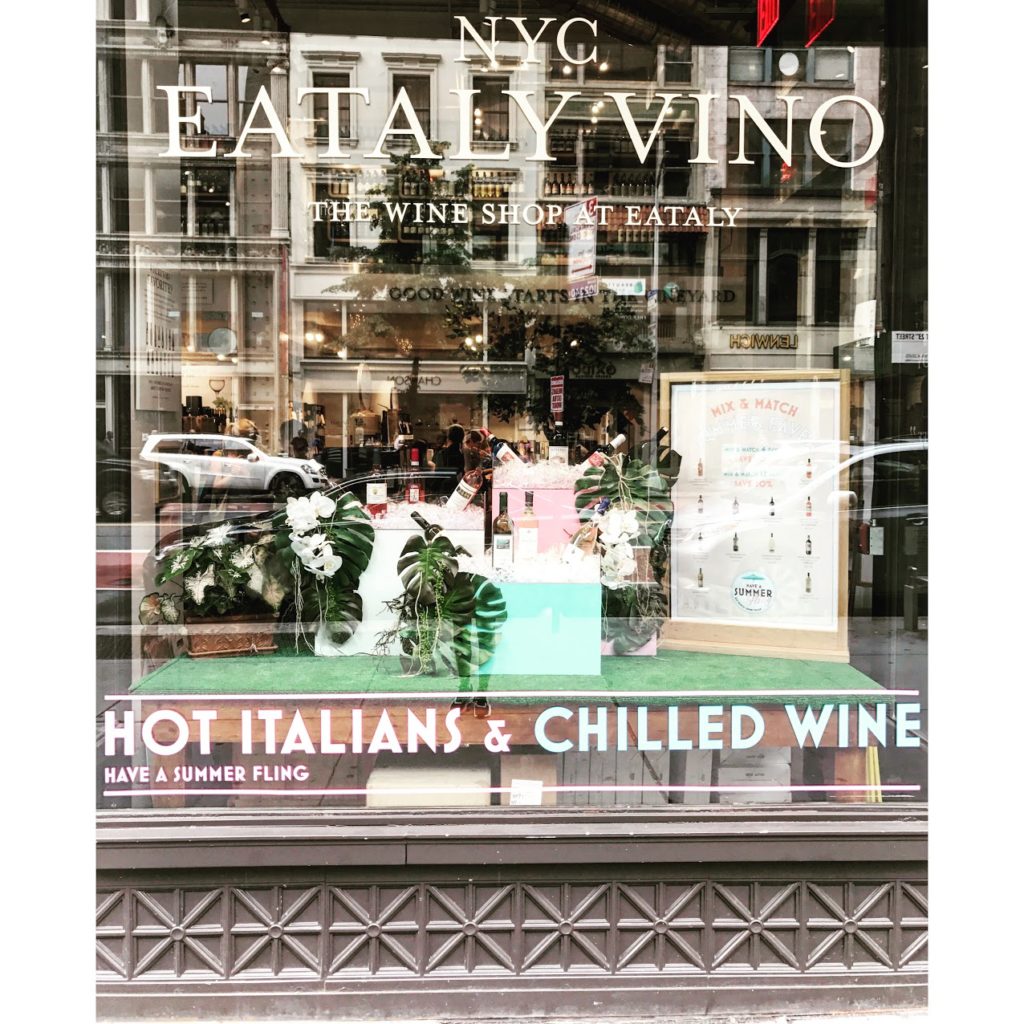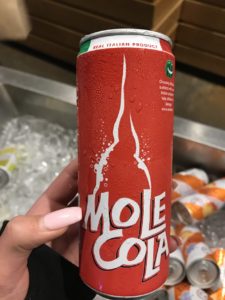 Ah, the shopping, my favorite part about Eataly. From cookies to candy to Italian soaps and glassware, Eataly carries authentic Italian items from A to Z. When you walk in, just past the Lavazza espresso bar and gelato, you will find shelves of imported candy, chocolates, Italian jams, cookies and biscotti, and other desserts. They have a large grocery section where you can purchase fresh meats, vegetables, and fruit, and if you live in the nearby area (Manhattan, Queens, the Bronx, and Staten Island), Eataly will even deliver groceries to you starting at just $13. Moving along to the goods section, Eataly carries things such as books, men's shaving products and women's cosmetics, glassware and kitchen tools, espresso makers, and my personal favorite, the SMEG fridge painted in the colors of the Italian flag. You will find everything under the Italian sun at Eataly!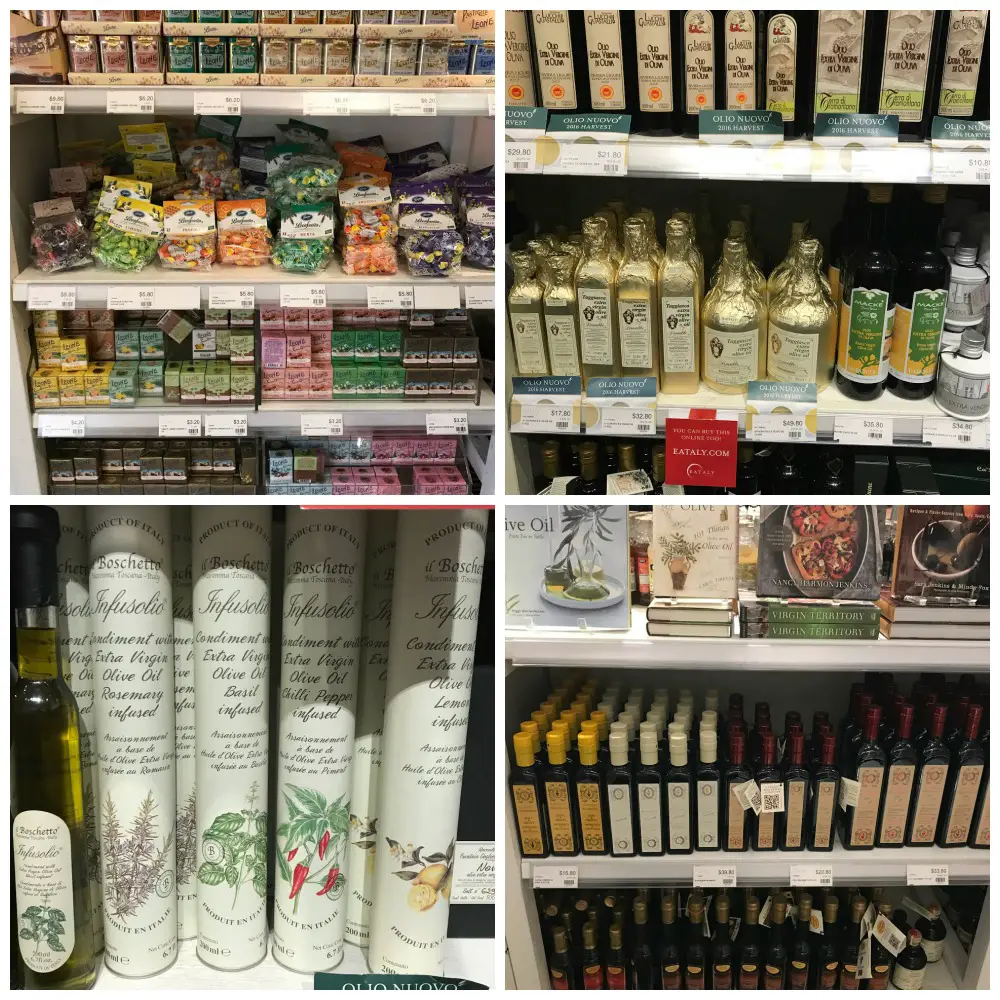 Eataly has become a destination, attracting both New Yorkers and tourists alike. While they have opened several other locations, including Eataly Downtown, Eataly Flatiron still remains my favorite. Whether you are looking to create your perfect Italian pantry, grab some great food and drink with friends, or purchase gifts, Eataly never disappoints.
Visit their website at:  www.eataly.com/us_en/stores/nyc-flatiron/
---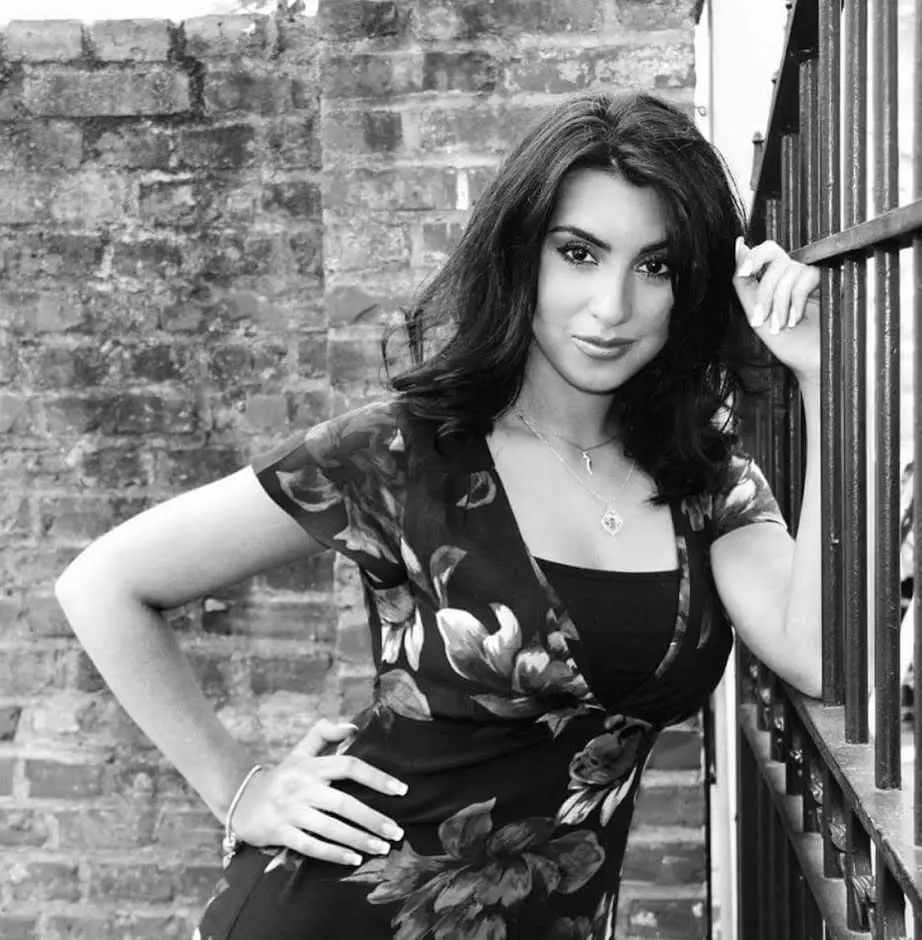 By Sarah Arcuri

Sarah is the creator of The Sweet Paisana, a lifestyle blog focusing on authentic Italian food, beauty and fashion, and all things encompassing la bella vita. Born into a large Italian family, Sarah was raised with strong traditional Italian values, and she is passionate about carrying on the traditions and lifestyle of her heritage.
Here at Italia Living, Sarah contributes her take on Italian style, home, lifestyle, and more. You can visit her website at www.thesweetpaisana.com.