Sharing their love and appreciation for the food of the land and the Italian lifestyle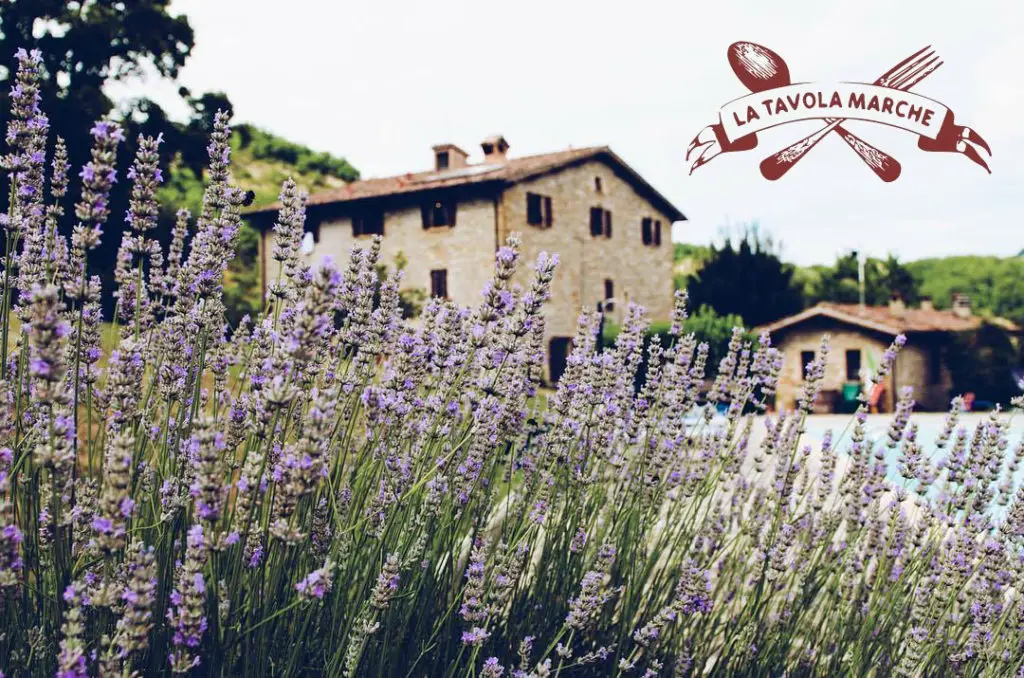 Ask many people and they will say that one of the top most appealing things about Italian cooking is it's simplicity and enjoyment of fresh, full and bright flavor.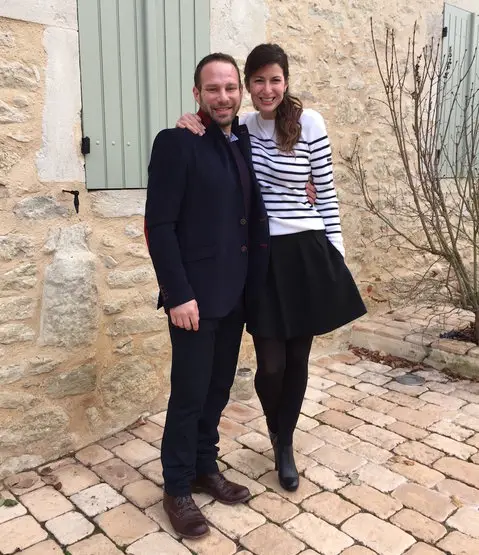 Husband and wife team, Jason and Ashley Bartner, have been living their dream since 2006 as owners, hosts, teachers and chefs of La Tavola Marche Cooking School and Organic Farm, in the Marche region of Italy.
Ashley is originally from Seattle and Jason is from Danville, CA. They met in college in Seattle and then moved to New York – living in Brooklyn and working in the City for 8 years before moving to Piobbico in the Italian region Marche.
Jason is a professional chef & culinary instructor with over 25+ years of high-end culinary experience in San Francisco, New York City, Amsterdam & Italy. He also studied at the prestigious French Culinary Institute in New York. Ashley wears many hats besides host-extraordinaire. She also contributing writer to numerous food & travel publications, and vlogger on their series No Half Measures – sharing stories of food, travel and sustainability.
La Tavola Marche is recognized as one of the most successful agriturismos and cooking schools in the region, winning praise, accolades and high recommendations from guests – as well as awards in sustainable tourism.
While they are best known as a cooking school, you don't have to be good in the kitchen – the only requirement to stay at La Tavola Marche is a hearty appetite!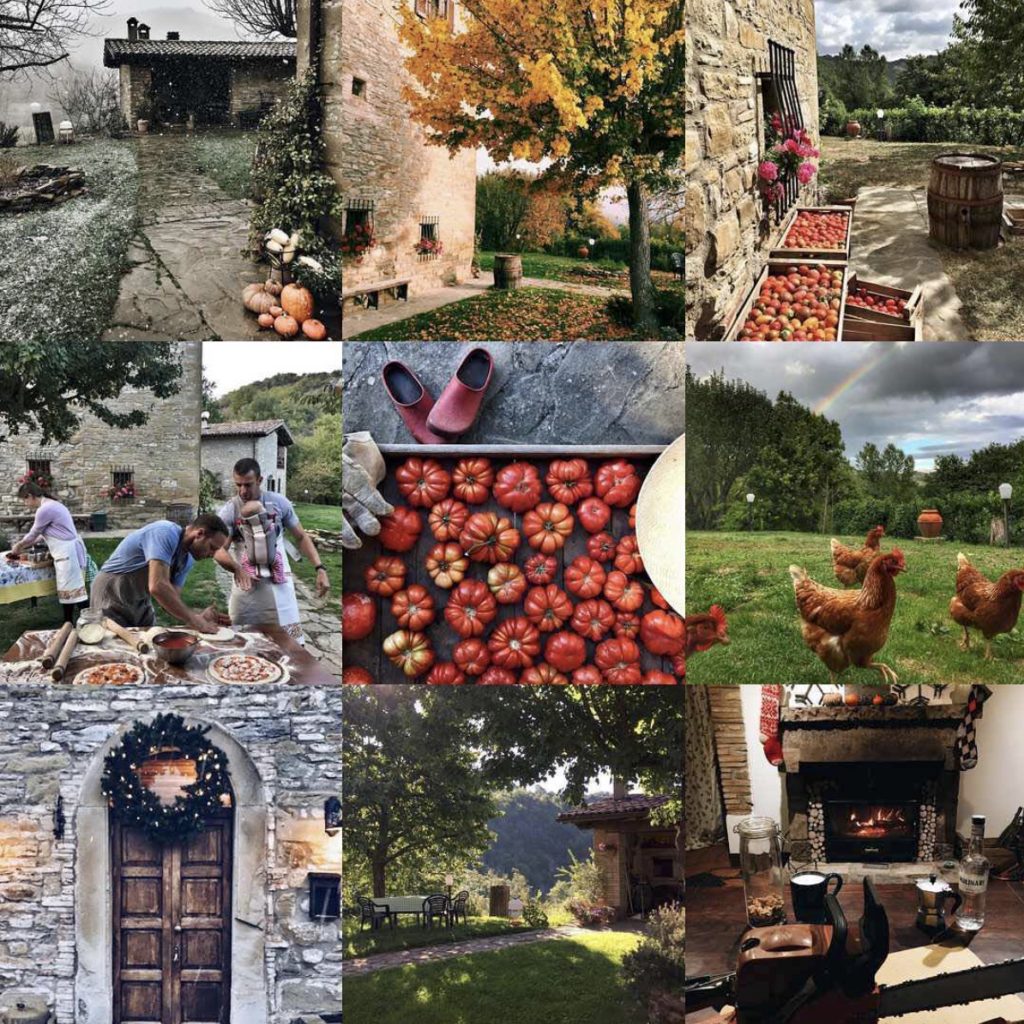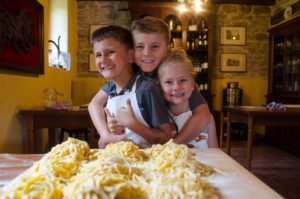 Families with young kids are welcome too. Many children have a desire to learn to cook and La Tavola offers a popular pizza family class. Kids can get their hands dirty picking vegetables and herbs in the garden and then return to the kitchen to make pizza dough from scratch and lite a fire in the outdoor wood burning oven.
Jason and Ashley have created an atmosphere where guests can vacation, get away, relax, enjoy the beautiful surroundings of Le Marche – but yet learn to appreciate the food of the land… and cook as well. Perfectly blending one of the most relaxing, fun and educational holidays you will ever enjoy.
Most recently, the couple have started offering engaging workshops sharing their expertise in how you too can move to Italy successfully and even start your own business.
Learn more about them and what they offer below in our exclusive interview with Ashley.
 For much more info on everything La Tavola Marche has to offer, visit their website at:  www.latavolamarche.com
Follow them on social media: Instagram – Facebook – Twitter – YouTube
---
An Interview with Ashley Bartner of La Tavola Marche
Having both come from the USA, what do you enjoy most about living in Italy now and the Italian lifestyle?
It's the quality of life- we have been interviewed hundreds of times about our move to Italy and this always our whole hearted answer to this question – it's the quality of everyday life: the food of course, the water, the sun, the emphasis on living your life and importance of family and community. 

 
What made you chose Le Marche as your new home?
First and foremost we wanted to live amongst Italians, we had no interest in expat over-saturated, over-priced Tuscany. I understand that for many it's important to be near other expats to share this experience with, however for Jason and I we were moving to Italy to become Italian. (Or at least try our best!) At first we chose the area for the mountains, sea and beautiful rolling hills with it's rich culinary traditions (they call Le Marche, "Italy in one Region"). We liked the idea of moving to an area that was still undiscovered and sharing that with our guests. However more than the stunning landscape and rich culinary traditions, it is the people, the Marchigianni. They welcomed us with warm open arms and a bit of curiosity (as to why two young Americans would move from NYC to the middle of nowhere!), they taught us the way to live "come una volta" (once upon a time) and within 8 weeks of living here we were more connected to the community than 8 years of living in New York.
Running a B&B, farm, cooking school… all sounds like non-stop work. What is a typical day like for you both?
It depends on the season, winter's we travel, hibernate and prepare/do works on the house to ready for the next season. The days are slow and short. However once Spring arrives we are rockn' and rollin'! Up before sunrise to work in the garden & cleaning the pool, let the chickens out of their coop and prepare breakfast for the guests. Jason then heads over the hill to the market for any other items needed for the day – or meat and milk (things we don't grow on our farm) while I give guests suggestions on day trips, etc. By 10am, I have the kitchen flipped and prepared for a morning cooking class as Jason walks in the door seamlessly dropping the groceries and slipping his apron over his head. While Jason teaches, I dance around the room filing wine glasses (yes even at 10am) and cleaning as we go. After 10 years it's become a well trained dance for the two of us!

The morning cooking class will finish around lunch, once the kitchen is clean and set for the afternoon, it's nap time (a necessity to working long days). After our break new guests arrive and it's time to prepare dinner and the afternoon cooking class! As I welcome new guests, Jason is in the garden with the cooking class students picking veggies for their class, returning to the kitchen with crates overflowing with veggies as they prepare a five course dinner from scratch for the rest of the farmhouse!

As the afternoon turns to dusk, the table is set, the class is winding down the hungry guests arrive eager to see what will be served! After dessert has been devoured and the kitchen cleaned again for the 3rd time today Jason says his good nights, and I linger in the kitchen/dinning room sharing stories of our first years here with our guests while pouring my homemade digestivo. As the last guest heads to bed, so do I. We fall into bed as another day has passed- we're not tired/exhausted (ok sometimes!) but its really more a feeling of satisfied with the work we did!
What are some popular regional dishes from your area?
The most popular regional dish for Le Marche is Brodetto – a rich fish stew. Our pasta of Le Marche is tagliatelle with truffles and in our little neck of the woods passatelli with brodo (think of a dumpling like soup) is a great local dish. However it's pork that reigns supreme here in these lands! The pigs are raised with love and pride and you can taste it.
What are some good regional wines from Marche?
Verdicchio is probably the most famous and rightfully so – it pairs perfectly with the seafood found along the Adriatic Coast. A little known red that is beautiful and worth seeking is Lacrima. It means the tear, and the grape is only found in one village unlike a sangiovese that is grown all over Italy. Lacrima vines in Morra d' Alba predate the Romans! There is a history to this grape that produces a dark red, peppery & slightly orange wine that is incredibly unique! Our favorite Lacrima is from Giusti. At our little farmhouse & cooking school we take great pride in serving only local wines from the area from family run wineries that we have a relationship with. Each bottle on our shelf has a different story!
The Marche region produces some of the most sought after truffles in the world… what are the best dishes to highlight that ingredient?
Yes!! If you ask a local in our town they will tell you more truffles are found along our valley than all of Alba! The hunters like to joke that they send their extras to Alba! We are asked a lot about truffles, truffle hunting and how to cook with truffles. The secret is keep it simple – you want to taste the truffle; frittata with truffle, tagliatelle or gnocchi with truffles are the classics. And you never cook a truffle – just shave on that white gold at the end to finish a dish!
Following the Slow Food movement, you focus on healthy eating with fresh local ingredients. What do you feel are differences in Italian American cooking and the Italian way of cooking in Italy?
Here it's not about eating organic or following a slow food movement – it's eating with the seasons and local. That's it. It's really very simple and completely different than where we came from. Especially for Jason, he was a professional Chef in NYC and then it was all about exotic, combining flavours, doing something different. Here he say's his job is to get out the way, you can't cook with an ego when you cook rustic real Italian food. It's from the garden & heart/traditions. Now that being said – sometime we miss Mexican or Chinese food but we quickly get passed it knowing we eat the best pork, milk and produce possible! Again – it goes back to quality of life.
You have recently started offering some consulting workshops on relocating to Italy. Are these geared specifically to the Marche region… or for people desiring to live anywhere in Italy?
They are geared for anyone looking to move to Italy either to start a business, purchase a holiday home or retire. After 10+ years here we realized there is a great lack of preparation and knowledge on how to move to Italy. Italy is magical and whimsical so we completely understand how it can sweep you away into a 'dream drunk' state if you will while you are on vacation here. We want to prepare you for the sobering reality of the preparation and work needed to live that sweet life!

After years of consistently receiving detailed-question packed emails from expat hopefuls curious on how in the world we did it and wanting to know all the particulars of moving & opening a business, Jason & I began our second business – No Half Measures Consulting (and a bit of filmmaking too!) For the past 2 years we have been working with couples eager and excited with a passion to move to abroad to Italy to start a hospitality business. So, what better way to merge our two businesses but host a No Half Measures 'Consulting Workshop' at La Tavola Marche farmhouse?! The workshops are a four day crash-course covering all the basics and answering your burning questions to put you on the road to a successful start of your new life in Italy! This is an honest, informative, humorous, engaging and inspiring series of seminars/lectures that we find incredibly satisfying!

We have 3 workshops on how to move to Italy: 1. Move to Italy & Start a Business, 2. Move to Italy & Retire 3. Aspiring Innkeepers Bootcamp.

The next workshop is 15-18 March, How to Move to Italy & Retire. Even if you are planning for your retirement or holiday home, it's all in the preparation and it can be difficult to find up to date information online (let alone in English) when it comes to immigration, property hunting, negotiating, health care, etc. This intensive & intimate workshop will answer all your burning questions. We hope to provide our guests with a road map for this journey to make their dream of living in Italy a reality! It's not all fluff either – there is a BIG dose of reality in our workshops.

For details on all of our workshops, visit: How To Move To Italy
Are there any tips or advice you'd like to share with our readers interested in moving to Italy?
Do it! And believe in yourself 110% because many of your family & friends will think you're crazy! It is the best choice we have made in our lives and would never change it! We are working now in the process of Italian citizenship (after 10 years we now are eligible). It's a good life.

Jason likes to quote the movie, A League of Their Own, "it's the hard that makes it great" because it's true – if living in Italy was easy everyone would do it! But it's the hard that make that dolce vita so damn sweet!
Visit:  www.latavolamarche.com