An extremely rare opportunity this August to acquire an incredibly rare Ferrari supercar at the Mecum Daytime Auction in Monterey, California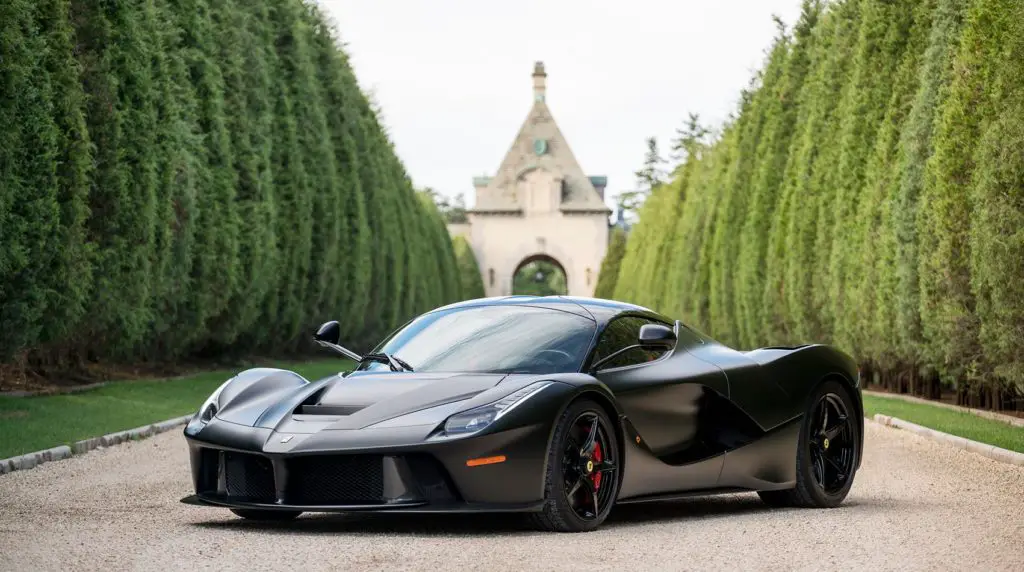 This 2014 LaFerrari will headline an array of modern supercars crossing the auction block in Monterey 2016 Aug 18-20. This event will be held at the Hyatt Regency Monterey Hotel and Spa – Del Monte Golf Course, 1 Old Golf Course Road, Monterey, CA 93940
While other exceptional cars will be available, perhaps none as sinister yet breathtaking as this Nero DS Opaco finished masterpiece of a Ferrari. This beast is only 1 of 3 Factory Finished in Nero DS Opaco, and with only 211 miles.
Main Stats
Engine – 6.3/949 HP
Trans – Automatic
Color – Nero DS Opaco
Interior – Black
VIN/Serial – ZFF76ZFA8E0207195
Estimate – $3,900,000 – $4,500,000
The small metal label at the base of the steering wheel reads "CAVALLO INFERNALE."
Translation: "infernal horse" or "horse from hell", both suggesting the nature of Ferrari's awe-inspiring hybrid supercar, the gracefully named LaFerrari. No matter how you describe it, this is one hell of a Prancing Horse, the ultimate road-going Ferrari of all time, a gigantic leap forward from the Enzo it replaces in that rarefied air at the top of the Scuderia's hierarchy. And it all happened through the family ties between necessity and invention.
Like every other facet of human endeavor in this computer age, modern Grand Prix science has advanced by interminable leaps, most recently in composite and hybrid automotive technology, the essential elements of the LaFerrari's crazy magic. The LaFerrari uses that technology to deliver the highest performance ever achieved by a Ferrari production car, and remember: that's from the company that brought you the 288 GTO, the F40, the F50 and the Enzo.
It begins with the hand laid carbon fiber main structure containing the passenger compartment, composed of four different types of cloth and cured in Maranello's F1 construction facility. Suspension is trademark Ferrari: double wishbone front and multi-link rear, modulated by magnetorheological damping and incorporating stability control, F1 electronic traction control, Brembo carbon ceramic disc brakes and Pirelli P-Zero tires on lightweight 19-inch front and 20-inch rear wheels.
The LaFerrari is the first production car from Maranello with a hybrid drivetrain that combines a 6.3L/788 HP V-12 engine—the most powerful V-12 in the world—and a 161 HP electric motor for a sum of 949 total horsepower. The LaFerrari's HY-KERS is more highly evolved than that of the F1 system from which it was developed, integrating the two power sources seamlessly and with maximum efficiency. The electric motor's strong low-speed torque allowed engineers to free the V-12 for greater peak power—it redlines at a shrieking 9,250 RPM—creating an unrelenting surge of power and peak torque surpassing 663 lb-ft.
This 2014 LaFerrari is one of only three finished to great effect in a matte black paint, officially named Nero DS Opaco. Showing a mere 211 miles, its tantalizing shape beckons with an aircraft-like cockpit trimmed in carbon fiber, Black leather and Alcantara, and accented with Red belts, stitching and piping. The steering wheel integrates the LaFerrari's various functions in F1 fashion, incorporating a row of shift lights, ergonomic shift paddles and the familiar Manettino for driving mode selection. Both the steering wheel and pedals are adjustable. The instrument panel's secondary controls for audio, navigation, climate and telemetry are located on the door and the center of the dashboard, highlighting the mission-critical controls directly in front of the driver. A reconfigurable digital instrument panel gives the choice of a traditional central tachometer or a more competition-derived display.
Piloting the LaFerrari will literally take your breath away: 0-60 in 2.4 seconds, 0-124 in under 7 seconds, and 0-186 in a flat-out crazy 15 seconds. And it doesn't end there; top speed is 217 MPH, accompanied by that ear-splitting Ferrari V-12 symphony.