If there was a way to make Tuscany even better, it would be with a weekend at one of the region's finest hot spring spas
Tuscany is always on someone's lips. She is Italy's favourite child. So used to praise that this traveller feels like a broken record for doling out yet another compliment.
But in case you needed one more reason to visit Tuscany. If the incredible architecture and art, history and food culture weren't enough. The region has proven once again that its appeal really is universal by offering up some of the world's most luxurious hot spring spas.
The accolade belongs first and foremost to the Terme di Saturnia in a corner of Southern Tuscany known affectionately as the Maremma.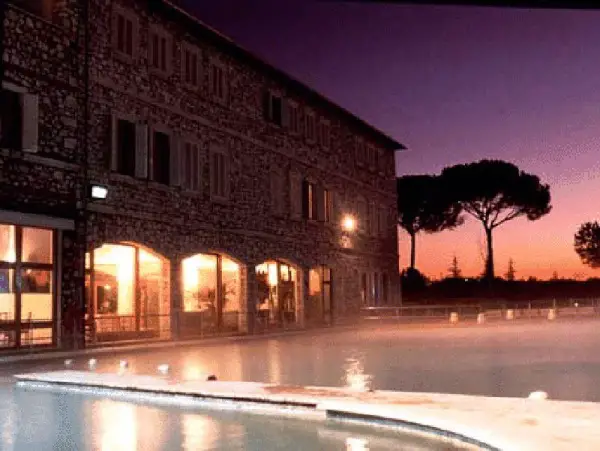 The Maremma is the sort of destination you thought no longer existed. A place that is honest, humble and unspoilt.
It's also the last place you'd expect to find a luxury resort, especially one that kicked off 2014 at the top of The Lonely Planet, CNN and The New York Times' lists for best spa destinations.
For mere mortals, a day in the naturally 37°C (98°F) spa pools at the Terme di Saturnia costs €22. Those seeking something a little more luxurious are offered an experience that money can't buy.
It's an oxymoron, but in recent years, the spa's owners have shunned gold facials and caviar baths for treatments that draw from the fountain of youth.
Inside the travertine heart of this 5-star hotel and resort is a juice bar, a revolutionary nutrition program and even a kitchen garden.
Pampering is passé. This is something akin to rebirthing, with tailored beauty treatments that will make you feel younger, healthier and rejuvenated in a way that can only be described as miraculous.
Three hours north of Saturnia and just outside Florence, Grotta Giusti is simply described as the "eighth wonder of the world". Or at least, that's how Giuseppe Verdi put it.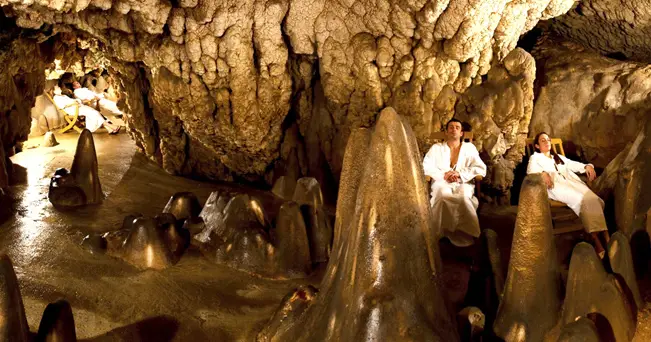 Clichés sound better when they come from a legendary composer, but before you judge, Google this lavish spa resort in Pistoia. It will leave you at a loss for adjectives too.
Pistoia is another of Tuscany's underappreciated provinces. Roman colony turned beautiful medieval city, Pistoia gave its name to the pistol, was branded an enemy of Heaven by Dante Alighieri in the Divine Comedy, and hosts a 700-year-old competition where knights joust a dummy shaped like a bear.
The territory also has Tuscany's largest concentration of hot springs, although none of them can claim to be as unusual as Grotta Giusti. This four-star resort has more than a hot springs pool. It has three naturally formed caves studded with thousand-year-old stalactites.
The air inside these caves is heated by an underground spring to sit between 31°-34°C (87°-93°F), inspiring the owners to affectionately name them Paradise, Purgatory and Hell.
Swaddled in bathrobes, guests spend 50-minutes inside the caves, enjoying a specially designed treatment program. It's a bit like putting your head over a bowl of hot water, except the bowl is an ancient cave and the steam is infused with curing minerals. The experience is captivating, purifying and detoxifying all at once, and will set you back €52.
From underground wonders to architectural masterpieces, the nearby Terme di Montecatini capitalises on the beauty of the manmade.

The Art Nouveau resort draws from the same hot spring source as Grotta Giusti, but that is where the similarities end.
The Terme di Montecatini breathes old world luxury. The marble mansions and manicured gardens were designed for Italy's bourgeoisie before the word had anything to do with communism. They hosted society balls and afternoon teas where social standing, not money, meant everything.
The hot springs themselves are visually stunning, situated in an open courtyard that's decorated with fine marble designs. Entry is measured by the hour and the hour costs €12.
But the real appeal of this luxury spa is its beauty treatments. Poppy seed exfoliation, Argan oil and peach milk wraps and an Ayurvedic area that combines massage with yoga mantras for an added holistic touch.
Paradise is subjective, but Tuscany's hot springs spas come pretty close to perfection. And this is just a taste of the incredible resorts hidden in a part of Italy that is constantly surprising with its versatility and beauty.
---
Elisa is an Australian journalist who came to Tuscany for a year, fell in love (how cliché?) and decided to stick around. Not one to keep amazing holiday destinations to herself, she now writes a blog ( http://www.maremma-tuscany.com ) and travel guide about the infinitely beautiful Maremma, Tuscany.