An unparalleled location in Polignano a Mare that has been enchanting visitors for centuries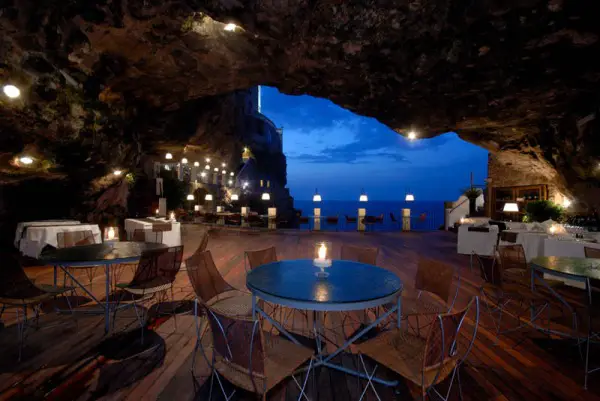 When dining, what's on your plate is most important…but your surroundings and setting make the experience all the more enjoyable.
Picture a warm spring or summer night's breeze while feasting on world class dining while enjoying stunning views over the Adriatic Sea.
Grotta Palazzese restaurant in Polignano a Mare in Southern Italy was built inside a cave centuries ago, allowing for one of the world's most unique dining experiences.
The grotta – Italian for 'cave' – is part of the Grotta Palazzese Hotel, which is located above and built from local stone. The restaurant is open from May to October.
Carved from the cliff face's limestone, the restaurant is 74 feet above sea level. Imagine the sound of water crashing against the shore as a gentle sea breeze hits your face while enjoying fine wine, great food and pleasant company.
HOTEL RISTORANTE GROTTA PALAZZESE
Via Narciso, 59 – Polignano a Mare (Bari) Puglia
Tel. +39 (0)80 4240677 – Fax +39 (0)80 4240767
Email: grottapalazzese@grottapalazzese.it
Website: www.grottapalazzese.it