A signature design inspired by the famous Ponte Vecchio bridge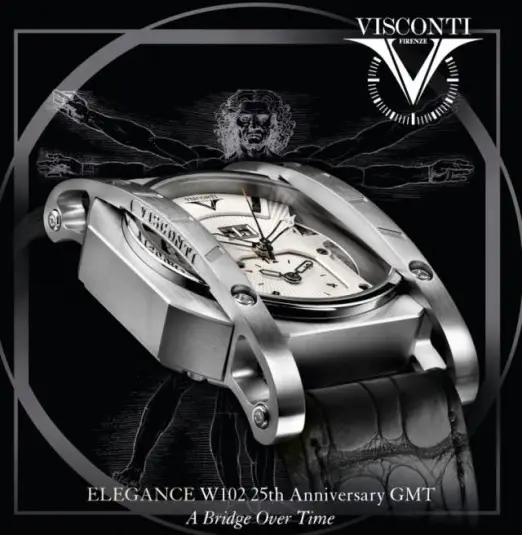 When Florentine pen maker Visconti began designing their first watch collection in 2013, they wanted to make sure the watch design complimented a signature piece on their pens. So, the watches feature dials flanked by bold swooping bridges that recall the clip design of its signature pen inspired by the famous Ponte Vecchio bridge.
Visconti has designed a watch in which its brand symbol, the bridge, crosses and safeguards time, stretching from the history of clockmaking in Florence to the present day and Visconti's determination to rediscover that legacy.
The Visconti watches are made in Italy, but their movements are Swiss-made and of the highest quality. Each version is available in three different variants:  Elegance, Image and Sport, which differ in their design, in the materials used (only the purest steel and titanium), in their finish and in their PVD treatment. Each variant is individually numbered and produced in a limited edition of only 250 pieces, a multiple of the twenty-five years that Visconti is proud to be celebrating.
Ranging in price from $3,850 to $6,850, the striking watches have dual timers and date displays driven by Swiss-made movements; Visconti plans to introduce watches featuring proprietary movements shortly.
Fore more info visit: www.visconti.it/en/watches/