Italy's best performing beer brand encourages unique Italian lunchtime experience with four exclusive pop up cafes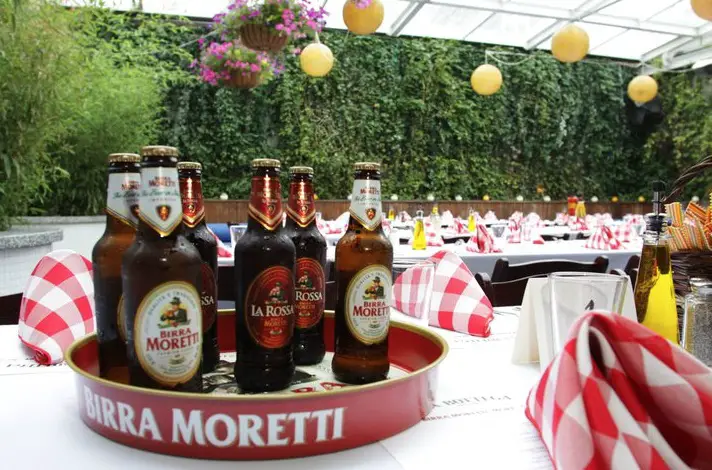 It may be no surprise to hear that Americans are more stressed than their Italian counterparts and a new study serves up several possible reasons why.  A recent survey conducted by Birra Moretti, Italy's leading beer, points to the conclusion that taking time for lunch may lead to less stress.
The brand learned that nearly one out of three Americans said they don't ever leave their workplace when it's time to eat lunch.  In comparison, 100 percent of Italians reported taking lunch every single day, 79 percent of which ate lunch outside of the workplace.  In fact, Americans that reported never taking lunch were almost three times more likely to say they were "very stressed" than those that do take lunch.
"Americans notoriously underutilize their time at lunch and instead grab a quick, hurried bite at their desks while simultaneously multi-tasking; of course, this leads to more stress," said Ilco Kwast, Marketing Manager, Birra Moretti.  "However, Italians overwhelmingly embrace their lunch hours.  Our survey found Italians that regularly took 30 minutes or more for lunch were half as likely to be 'very stressed.'
Birra Moretti, as the 'more Italian' beer company, wants to lead by example.  We're hosting a series of cafe experiences to show Americans how we Italians cherish 'il pranzo' – the midday meal where we slow down, enjoy good food, beer and the company of our friends, family and colleagues."
To encourage Americans to get out and enjoy their lunchtime, Birra Moretti will launch Birra Moretti Pop-Up il Pranzo Cafes, a series of summertime lunch events in New York.  The events will offer New Yorkers a chance to relax and enjoy great conversation and great food with friends during il Pranzo (lunch), the most important meal of the Italian day, the way the Italians do.  Access to these exclusive cafes can be purchased through GiltCity, the premiere flash-sale website that offers exclusive and one-of-a-kind lifestyle experiences and services.
A 'More Italian' Lunch Experience
Summer Fridays have officially begun and Birra Moretti plans to make this uniquely American experience a little 'more Italian' with the il Pranzo Cafes.  Each pop-up cafe will take place at a unique venue in New York City and will feature an authentically Italian four-course meal prepared by a notable chef to pair perfectly with Birra Moretti Lager and Birra Moretti La Rossa.  The locations will be designed to resemble a traditional trattoria in Italy and will encourage a long and leisurely lunchtime experience.  Guests can enjoy the good Italian food, a cold Moretti and the relaxing environment with colleagues, family, and friends without any rush – the cafe will open for lunch for four full hours.
---
The next Birra Moretti Pop-Up il Pranzo Cafe event:
WHEN: Friday, July 22, 2011 – Lunch: 3:00 PM to 7:00 PM 
WHERE: Adrienne's Pizzabar
54 Stone Street
New York, NY 10004
This authentic Italian four-course meal was carefully prepared to pair perfectly with ice-cold Birra Moretti Lager and Birra Moretti La Rossa by restauranteur Nick Angelis, of Adrienne's. 
WHY: So New Yorkers can incorporate a little "more Italian" into lunchtime and enjoy life the way Italians do!
Patrons will have the opportunity to:
Enjoy Birra Moretti with authentic Italian food and culture

Relax and enjoy a classic Italian lunch experience with friends

Four-course lunch, perfectly paired with Birra Moretti Lager & La Rossa, created by restauranteur, Nick Angelis, of Adrienne's Pizzabar for a fixed price of $30
RSVP: For additional information, please visit www.facebook.com/BirraMorettiUSA or email RSVPMoretti@gmail.com for reservations.
---
About Birra Moretti
Birra Moretti, a Heineken brand, is a leading imported Italian beer.  The Birra Moretti Brewery was founded in 1859 in Udine, Italy in the Friuli region by a wealthy merchant, Luigi Moretti. The first bottle of Birra Moretti was sold in the summer of 1860 and from the 1970s on, Birra Moretti went from being a Friuli-based beer to an internationally-distributed beer, constantly growing and conquering new fans and admirers. A special production process utilizing the best raw materials and a special blend of high quality hops was used to create the unique, perfectly balanced taste of Birra Moretti Lager and Birra Moretti La Rossa. Because of the characteristics, Birra Moretti matches perfectly with authentic Italian cuisine, like risottos and pasta, white meat main courses and delicately-flavored cheese.
Birra Moretti Lager's alcohol content is 4.6% alcohol by volume, a percentage that makes it ideal for any time of day. It is not a strong beer, which makes it perfect for drinking at lunch, at dinner or for evenings out with friends. Birra Moretti La Rossa's alcohol content is 7.2% alcohol by volume and is a double malt beer produced using 100% high quality barley malt, providing a full, caramelized malt flavor and an intense aroma of roasted malt.