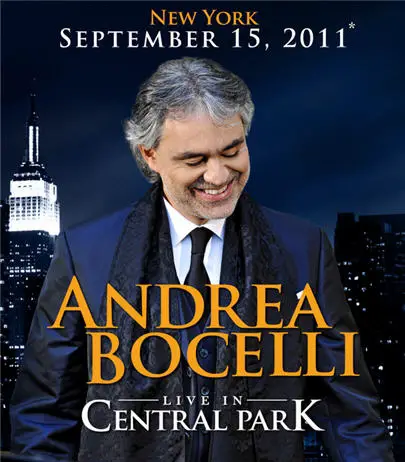 UPDATE:
Joining Andrea on stage this memorable night will be Céline Dion, Tony Bennett, Chris Botti and David Foster.  Sopranos Ana María Martínez and Pretty Yende, Violinist Nicola Benedetti, Bass Baritone Bryn Terfel and Flutist Andrea Griminelli will also be part of this spectacular evening, along with The Westminster Symphonic Choir, Joe Miller, Director.
---
Internationally acclaimed tenor Andrea Bocelli will perform a free concert on Central Park's Great Lawn, Thursday, September 15th with the New York Philharmonic, conducted by its music director Alan Gilbert, as a special gift to New York City (tickets required for entry).
This spectacular evening, sure to be a once in a lifetime musical event will be recorded in high definition by THIRTEEN for WNET for national PBS broadcast on GREAT PERFORMANCES in late fall 2011. ANDREA BOCELLI LIVE IN CENTRAL PARK will also be released on CD and DVD by Sugar/Decca this November.
Bocelli is widely regarded as the most popular Italian tenor in the world with more than 70 million albums sold. He will present a varied repertoire including his best known and loved songs that have become fan favorites. Andrea will also be joined by special guest artists to make it a truly memorable evening. Barilla is the main sponsor of the concert event.
New York City Mayor Michael R. Bloomberg said, "The Great Lawn in Central Park is one of the most remarkable and beautiful outdoor venues in the world and it is a great pleasure to welcome Andrea Bocelli back to New York to perform there. This free concert will be a memorable cultural moment for the thousands of New Yorkers and visitors that will watch the event live in the park, and many, many more through the broadcast by WNET."
Andrea Bocelli comments, "I cannot help but smile when thinking about the upcoming concert in Central Park. It was my father's dream, and my father was right, because my artistic path would have been entirely different without the strong and sincere embrace of this extraordinary city where everything is possible, even when it seems impossible." Bocelli continues, "My father will not be there, but I can count on his blessing and his kind and gentle smile to give me courage. My mother, sitting in the front row, will feel my father too, and they will be together again just like when I was a little boy performing on the fireplace steps. Perhaps they had secretly dreamed that I might have the opportunity to perform in New York City, and maybe right here in Central Park."
Sugar Music, the label based in Milan that discovered Andrea Bocelli in 1994, was instrumental in orchestrating this concert event. Filippo Sugar, Sugar Music Chairman and CEO comments, "Sugar Music is delighted that Andrea Bocelli will have the opportunity to share his extraordinary talent with the people of New York City. This concert fulfills a dream we've had since we began our collaboration. Andrea and I are also incredibly appreciative for the support of New York City and Barilla, both of whom have been integral in bringing to life this not-to-be-missed concert in Central Park."
Since Great Performances introduced American television audiences to Bocelli with 1997's Romanza concert, the tenor has been featured in a distinguished series of Great Performances specials, including Sacred Arias, Amore, Vivere, My Christmas, and American Dream—his spectacular "Statue of Liberty" concert from New Jersey's Liberty State Park. "Bringing artists of this magnitude to audiences is core to our mission at THIRTEEN," said Neal Shapiro, WNET CEO and President. "This free concert in New York City's ultimate performance space is another way we can make such historic events accessible to audiences who might otherwise find them out of reach."
More information for this special evening, including ticket distribution, is available at  www.bocellicentralpark.com.