The City is her Oyster…
And Julia is the Pearl. Pearl and Company, that is. Julia is the founder of Fashion Consulting Company Pearl & Co., where she set out to make her mark in fashion…with some pit stops in art on the way.
Julia Veli's family hails from Southern Italy. Born in Missouri, she grew up like many Italian-Americans, with homemade pasta sauce and big family dinners.  She later spent years in Miami, and it shows through the bright and happy colors in her work.  She creates fashion pieces made entirely from tape, papers, pearls and even some household products such as electrical cords.
I went to see Julia to get an idea of what her fashion artwork is all about, and this is what I found-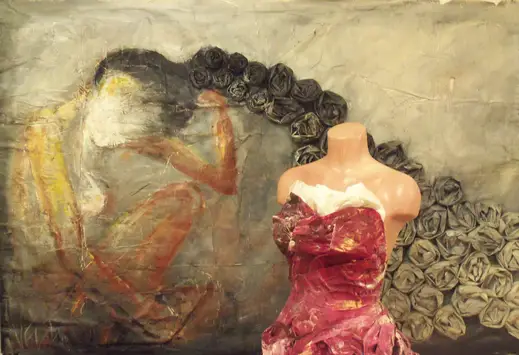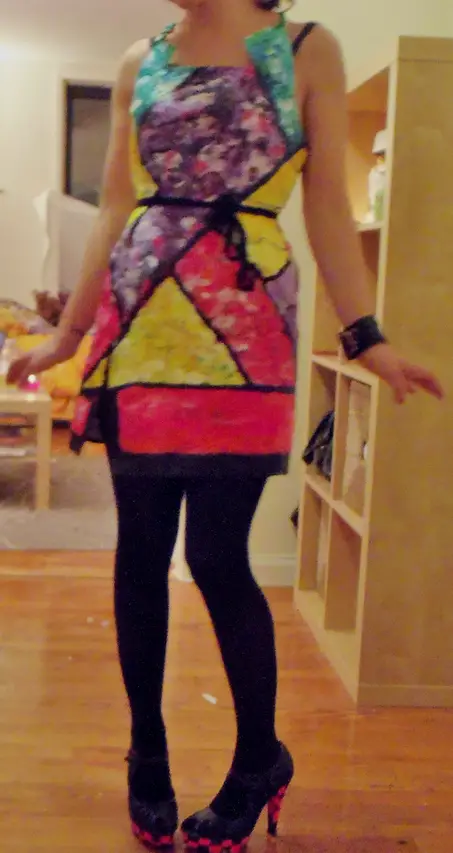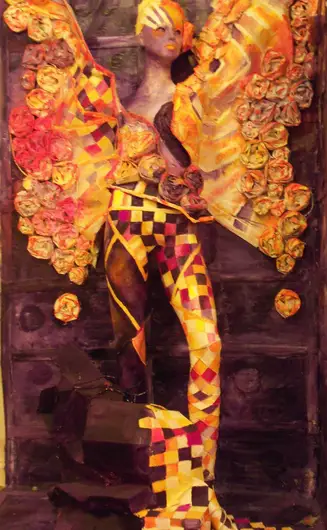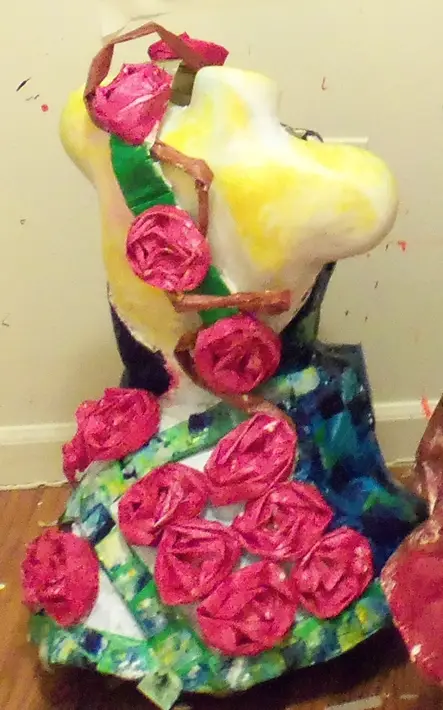 It all began with the idea of turning people into art. She produced fashion shows for different charities in Florida and started playing around with different ideas, such as making skirts and shirts out of duct tape, postcards, and paint. The convenient thing about working with tape and postcards is if you don't like the paint, you can just re-tape everything over and start fresh!
The first time her designs hit the public, she knew that people would either "get it" or "not".  During Art Basel in Miami, she did a teaser and dressed up some models in her duct tape sheaths for different events. People loved it. The designs were the hit of the events, and the best part is, it was all pro-bono, for a good cause.
What better place to make an idea grow than NYC? So she packed her bags and headed north.
Now, every New Yorker knows that the city can be beautiful and cruel at the same time. It will hand you a cupcake and then slap you in the face. So when Julia arrived, her cable was off for three weeks. She didn't know anyone. She was in her apartment with nothing to do, so she painted, taped and glued. She looked at fashion books and magazines for inspiration and created her brightly colored dresses, skirts, shirts, and pictures out of acrylic painting, masking, duct and scotch tape, zapagap glue, pearls, and some mannequins that are sprinkled throughout her Chelsea studio apartment. She also listened to music for inspiration, beginning a project at 7pm and finding herself just finishing at 6am the following day.
For Julia, fashion and art go hand in hand. Her favorite designs are the ones that produce "living art".
"I can't sew, so this is my inner designer coming out", laughs Julia.
Aside from the handmade, versatile and show stopping creations, my favorite detail about Julia's story is her last name. The derivation is the most inspirational of all.
Julia's brother, Levi, passed away suddenly. As a tribute to him, she played with the letters in his name and created "Veli" as her brand, so he will always be connected to her and her fashionable artwork.
"People come and go in your life, for your whole life. That's when I opened up as an artist. When you lose someone so close to you, you stop caring what people think of you. He [Levi] gave me freedom to be who I am. I know how proud he would be." she says.
To learn more about Julia and her work, visit her online at:
Website: http://juliaveli.com
Facebook: www.facebook.com/pages/Julia-Veli/170414763004246
Twitter: http://twitter.com/@juliaveli
---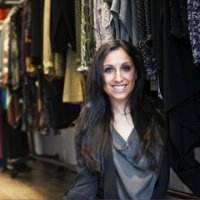 About the author:
Valeria Carrano is Fashion Director for Italia Living.
To learn more about her, visit our About Us page.