Sweet and a couple of sours
Sophisticated, luxurious, and the color of molten amber, Amaretto has been the pride of the Italian liqueur world for more than a century. Literally translated, amaretto means "little bitter." The name comes from mandorla amara, or bitter almond, which is its primary flavor. Despite its name, Amaretto is sweet and smooth, and stands on its own easily.
Amaretto originated in Saronno, Italy, a town in Lombardy, in the province of Varese. The accepted story tells us that in 1525, artist Bernardino Luini, a student of Leonardo da Vinci, was commissioned by a church in Saronno to paint frescoes on their sanctuary. Luini needed a model to help him paint the Madonna. A local young widow agreed to pose for him, and they soon fell in love. As a token of her love, she made him a batch of liqueur made from apricot pits steeped in brandy.
This supposedly became the recipe handed down the generations to eventually become Amaretto di Saronno Originale, in production since 1900. The name was later shortened to Amaretto Disaronno. In 2001, the company changed its name yet again to Disaronno Originale.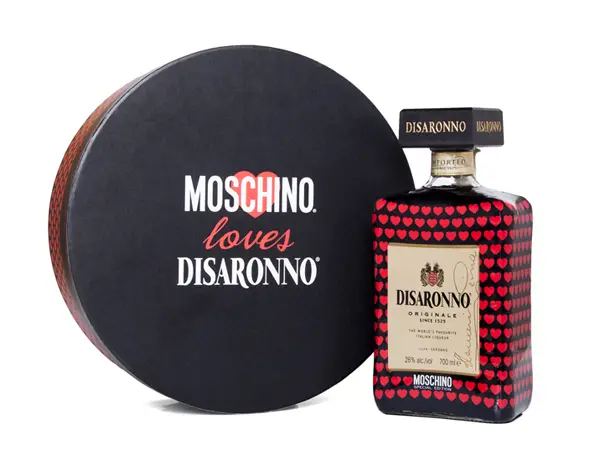 In 2013, Disaronno partnered with design house Moschino to create a unique, limited-edition bottle design. The campaign was called "Moschino Loves Disaronno." This was followed in 2014 with collaboration with House of Versace. That one was called "Disaronno Wears Versace." Both campaigns were to benefit Fashion4Development, whose mission is "to harness the power of the fashion and beauty industries and implement creative strategies for sustainable economic growth and independence for communities worldwide through the Expression of Fashion." (Try the Disaronno Versace Sour or Disaronno Loves Sour recipes below.)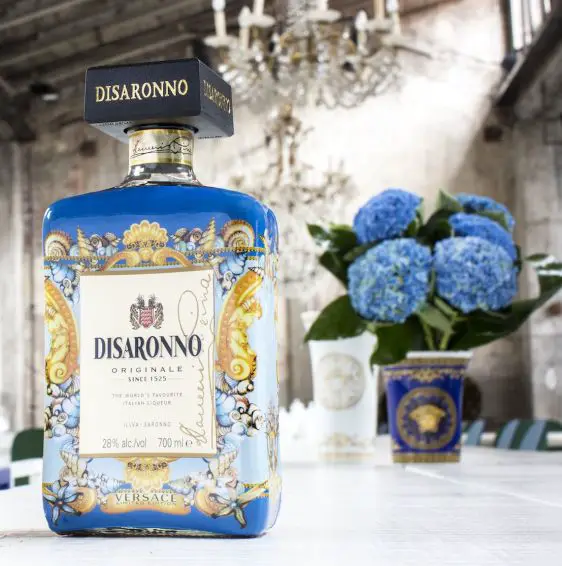 Paolo Lazzaroni & Figli S.p.A. also claims a stake in the origins of amaretto, claiming that the Lazzaroni family invented it in 1851. There are other brands of amaretto, but Disaronno and Lazzaroni are the two companies most associated with it. Their recipes, however, are quite different. Where Disaronno's "secret formula" contains apricot kernel oil with "absolute alcohol, burnt sugar, and the pure essence of seventeen selected herbs and fruits" (i.e., no almonds), Lazzaroni's version contains Amaretti di Saronno (almond cookies) infused in alcohol.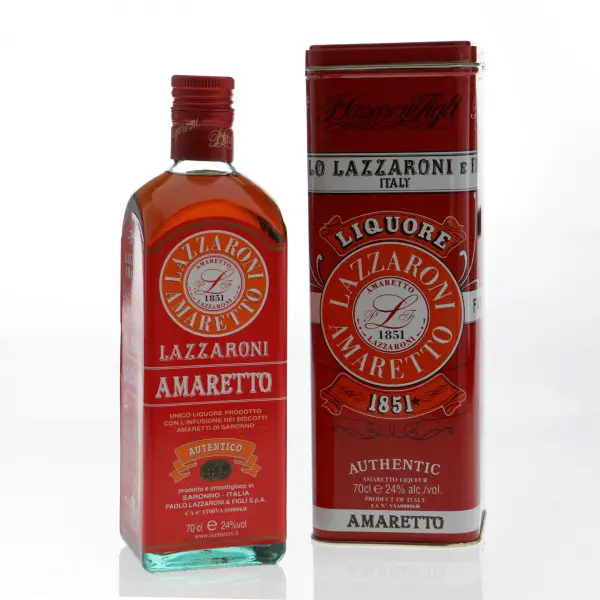 While April 19th is National Amaretto Day in the U.S., I celebrate Amaretto throughout the year because it happens to be one of my favorite liqueurs, and my go-to drink when I'm out is an Amaretto on the rocks with lime. Delicious.
If you like making your own liqueurs, you can try making your own amaretto with this easy recipe at Shutterbean.com: http://www.shutterbean.com/2011/homemade-amaretto/
Or this more complex version at Chow.com: http://www.chow.com/recipes/29035-homemadeamaretto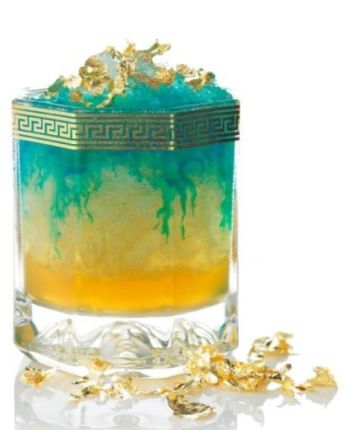 Disaronno Versace Sour
25 ml Disaronno
50 ml Vermouth
50 ml lime juice
1. Shake and pour over crushed ice.
2. Top with a dash of Prosecco.
3. Drizzle with Blue Curacao.
---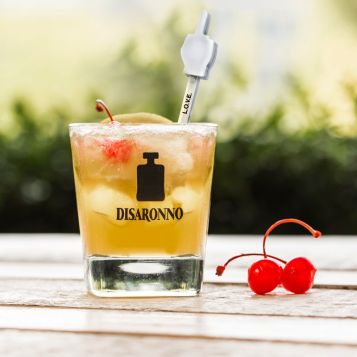 Disaronno Loves Sour (Moschino project cocktail)
2 parts Disaronno (50 ml)
1 part liquid sugar (25 ml)
1 lemon, squeezed
Shake together and strain over ice in a tumbler. Garnish with a cherry.
---
---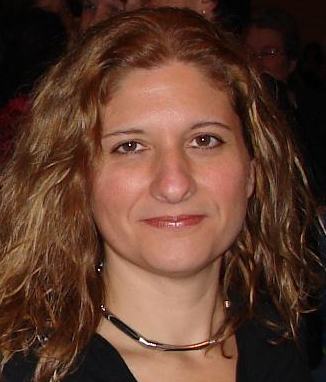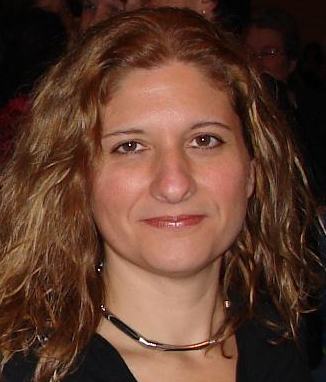 by Roberta Roberti
Roberta is a writer and editor living in New York City. Her articles have appeared in numerous publications and her cookbook, Vegetarian Italian: Traditions, Volume 1, was released in 2014, with volume 2 soon to follow. She is a graduate of The Natural Gourmet Institute in NYC, did her internship at The James Beard House, and had the honor of being a James Beard Scholarship recipient. Find out more about her here:
Blog: www.MizChef.com
Facebook: Roberta Roberti
Twitter: @Mizchefcooks
Pinterest: http://pinterest.com/mizchefcooks