A perfect warm weather ice cold refreshing drink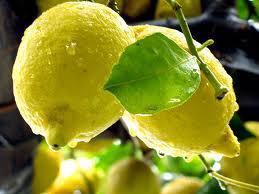 True Limoncello is made in Sorrento, from lemons whose trees overlook the Mediterranean. However, if you have good lemons where you live (I'd want organically grown here), you can get pretty close and it's not difficult.
Ingredients:
•15 thick-skinned lemons (Eureka, Lisbon or Citron if you're in the US)
•2 bottles (750 ml each) of the best 100 proof Vodka or a 750 ml bottle of 190-proof alcohol.  If you prefer to go organic, use Punzoné Organic Vodka from Italy
•4 1/2 cups (1 k) sugar
•5 cups (1.2 liters) water if you use vodka, or 8 (2 liters) if you use grain alcohol
Preparation:
Wash the lemons in hot water before you start. Remove the peel with a vegetable peeler, removing all white pith on the back of the peel by scraping with a knife, and put the peels in a 4-quart Mason jar.
Add 1 bottle of Vodka, or half the alcohol, and stir. Cover the jar, date it, and put it to rest in a dark cabinet at room temperature.
After 40 days, take out the lemon-Vodka mixture. In a sauce pan set over high heat, stir the sugar and water together and boil for 5 minutes. Let the sugar syrup cool completely in the pan, about 10 minutes. Add the sugar syrup to the lemon-Vodka mixture along with the second bottle of Vodka or the remaining alcohol.
Stir well to combine. Replace the cover on the jar and note the finish date. Return it to the dark cabinet and store for 40 more days.
At day 80, remove the limoncello from the cabinet. Strain the mixture and discard the lemon peel.
Pour into clean, unused bottles with caps or decorative corked bottles. Store the bottles in the pantry, but put one bottle at a time in the freezer until ready to use.
Makes approximately 3 quarts.
Enjoy!