The fashion fur underworld and what's being done
Fashion isn't always easy. No, it's not always butterflies and rainbows. There are also dark sides to fashion, like everything else. Although it is very clear that I love the industry, my love is not blind and in this week's column I'm going to shed a bit of light on a controversial side, head on, rather than turning the other cheek and changing the subject.
One of the industry's largest controversies is manufacturing clothing made from authentic fur and leather. Many designers improvise by using faux fur and leather which can be almost indistinguishable from the real thing when done properly. That way, men and women can be animal and environmentally conscious without sacrificing style. On a personal note, I love the idea. Although… I'm the first to admit that I love the vintage mink coat hanging in my closet and the soft leather boots on my shoe rack. But I'll stick to eating steak, not wearing it, ( A+ for creativity, Lady Gaga).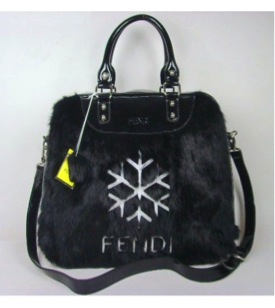 Most recently, Italian Fashion House Fendi plummeted into the spotlight regarding their fall/winter 2011 upcoming fashion show in Seoul. This show is scheduled to be their largest in Asia and was recently canceled due to the negative feelings surrounding the use of fur on the catwalk.
Animal Rights activists in Seoul are threatening to rally unless fur is removed from the show altogether.  The fashion show, scheduled for June 2nd on a floating Island in the Han River, was supposed to feature approximately half of the items being fur.
According to msn.com, Fendi CEO Michael Burke said, "I'm surprised to learn of Seoul city's decision to possibly cancel the event if Fendi does not remove all fur pieces just two weeks before the event."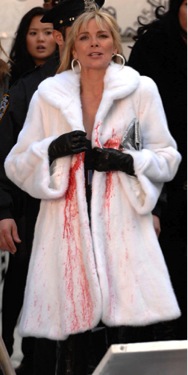 I can't help but see visions of Samantha Jones leaving a New York City fashion show in her glamorous white fur, when a bucket of red paint is hurled at her by an animal rights activist. It's comical as she declares her love for New York and continues on her way. But the scene in this movie, as well as this Fendi controversy, forces people to stop and think about the root of the issue.
I stepped out of my comfort zone and did some research on the process of making fur. I knew that what I would find would be disturbing, but I couldn't watch the videos in their entirety from start to finish due to the graphic mistreatment of the animals. I just couldn't watch.  I am going to admit that I taught myself a lesson. As a woman who loves glitz and glam, from now on, I'm going to make an effort to be more conscious that what I wear represents more of my beliefs; my strong belief against cruelty to animals.
Fendi represents the essence of Italian fashion, and I am proud to support the label. Yet if Fendi models strut the runways with this year's collection of faux fur, I will respect them more. The looks will still be chic, glam and classic. It's Fendi, after all.
I am curious to know if the fashion house would be willing to sacrifice authentic fur for faux fur and keep their largest Asiatic fashion show in good standing, or continue with the original designs and risk losing respect and credibility in the emerging organic markets.
So at the end of the day, women of New York City are always up to date on the latest health cleanse, the chicest yoga studio, or the most fashionable recyclable shopping bag. But when it comes to animal products, are women willing to sacrifice?
---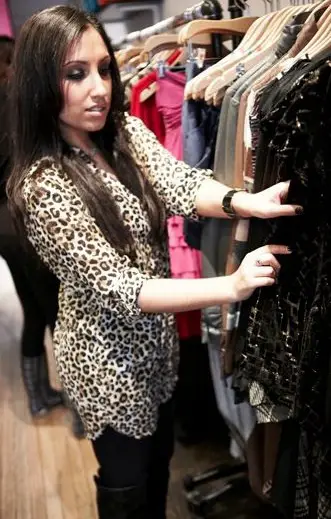 Valeria Carrano is Fashion Director for Italia Living.
To learn more about her, visit our About Us page.