Experience the legendary brand's storied history in a way similar to a well-curated, interactive art gallery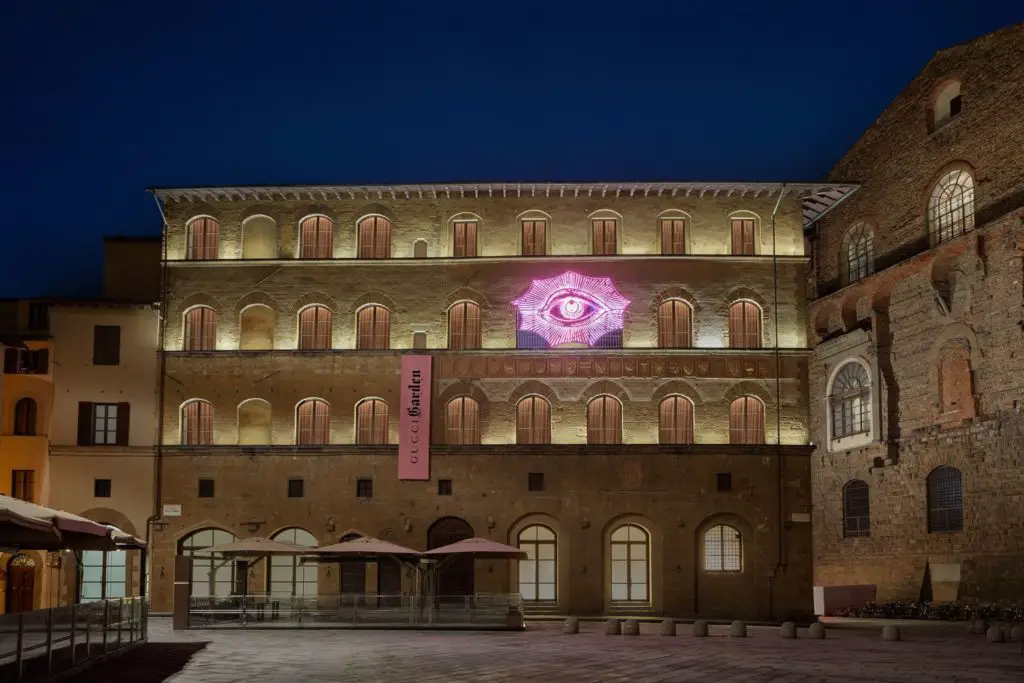 Gucci's latest retail endeavor is situated within a 14th-century palazzo in Florence, Italy. Dubbed "Gucci Garden," the multi-level galleria costs 8 euros to enter, with half of each ticket sale being donated to support restoration projects in Florence, where the brand was founded in 1921 and continues to operate from today.
Gucci's creative director Alessandro Michele has overhauled the label's museum, first inaugurated in 2011 under his predecessor Frida Giannini, turning it into something altogether different that clearly reflects his creativity and imagination.
Gucci Garden was officially inaugurated on January 9, coinciding with the opening of men's wear trade show Pitti Uomo. It is located in the historic Palazzo della Mercanzia in Florence dating back to 1337, a few steps away from the Uffizi Gallery on Piazza della Signoria. The medieval location is in sync with Michele's aesthetic and the designer has seamlessly blended his own style with that of the storied venue, whose facade is lit up by a giant neon eye artwork.
Gucci Garden comprises a boutique that carries exclusive ready-to-wear, such as silk bomber jackets that feature the Gucci Garden Gothic script; accessories, and special items, such as whimsical carillons, and pieces with new motifs such as the bat and the eye design seen on the facade. There is also a restaurant – or Osteria – headed by three-Michelin-star chef Massimo Bottura, a longtime friend of Gucci's president and chief executive officer Marco Bizzarri, and the Galleria exhibition space, which displays Gucci vintage pieces and is curated by art critic Maria Luisa Frisa.
"I wanted to give a sense to the location that would not have a deadly [mood]," said Michele during a preview of Gucci Garden, whose name is an immediate link with the designer's passion for nature. "It's more like a bazaar; I love the variety of different things that are combined in an authentic and spirited way. I am very happy, I had fun setting it up and I think you can feel it's a lively place. It's a museum that is not a museum."
Michele said after working for the company for 15 years – he was famously a second-in-command before rising to the top post in 2015 — he can see his own "lexicon" in the location. "It's a magic, almost mythical place, and it's in Florence, which plays such a powerful role for this brand. It invites you to enter," blurring boundaries between the past and present, he said.
Frisa also underscored that the Galleria was not a museum. "We want to tell a story and the plan is to change and transform the space each time," she said.
The six rooms on two floors are divided by theme, starting from the GG logo, which Michele said "was not Pop, but it has become so." Delving into the rich archives that date back to 1921, the logo is seen in its various iterations from a graphic, cube style to a more rounded one hovering among dolphins on colorful dresses from the Seventies, to the more recent take by Michele on the puff-sleeved bomber jacket inspired by Dapper Dan or the tote created in collaboration with Trevor Andrew, or GucciGhost. "This proves the vitality and strength of this logo," contended Frisa.
Michele's now-staple capitonné sofas in green velvet and thick green curtains; lines of a 15th-century carnival song by Lorenzo de' Medici in gold letters around the top of the walls in deep green; 19th-century majolica vases; a leafy pattern on the floor, and dedicated Richard Ginori ceramics reflect Michele's taste at the Gucci Osteria, but Bottura is entirely in command of the restaurant and has chosen to create a new menu influenced by his travels and applied to Italian cuisine. Handmade tortellini with a delicate and creamy parmesan sauce are available as well as the Taka Bun, from the name of his sous-chef Kondo Takahiko, which is a steamed bread with pork belly lacquered with balsamic vinegar and miso, completed by a secret sauce. Mirroring Michele's modern sensibility into the food category, Bottura said "we should not [forget] history, but we can't eat like 50 years ago. We must eat in a contemporary way. I look at the past as a critic and not in a nostalgic way. We should break the rules for a new tradition."
The retail space has been designed to respect the original architecture of the palazzo. One of the rooms combines burnt yellow for the plaster walls with red in tune with the architecture and shape of the arched doorways and windows, while the floor is in hand-aged marble tiles. Original stone pillars and a stone coat of arms stand out in a second room, marked by a cloud-blue color, where accessories and antique tomes from the Antica Libreria Cascianelli in Rome are sold, as well as stationery, postcards, matches, canvas bags and decorative boxes, among other items. The furniture includes restored antique shop finds and wooden wardrobes, period mirrors, oriental rugs and Tuscan tables.