Home ownership in Tuscany through Timbers Resorts Hotel & Residences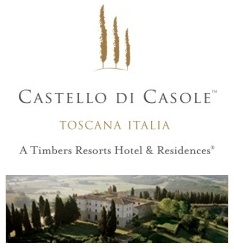 For many, no dream is more enticing dream than to own your own home in Italy. Castello di Casole makes this dream an infinitely closer reality, for not only does it offer what are surely Tuscany's most remarkable villas and surrounding estate, but also the choice of whole or residential interests ownership. At 4,200 acres, Castello di Casole is an estate of epic proportion. Vineyards and orchards of olive trees pattern the hillsides. Dotting the estate are restored Casali farmhouses each with dramatic glass-tiled private pools. Two grand cypress-lined lanes ascend to a historic castle, soon to be an intimate 5-star boutique hotel with suites created in the grand and authentic Tuscan style. At the hotel there will be fine and casual dining rooms that open to terraces and a pool along with a world-class spa and fitness center will be inspired by the region's fragrances and natural approach to diet and exercise.

For more information, please visit Castello di Casole. or contact them at 866-963-5005 or in Europe at +39 0577 967511.
Whether it be in whole ownership or through the residential interest program or a memorable stay in the new 5-star Hotel Castello di Casole…this is Tuscany…past, present, perfect.