Your Tuscan Farm Home Awaits at Castello di Casole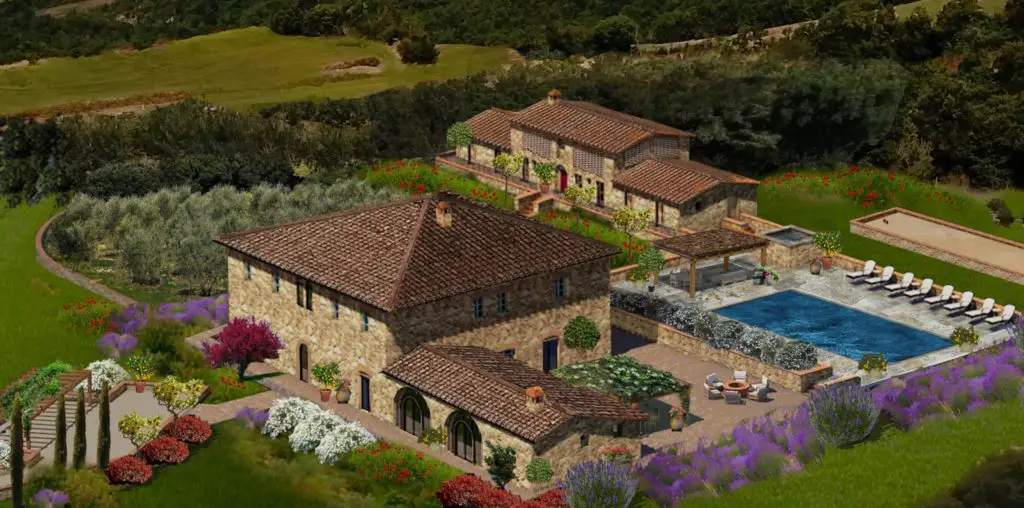 Farm San Gaetano is a storied 17th Century ruin available for purchase on the award winning Castello di Casole estate. Ideally located on one of the most prominent areas of the estate, San Gaetano encompasses 154 acres (62 hectares) of land consisting of organic vineyards, olive groves and fruit orchards. Custom design your farmhome to your specifications or take advantage of the current design plans in place that incorporate the perfect confluence of traditional Etruscan architecture and modern comforts. The Castello di Casole architecture, design and construction team make the process seamless and take out all the hassles of restoring your Tuscan dream home.
Set on over 100 verdant acres each, the Farms at Castello di Casole offer the rare opportunity to work the fertile Tuscan land, and depending on the site, you may be able to produce your very own wine and organic olive oil. Ownership includes access to 5-star resort amenities and the security of a dedicated staff tending your land and villa. Only a handful of farms remain starting from €5,400,000 with significant Italian acquisition tax benefits.
Should a Tuscan Casale or Villa be more your style, there are a limited number of fractional and whole ownership resales that are the perfect for those wanting to scale their ownership to their lifestyle. As with the farms, ownership also includes access to the world class amenities and services Castello di Casole is known for.
If ownership in Tuscany has been a dream of yours, speak to the Castello di Casole team and discuss options that best suit your wishes – Contact Castello di Casole
More info visit:  www.castellodicasole.com/farms/farm-san-gaetano