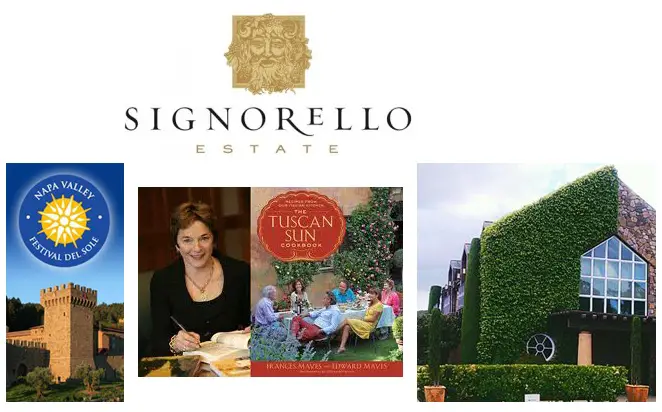 Castello di Casole – A Timbers Resorts Hotel & Residences is the official partner of the 2012 Napa Valley Festival del Sole and sponsor of Dinner with Frances Mayes at Signorello Estate on Sunday, July 22. On that evening, join Frances Mayes, bestselling author of Under the Tuscan Sun, at Signorello Vineyards for a virtual celebration of her new Tuscan Sun Cookbook.
In all of Frances Mayes's bestselling memoirs about Tuscany, food plays a starring role. This cuisine transports, comforts, entices, and speaks to the friendly, genuine, and improvisational spirit of Tuscan life. Both cooking and eating in Tuscany are natural pleasures. In her first-ever cookbook, Frances and her husband, Ed, share recipes that they have enjoyed over the years as honorary Tuscans: dishes prepared in a simple, traditional kitchen using robust, honest ingredients.
Signorello Estate Chef Michael McMillan will artfully recreate these wonderful places, each paired with a wine especially selected by Signorello Vineyards.  The dinner will be recreated simultaneously around the globe at various locations connected remotely via social media, with projected total impressions of 15 to 20 million.
The $295 per person ticket includes the complete dinner with wine pairings, an autographed cookbook, and a 5 pm pre-dinner Festival del Sole concert at the Lincoln Theater in Yountville featuring superstar violinist Joshua Bell and the Russian National Orchestra.
Menu for the Tuscan Sun Dinner:

Antipasti | Cannellini Beans & Sage
Antipasti | Olives, Three Ways
Primi | Baked Pasta with Sausage and Four Cheeses
Secondi | "Finger-Burner" Lamb Chops
Dolce | Ricotta Tart
Dolce | Lemon Hazelnut Gelato
We invite you to join us for this special evening. A limited number of tickets remain available for the event, which includes an autographed copy of Mayes' book. Click here for tickets.