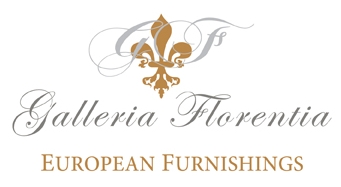 Galleria Florentia provides Custom European Furniture for Luxury Homes and Corporations in classical, contemporary and traditional styles, that are also warm and comfortable works of art.
Galleria Florentia's museum-quality collections, manufactured in Milan, Italy include luxurious living rooms, elegant dining sets, romantic bedrooms, and magnificent libraries. Galleria Florentia carries an extensive collection of Murano glass vases, mirrors, chandeliers, and abstract sculptures, Lladró High Porcelain sculptures, and also offers a limited edition collection of bronze and stone sculptures.
Galleria Florentia is your best resource for Italian and French furnishings that embody centuries of craftsmanship by the most legendary families of  Europe. Each handcrafted piece in our grand showroom represents endless possibilities in custom furniture design. Whether your vision is a sensational piece that combine hand-carved inlays in a variety of woods or infused gold leafing with rich silk fabrics, Galleria Florentia can deliver your dream furnishings from start to finish.
You are invited  to make an appointment to see their exquisite showroom located in the United States, Massachusetts, in the Back Bay of Boston at 79 Newbury Street.
For much more information visit Galleria Florentia online at www.galleriaflorentia.com