The key difference is the regions from which they originate and cost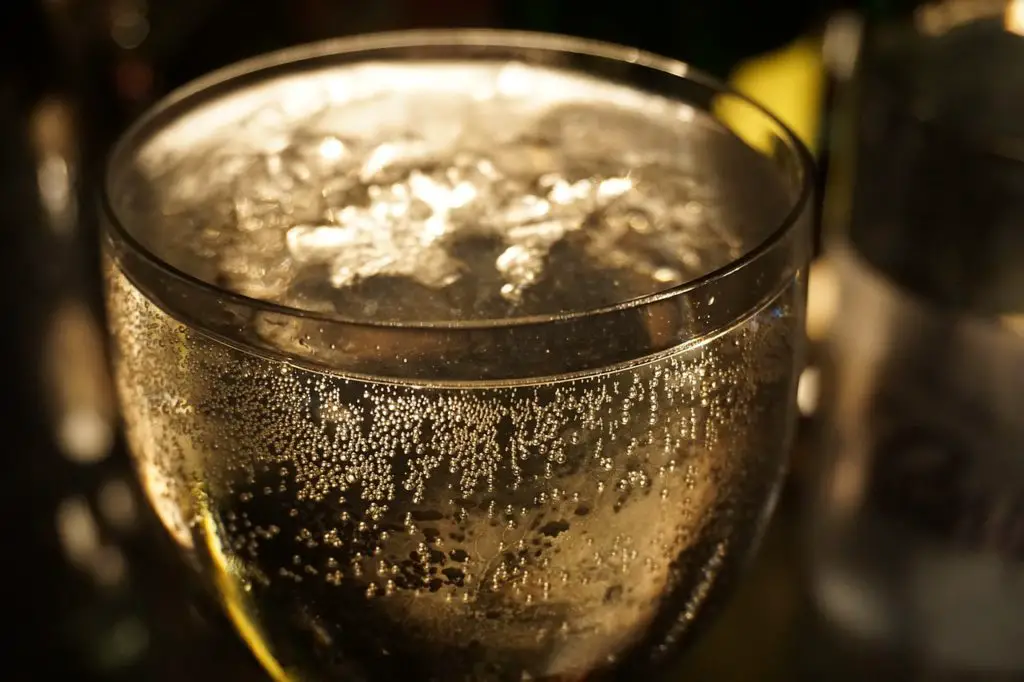 When comparing Champagne and Prosecco, the key difference is the regions from which they originate, as well as consumer cost due to the creation process.
Champagne is a product of the Champagne region of France and is made using Chardonnay, Pinot Noir and Pinot Meunier grapes. A standard pour, which is between five and six ounces, has about 128 calories. A very good bottle of entry-level Champagne costs around $40. – such as Veuve Clicquot Champagne.
Prosecco wine on the other hand, originates from the village of Prosecco, located near the city of Trieste in northeastern Italy in the Veneto region. This wine is mostly made with Glera grapes, which were formerly referred to as Prosecco grapes, but it can also include Verdiso, Bianchetta Trevigiana, Perera, or a few other varieties. A standard pour of Prosecco has about 121 calories. A very good bottle of Prosecco starts at about $15. – such as La Marca.
Champagne and Prosecco have very different taste profiles. The primary flavors in Champagne are citrus, white peach and cherry, almond and toast. Prosecco's primary flavors are green apple, honeydew, honeysuckle, pear and fresh cream and is often sweeter than Champagne.
Due to the wide variation in price points, Prosecco is an affordable sparkling wine that is an excellent everyday option. It's also a great choice for sparkling wine-based drinks like mimosas and Bellinis. Champagne's higher price point makes it more of a special occasion wine whose complexity is best enjoyed when savored on its own. However, an outstanding Prosecco straight up gives many Champagnes a run for their money – such as Venti22due.
Both Champagne and Prosecco are made differently. Both wines require two rounds of fermentation – the second round is intended for carbonation, which is the part of the process that differs between Champagne and Prosecco.
For Champagne, using the Methode Champenoise, as the French call it, the sparkling wine is made by doing a second fermentation in the bottle. After the first fermentation in which yeast and sugar are added, the wine is bottled with the yeast still in it. It continues to ferment and as it does, carbon dioxide is released from the sugar as the yeast eats away at it. The carbon dioxide creates those lovely bubbles. The yeast must stay in the bottle for at least one year for Champagnes that are non-vintage and at least three years for Champagnes that are vintage. Often, Champagnes age for longer than the minimum requirement.
Prosecco is processed using the more affordable tank method. This process follows many of the same steps as the traditional method, but the tank method stores the wine in tanks during the second fermentation. The large tank makes the process quicker and more efficient, making it more affordable to produce and therefore more affordable for the consumer to purchase.
In addition, here are some relevant vocabulary to guide you:
Sparkling wine: A catchall term used for any bubbly without a specific regional designation.
Champagne: Sparkling wine produced in the French region of the same name.
Prosecco: A sparkling wine produced in Italy, mostly in the Veneto region.
Cava: Spain's contribution to the sparkling family is named for the cellars in which it is produced.
Brut: A dry variety of sparkling wine and the most common.
Extra brut: The driest of the dry. Also known as brut sauvage.
Extra dry: A midpoint between sweet and dry sparkling wines, these popular wines are only slightly dry. Not to be confused with "extra brut."
Demi-sec: A bit sweeter than sec, but not as sweet as doux.
Doux: The very sweetest sparkler, typically served as a dessert wine.
Sec: Slightly sweet, even though the name actually translates to "dry" in French.
Nonvintage: A sparkling wine produced from a blend of multiple years of grapes. Denoted with the abbreviation "NV."
Vintage: A sparkling wine produced from a single year of grapes.
Grand cru: A wine that comes from the highest-quality vineyards.
Cuvée: A somewhat misleading term that indicates the bottle comes from a blend of wines, often kept secret by the winemaker.
So whether you're ringing in the New Year or toasting any occasion – here's to you, yours and wishes for good health and happiness – Salute!