Friends made over a lifetime share their award-winning Prosecco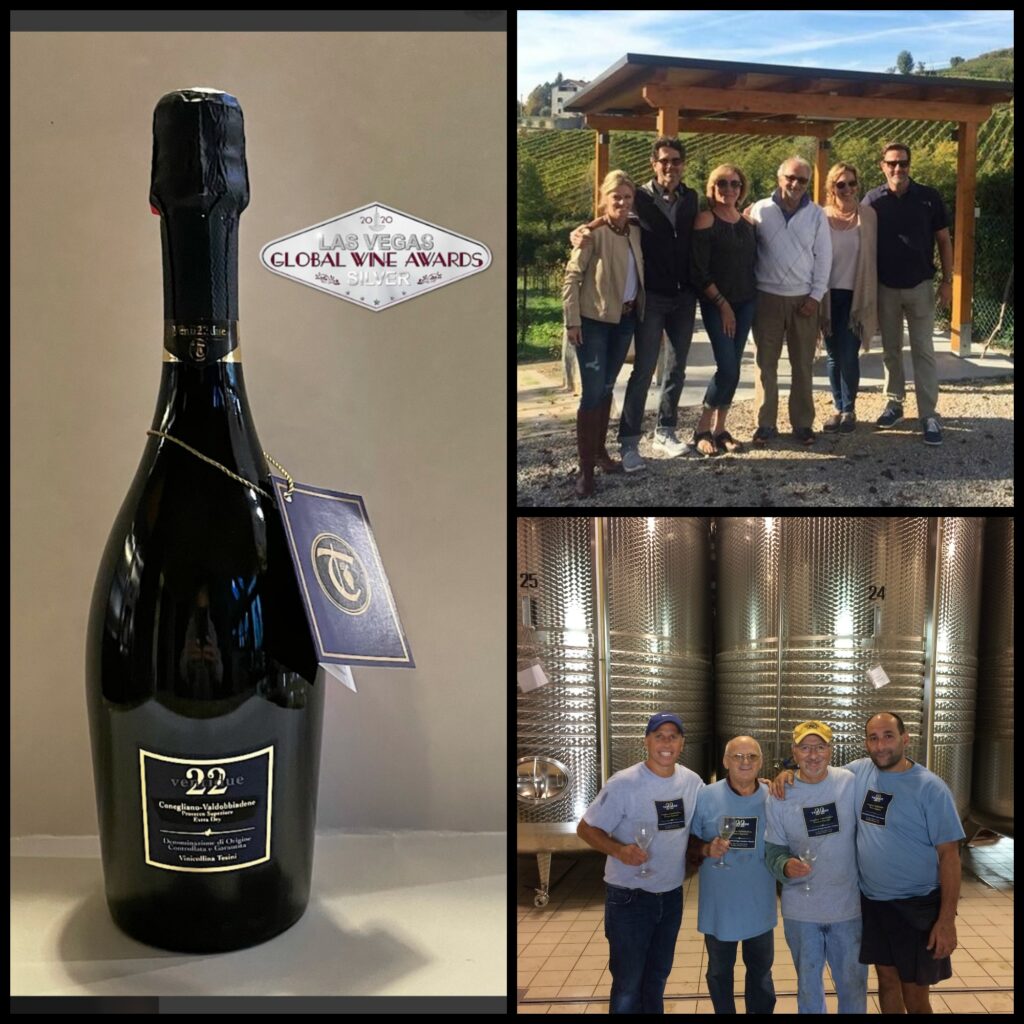 Written by, David A Tesini
"Family, Food, Friends and Wine…". That was my cousin Angelo's answer to the question, "What's important in life?". In fact, if you interviewed the whole generation of baby boomers living in Vittorio Veneto, 90% of them would have given you the same answer. That is just the way that it is in this town, 30 minutes north of Venice, where the Italian Alps start to rise leading up to the Dolomites, where WW1 ended in Italy and where the hot days, cool nights and above freezing winters coddle the Glera grape.
I could have never known as to what good fortune, that life had gotten me acquainted with my mother's family in Italy. Year after year, as I visited Vittorio Veneto, I re-lived those four words. Special emphasis was always focused on Prosecco Superiore DOCG, because the vineyards of Coneglaino Valdobbiadene fill the hillsides. I had to participate.
In 2012, we bought Vinicollina Tesini and started our long-term relationship with the Francisco Drusian Cantina in Valdobbiadene; initially producing 1200 bottles of individually numbered Prosecco Venti22due. Ten friends were convinced that maybe, just maybe, we would have some good prosecco to drink and many good stories to tell… thus began the Consortium Venti22due. We have grown to 36 members… friends from elementary school, the old neighborhood, high school, college, dental school… associates, relatives and colleagues. I was most honored when even a former pediatric dental patient of mine wanted to join the group, having past her 21st birthday.
We have won many compliments and several awards along the way, including the Pro Loco di Vittorio Veneto award as the "miglior Vittorese" (best in Vittorio Veneto), the TexSom Bronze Award and also the honor of having it served at the Italian Embassy in Washington DC in 2017.
This year, our 10th anniversary year, we were notified that we had won a Silver Medal at the Las Vegas Global Wine Awards announced December 14, 2020.
Las Vegas Global Wine & Spirit Awards Founder and Executive Director Eddie Rivkin shares:
"This year's winners truly show that we honor the best, whether that bottle is from a boutique brand from a lesser-known region or a large, globally known brand. All that matters in our competitions is what's in the bottle."
This year's competitions proudly boasted over 750 bottles from 6 different continents, all vying for top honors in the top wine & spirit marketplace in the world – Las Vegas.
This Christmas and the holiday season, the members of the Consortium Venti22due are proud to share the spirit that is in each bottle of their Prosecco Venti22due.
Buon Natale e Felice Anno Nuovo!
~ David A Tesini
Learn more online at:  www.venetobrio.com