Villa Le Rose offers blending of luxury accommodations and Ferragamo style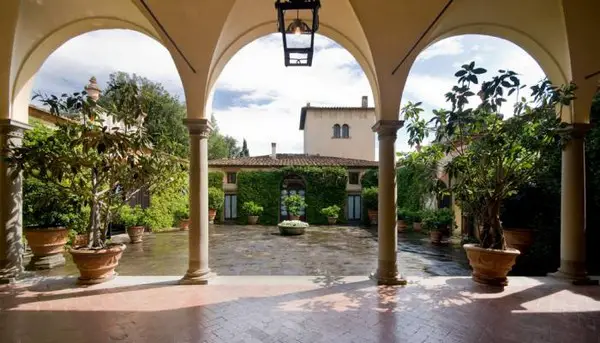 Think of fashion leaders, and Italy likely comes to mind. While Florence doesn't hold the same weight as Milan in the industry, you may be surprised to know that this little city holds a piece of the fashion world – a Tuscan country estate situated on a serene location in the rolling green hills on the southern outskirts of Florence.
The aura of the Italian Renaissance pervades Villa Le Rose, one of the luxurious properties in the Salvatore Ferragamo family-owned Lungarno Collection. Previously owned by the famous Medici family, Villa Le Rose has long been a place of superior luxury and an icon of wealth.
The Ferragamo's purchased the property in the '80s and completed a restoration project in 2003. During this time, the villa was modernized with the highest quality amenities and furnishings while still keeping the villa's historical features intact. Built around a courtyard and down a tree-lined driveway, the villa's landscape is filled with gardens and olive groves. Surrounding the property is a sweeping lawn with beautifully manicured rose bushes and potted lemon trees decorating its grounds.
On Villa Le Rose's ground floor the large ballroom with 18th century country-residential architecture takes center stage, occupying much of the level. Two sitting rooms, a hall and studio sit on one end of the property. On the other, the dining room boasts frescoed walls and elegant table settings. The Baldacchino Suite, an elegant room with a great canopied bed, frescoed bathroom and fireplace is also located on the ground level. Five suites take up the upper floor. Each unique room features original furnishings along with decorated ceilings and ample space. The large windows provide for great views of the endless lush Italian countryside.
As a part of the experience, guests will enjoy exclusive amenities and rare excursions including the opportunity to purchase custom-made Ferragamo items that were once fashioned for Hollywood's elite like Greta Garbo, Judy Garland and Marilyn Monroe. Travelers will also be given the Lungarno Collection Privilege Card which allows for specific perks at Salvatore Ferragamo boutiques. But if shopping is not your speed, maybe test driving a Ducati or Lamborghini along the Italian countryside will be more up your alley. Or maybe just let your personal chauffeur do all the work while you relax and see the sights and sounds of the city.
A unique example of 15th century Renaissance aristocratic manor, Villa Le Rose offers all the qualities a demanding traveler may wish for.
For more info visit: www.villalerose.com