Campaign on Indiegogo to fund the last costs of her television special for PBS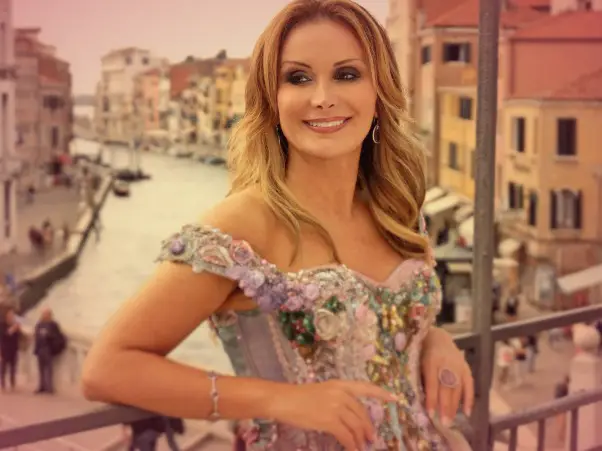 Italian singer Giada Valenti, is invited to film her show From Venice With Love as a television special to be broadcast by PBS stations all over the country. But Giada has to pay a large part of the costs of the filming herself and has therefore started a fundraising campaign on Indiegogo –  www.FromVeniceWithLove.com
For her television special, which will be also entitled From Venice With Love, Giada will be accompanied a full orchestra. In her show she takes her audience on a romantic journey performing her own interpretations of hits from the 60s, 70s, 80s as well as recent contemporary songs. She sings songs that were originally performed by The Beatles, The Carpenters, The Doors, Dean Martin, Etta James, Roberta Flack, Shirley Bassey, Edith Piaf, Linda Ronstadt, Rosemary Clooney, Christina Perri, Bruno Mars but also Italian singers like Mina, Ornella Vanoni, Pino Donaggio and Domenico Modugnio. All the songs that Giada performs in her television special have new arrangements made by the Grammy nominated arranger Chris Walden.
With this television special Giada will give the American audience a taste of the romantic feelings you will get when you are in Venice. She will bring a little bit of Venice to the United States. With this television special Giada wants to contribute to the promotion of Italian culture in the United States. Many of the songs she performs are written by Italians and as introduction of these songs she often tells stories how they are related to Italy or Venice. In her television special Giada will sing songs in English, Italian, French and Spanish. In the last years Giada has performed her show often at colleges and with this television special Giada wants to inspire young people to learn a foreign language. With her show she also would like to inspire people to go see more performing arts.
Part of her television special is already filmed in Venice Italy. Pictures of Giada showing the most beautiful places in Venice will be mixed in the television special with parts of the live concert that will be filmed in March 2015.
But Giada has to pay a large part of the costs of the filming herself, like the design and construction of the stage, and hiring the orchestra. Therefore she has stared a fundraising campaign on Indiegogo. People can make online a tax-deductible donation. To make things easy she made on her page at Indiegogo different gift levels. As a thank-you for the contribution she will give different Perks in return. For example for a donation of $10 you will get five never released recordings of her, for $400 she will make a Voicemail message/greeting. To make a donation visit www.fromvenicewithlove.com  To make a tax-deductible donation with a check people can email info@giadavalenti.com for more info.
To create a high quality television special Giada has surrounded herself with some of the best professionals like music arranger Chris Walden (Andrea Bocelli, Michael Buble, Barbra Streisand, Rihanna), music arranger Larry Gold (Pink, John Legend, Aretha Franklin), music supervisor Gregg Field (Liza Minelli, Gloria Estefan, Il Volo, Barbra Streisand), television director Joe DiMaio (Miss America Pageant, Michael Buble, CMT Awards), light designer Tom Kenny (American Idol, Celtic Woman, Gloria Estefan, CMT Awards), line producer Frank Garritano (U2, MTV Movie Awards, Justin Timberlake).
The concert part of the television special will be filmed in March 2015 at the Madison Theatre in Rockville Centre, NY. The exact date will be announced at the end of January 2015.
MORE ABOUT GIADA VALENTI
Award winning singer and songwriter Giada Valenti is born and raised in Venice, Italy. With record label BMG Ariola she had several hits in the charts in Europe. In her homeland Italy she won many singing competitions like the prestigious San Remo Giovani Talenti Nel Mondo and Festival di Castrocaro. But since nine years she lives and works in the United States, where she has released her CDs "And I Love You So", "Italian Signorina" and "My Lullaby", which received raving reviews.
In 2005 and 2006, Giada performed her own original shows La Dolce Vita Swings and Moonlight & Romance, in sold out-theatres in New York City. In June 2007 Giada made her debut at the premiere cabaret room in the U.S.: Feinstein's at the Regency Hotel in New York City, where she became a regular performer.  In 2009 Giada made her debut in Atlantic City with a sold out show at the Hilton Casino Hotel. She currently tours all over the American East Coast performing is medium sized theaters.
Giada has been featured on ABC, NBC and CBS Television. Also the Italian television has reported many times about her life and success in the US. In 2010 Giada she was honored by the Commission for Social Justice of the Order Sons of Italy in America for Being A Good Italian Role Model and in 2011 she was awarded the Merit of Honor by the Borough President of Queens, NY for her Outstanding Cultural Contribution To The Community In The United States.
ABOUT INDIEGOGO
Indiegogo is a way for people all over the world to join forces to make ideas happen. Since 2008, millions of contributors have empowered hundreds of thousands of inventors, musicians, do-gooders, filmmakers—and other game-changers—to bring big dreams to life. Indiegogo is democratizing the way ideas get funded and realized across the globe. Indiegogo has a simple mission: to empower everyone to change the world, one idea at a time. Indiegogo provide the tools to help campaigns—large and mainstream, or small and personal—boost the awareness and funds to get there.
ABOUT FRACTURED ATLAS
Fractured Atlas is the largest arts service organization. It's a 501(c)(3) public charity. It is a national organization that supports folks at every level of the cultural ecosystem. Mostly that includes individual artists — performing, visual, literary, design, media, and everything in between — and arts organizations — from one-person outfits to the biggest of the big. Fractured Atlas has launched a broad range of programs and services, collectively reaching over 250,000 artists and organizations. As the only service organization to serve the needs of arts groups as well as individual artists in all disciplines.
Further Press details contact: J.J. Pouwer – jj@perlaentertainment.com – 917-478-4217