Following her critically acclaimed music special on PBS – Celebrate the Romance and Magic of Venice with the Italian Songstress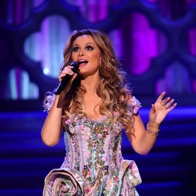 Following her stunning and highly anticipated PBS Special, Italian songstress Giada Valenti will do a series of 21 concerts around the United States next year. The tour will kick of at the Keswick Theatre in Glenside, PA on  Saturday April 2, 2016 and ending Sunday, June 12, 2018 at the Fox Theatre in Riverside, CA.
In her show Giada takes her audience on a romantic and magical journey as she performs her own interpretations of American and Italian hits from the 60s, 70s, and 80s, as well as recent contemporary songs. Born and raised in Venice, Giada has always been influenced by her hometown, bringing its magic and passion to her musical style.
Giada, who sings and speaks in five languages, performs love songs originally made famous by The Carpenters, Rosemary Clooney, The Beatles, The Doors, Christina Perri, The BeeGees, Linda Ronstadt, Dusty Springfield, Roberta Flack, Bread, Domenico Modugno and many more.
Giada's voice and spirit touches the heart of her audience as she performs songs from multiple genres, from the haunting ballad "La Vie En Rose" to the rock classic "Light My Fire." A natural storyteller, Giada shares anecdotes and personal tales from her past, creating a genuine connection with her audience.
Accompanied by her own orchestra, Giada is costumed in stunning dresses that were specially made for her in Venice.
The team that worked with her on her television special will also be involved in the creation of her show for the tour. She will be working again with award winning professionals like arranger Chris Walden (Andrea Bocelli, Michael Buble, Barbra Streisand, Rihanna), arranger Larry Gold (Pink, John Legend, Aretha Franklin), multi-Grammy Award-winning music producer Gregg Field (Monica Mancini, Gloria Estefan, Arturo Sandoval, Barbra Streisand) and lighting designer Chris Landy ("Late Night with Jimmy Fallon," and a GREAT PERFORMANCES Annie Lennox special for PBS).
Born and raised in Venice, Italy Giada Valenti started to sing and play piano at the age of seven and began touring professionally with a band by age twelve. She studied piano and music theory at the Santa Cecilia music school in Venice and received her music degree at the G. Tartini in Trieste. She also studied jazz with American singer Dawn Mitchell.
In Italy she has won several important music awards including the prestigious La Grande Occasione and Festival di Castrocaro. While she was studying psychology at the University of Padova, she met the love of her life and moved to The Netherlands. She participated in the song contest San Remo New Talents in the World, held annually for Italians living abroad and won with her pop ballad "Solo Con Te" ("Only With You"). This led her to a record contract with BMG Ariola in Europe and several hits on the charts, as well as the use of her music in radio and television commercials.
In 2004 she moved to the U.S. and her self-released CD "Italian Signorina" was launched to great reviews in December 2005. It featured the song "Caruso" that she performed on the red carpet at the New York City Columbus Day Parade in 2005, 2006, and 2007; she has been featured in the parade every year since.
Producer Sonny Grosso and musical director Phil Ramone selected Giada for a role in the Broadway musical Be My Love, based on the life story of tenor Mario Lanza. In 2008 iTunes selected her version of the song "Caruso" as one of the 50 best songs in the Italian language. In 2005 and 2006, she performed her own original shows "La Dolce Vita Swings" and "Moonlight and Romance" in sold-out theaters in New York. In June 2007 she made her debut at Feinstein's at the Regency Hotel in New York City. With her show "Tribute To The European Divas," featuring the music of such great female singers as Edith Piaf, Dusty Springfield, Shirley Bassey, Mina and Ornella Vanoni, she became a regular performer at this prestigious venue until its closing in 2012. In 2009 she made her debut in Atlantic City at the Hilton Casino Hotel.
She has received many awards in the U.S. from organizations including the Organization of Italian Charities In America, which named her Woman of the Year (2008), the Commission for Social Justice of the Order Sons of Italy in America for being a good Italian role model (2010), the Merit of Honor by the Borough President of Queens, NY for her outstanding cultural contribution to the Italian community in the USA (2011), the Saint Brigid Parish for her Distinguished Service in Promulgating the Beauty and Value of Italian Culture and Heritage (2012), and the Italian American Labor Council for her Work, Achievements and Life Dedication to Music (2012). Giada is also a nine-time recipient of a grant from the NIAF Sergio Franchi Music Foundation.
Full 2016 Tour Schedule
Date                            City                             Venue 
Sat – April 2                Glenside, PA               Keswick Theater
Mon – April 4             Pittsburgh, PA            Byham Theatre
Wed – April 6              Cleveland, OH            Ohio Theatre
Fri – April 8                Nashville, TN              James K Polk Theatre
Sun – April 10             St. Charles, IL             Arcade Theatre
Tue – April 12            St. Louis, MO             Peabody Opera Theatre
Fri – April 15              Detroit, MI                  Music Hall Theatre
Sat – April 16             Toronto, ON               John Basset Theatre
Sun – April 17             Montreal, QU             Theatre St. Denis
Thu – April 21             Providence, RI           The VET
Sat – April 30             New York, NY            The Town Hall
Tue – May 3               Red Bank, NJ              Count Basie Theater
Wed – May 4              Baltimore, MD           Hippodrome Theatre
Tue – May 10             Charlotte, NC             Knight Theatre
Wed – May 11             Roanoke, VA              Shaftman Performance Hall
Thu – May 12             Atlanta, GA                Buckhead Theatre
Sat – May 14             Ft Lauderdale, FL      Parker Playhouse
Wed – June 8            Sacramento, CA         The Crest
Thu – June 9            Redwood City, CA      Fox Theatre
Sat – June 11           Las Vegas, NV             UNLV PAC
Sun – June 12          Riverside, CA              Fox Theatre
– One West Concerts LLC –
For further info visit: www.giadavalenti.com
Contact: J.J. Pouwer – T: 347-448-6666   C: 917-478-4217   E: jj@onewest.co