Enjoy an intimate and interactive experience with this silver screen legend

Al Pacino is one of the most acclaimed actors in film history. He is most famous for his roles in "The Godfather," "The Godfather II," "Serpico," "Dog Day Afternoon," "Scarface," "Carlito's Way," "Heat" and "Scent of a Woman." He is a winner of an Academy Award, two Primetime Emmy Awards, four Golden Globe awards, the National Medal of Arts and the American Film Institute's Lifetime Achievement Award.
Spend and evening with Pacino at the Borgata in Atlantic City, NJ on June 4, 2016 at 8:00 PM. In this one-man show titled "One Night Only," Al Pacino takes his fans on a journey through his amazing life and career. The show features a Q&A portion, audience participation, amusing behind-the-scenes stories and fascinating insight into the amazing cast of characters he has played in his lifetime. This is a must-see for any Pacino fan or film buff.
Pacino's most recent starring role was in the film "Misconduct" which was released in February of this year.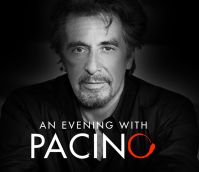 Tickets are $89, $115, $139 and $349
Find available tickets now at: Al Pacino 'One Night Only'