by Vanessa Alfano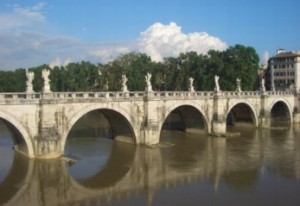 A city of ancient ruins, architectural beauty, amazing history, and a wonderful Italian culture, Rome is a place that everyone must visit once in a lifetime. It is a city overflowing with sites, each one more impressive than the last. A place where past meets present and history greets modern day.
Walking through the streets of Rome, I was often amazed at how the ancient and the modern seem to intermingle so easily. Historic buildings stand side by side with new apartment houses, merchants sell knockoff watches and handbags on bridges adorned with ancient statues, and ruins sit preserved just feet from where trams, buses, and pedestrians travel everyday.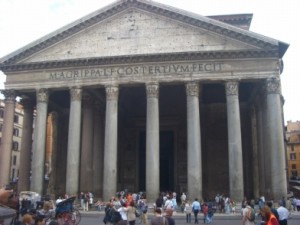 Yet, on occasion the juxtaposition between old and new was jarring. My first encounter with the Pantheon, an ancient temple dating back to 125AD, caught me completely off guard. After moseying through a maze of streets filled with souvenir shops, gelato stands, and such, I was let out into a typical piazza. It was lined with restaurants and cafes, a dozen or so outside tables at each, and folks sitting leisurely nibbling snacks and having late afternoon aperitifs. Only, smack dab in the middle of this square stands the ancient, overwhelming edifice that is the Pantheon. The structure is so big, and so clearly ancient, that it looked completely, yet beautifully, out of place. It almost appeared like someone had put it there by mistake. But in fact it is all that was built up around it that could be considered the mistake. I couldn't help laugh (and shake my head) as I turned my back on this awesome edifice to see a pair of golden arches staring back at me.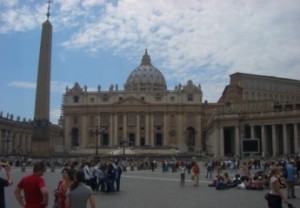 A place that so completely stands on it's own is Vatican City. My absolute favorite part of the city was the area that holds St. Peter's Basilica and Piazza San Pietro. The awesome dome of the Basilica can be spotted from miles away, and upon approach, the expansive piazza that is in fact the foreground of the church, is so impressive. The massive Piazza San Pietro is surrounded by roman columns, many topped off with marble statues. It is yet another example of exquisite Roman architecture, and seems majestic. As does the Basilica. Inside the church I was surrounded by beautiful archways, high alters adorned in bronze, countless statues and tributes to popes and saints, and endless artwork. Michelangelo's dome loomed overhead, and grandeur, beauty, and complete excess met me at every turn.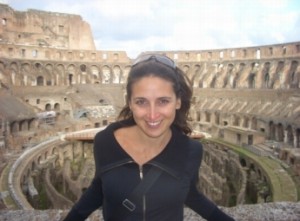 The Coliseum is perhaps one of the most well known sites in Rome. It is enormous and ridiculously impressive, both inside and out. This ancient amphitheater served as a playground and death ground for centuries. Gladiators often fought to the finish, and a variety of other spectacles entertained royalty and common man alike. I was amazed as I stood in the midst of this massive arena, staring up into stands that at one time held 50,000 spectators, and walls that had crumbled over time. It was almost magical seeing the late afternoon sun lower behind archways that had had that same sun setting on them for thousands and thousands of years.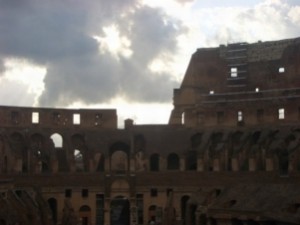 ~Vanessa Alfano