by Vanessa Alfano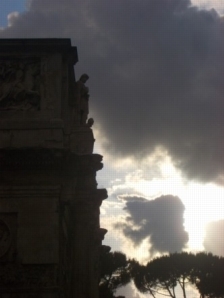 This is a phrase we have all heard, but one that I decided to try and take literally. Aside from being a typical tourist, I wanted to experience Rome as the Romans do. Fortunately, I had friend, Marco, who lives in Rome, and made sure I got to experience first hand how Romans today really live.
My authentic Roman experience began when Marco came to pick me up on a motorbike. When he handed me a helmet, I was a bit trepidatious, but climbed on board and discovered just how thrilling (and slightly nerve wracking) it could be. The streets in Rome are flooded with Vespas and other brands of motor bikes. Young and old can be seen, weaving in and out of traffic, taking risks that would give most mothers a heart attack. Yet, being bike bound is certainly a more efficient way to get through the car crowded streets of Rome. And I must say, it was absolutely amazing zipping by ancient buildings, and historic statues. The juxtaposition of old and new has never been more evident, or breathtakingly beautiful than on back of that bike.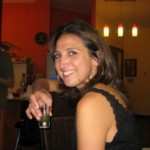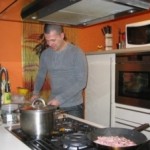 Marco also included me in a wonderful night of food, friends and fun. Food is so central to Italian culture, and he started our meal with a simple pasta dish that is typical to the region, Rigatoni Carbonara. A simple dish of pasta, panchetta (Italian bacon), egg, and pecorino romano. Deliciouso! He followed the first course with some grilled sausage, lamb skewers seasoned with rosemary, and the best buffalo mozzarella I have ever tasted. The meal was followed by a nice strong Italian coffee (espresso to us), and then an even stronger shot of limoncello, an Italian lemon liquor that everyone insisted I must try. Salute!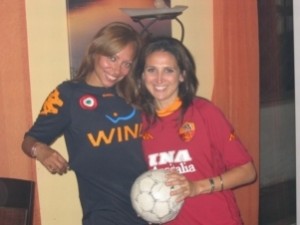 Throughout the night I also got another taste of Roman life. And this one had nothing to do with food or drink, but everything to do with the game of Futbol. Futbol (or to us Americanos, soccer) is a huge part of Roman life. You can see it being played in parks throughout the city, guys kicking around the ball on the beach, and most of all, it being watched religiously. The Italians are the reigning world cup champions, and the majority of Romans are fanatics. The Olympic Stadium is packed out alternating weekends between September and May, when the Roman team is playing at home. And the night of Marco's dinner there was a finals match on, so futbol was the focus for the big part of the evening. I found it to be great fun to watch, and it was even more fun for me to watch my Roman friends, as they yelled and screamed at the TV, threw their hands up, cheered, clapped, and eventually celebrated as their team won and advanced to the finals once again. The Italians are passionate people that is for sure!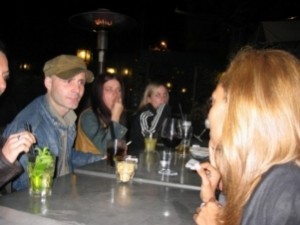 We continued our night by heading out to a few local restaurants and bars, to enjoy a drink afuera and the company of friends. About a dozen of us sat around a table talking, and sipping on wine and cocktails, and enjoying the company of good friends, new and old. I so appreciated the hospitality of my Roman friends, and the first hand experience of a typical and Roman night. Good food, good drink, good friends, good fun. We should all do as the Romans do.
~Vanessa Alfano