by Vanessa Alfano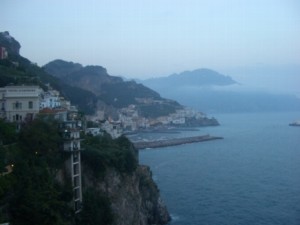 Although in love with Positano, we did make it further down the coast to Amalfi and Ravello. The drive between Positano and Amalfi is only about 45 minutes, and incredibly scenic. As a driver you may at times be white knuckled (the roads are narrow and the drops down over the cliffs far), but the ride is beautiful.
We ended up going to Almafi one night for dinner. The town itself is a little glitzier than Positano, and has long been a popular spot for the upper class to holiday. In my opinion, Almafi doesn't have the same charm as Positano, but the center piazza, impressive duomo, waterfront, and variety of stores and shops make it well worth a visit.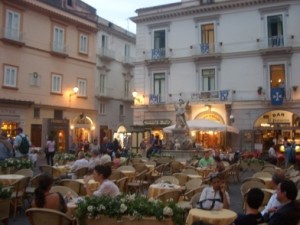 I also had one of my best meals at a seaside restaurant in Amalfi. I ordered an insalata di mare that was to die for. Fresh calamari, oysters, clams, and a variety of other seafood, dressed in a zesty olive oil and lemon, and topped with a pinch of sea salt. It was SO good that I had to take a snapshot to savor it forever. Now there's a girl who's enjoying her meal!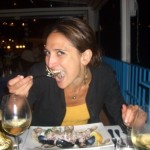 Ravello is a neighbor to Amalfi. It sits far above the coastline town, about a 15 minute drive strait up into the mountains. Ravello is known for being a quaint mountainside town, with dramatic views. From the town's altitude the coastline below can be seen for miles. Aside from magnificent views, Ravello attracts those wanting to enjoy the quaint town, good restaurants, or the ongoing classical concert series that happens all summer long.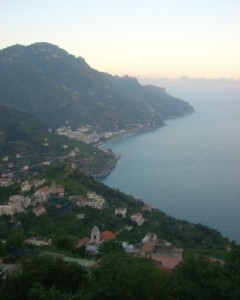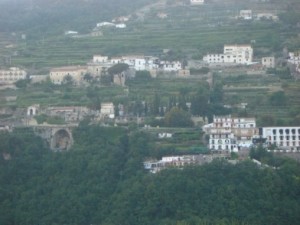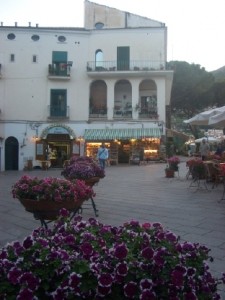 I loved the whole Amalfi Coast. It is by far my favorite part of
Italy. The scenery is dramatic and absolutely gorgeous, the food fresh and so delicious, and the people warm and wonderful. It's funny too, because throughout my time there I felt a very close connection with the land and culture. An affinity I am sure exists because my roots. My grandfather's family came from the Campania region, and until this trip I never realized that my last name is actually very, very common in the region. The whole time I traveled down the coast, it was recognized, and often commented on. Hotel clerks checking me in, waiters taking my credit card, and all sorts of locals would see or hear my last name and 90% of the time would say "Oh, you are from this region? You're Italiano?" And after seeing and experiencing the amazing Amalfi coast, I was never more proud to say, "Yes, yes I am."
~Vanessa Alfano