by Vanessa Alfano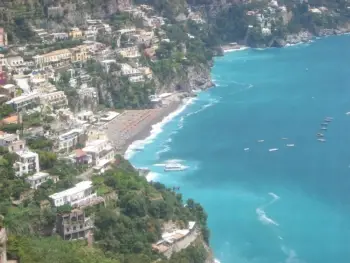 Positano is by far my favorite part of the Amalfi Coast. The little town cascades down the mountainside and is filled with charm and beauty. Hotels, restaurants, stores, all stack up one behind the other overlooking the sea.
The roadway in to Positano winds and weaves down, but what might be considered the real center of Positano is actually only accessible by foot. The base of this adorable village is a small beach that meets the clear turquoise Mediterranean, and the car free waterfront boasts a variety of open air seafood restaurants, bars, small hotels, gelato stands, and beach shops. The town extends upwards, and paths (and many many steps) take you up through this hillside village. Everything from quaint local limoncello shops to fine art galleries greet exploring visitors. Local shoe makers can be seen constructing leather sandals on sidewalks outside their shops, and local artists stand seaside recreating the magnificent view on canvas.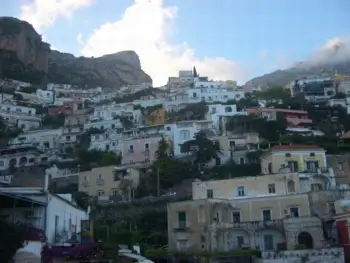 We started out planning to stay only one day in Positano, but ended up there for four. This was in part because we found an absolutely wonderful place to stay. Hotel Puppetto is a family owned and operated beach front hotel that was wonderful. It sits away from the center of town ( a 15 minute or so walk along a cliff side path connects Puppetto with the center of Positano), and it's private feel is just one of the many reasons we couldn't leave! Everyday we would walk down to the older woman at the front desk (who totally reminded me of my own little Italian grandmother) and ask to stay "just one more night?" And although we had to switch rooms almost every night, Nana always worked it out.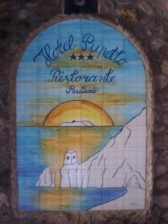 Our days began with breakfast on the terrace overlooking the sea. Then just steps down to the beach to spend a few hours laying in the sun or splashing around in the cool waters of the Mediterranean, or chatting with guests or staff who, after only a few days, had become friends. Beach time was interrupted for a cold beer or panini at one of the beach side bars, and on occasion we would mosey into town to shop or grab a gelato. Evenings consisted of long relaxing dinners– al dente pasta, fresh seafood, and of course a bottle or carafe of wine. Then perfectly relaxed we would head back to our balconied room at Puppetto (they all are!) and be lulled to sleep by the sea. The perfect day in my estimation!
A quaint beautiful village, warm sun, a turquoise sea, delicious food, good wine, and great people. What could be better than that?
Positively Wonderful.
~Vanessa Alfano