New flagship line this season for Missoni is inspired by the flower of the same name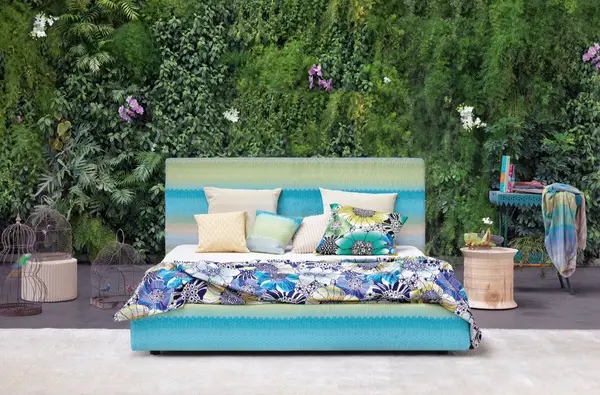 High-end Italian fabric-maker Missoni, just presented its new collection of fabrics at Paris Déco Off, a design and decoration showcase that takes visitors around brand showrooms in the French capital and is held alongside the Paris edition of the Maison & Objet interior design trade fair.
With Rosita Missoni at the helm of Missoni Home, it's no surprise to see her love of color channeled in these vibrant new fabrics.
One of six fabric collections presented, "Oriental Garden" is based on a pattern from a silk cape, known as "Saturno," designed by Missoni in 1971. Missoni Home reclaimed the pattern for its 2016 textile collection, with bold flowering branches blooming in different designs, including a macro print on cotton with a checkerboard of matte and shine finishes, and micro embroidery on satin fabric. Two sets of shades are available, with turquoise, amethyst, slate and onyx on a sandy colored background, or coral, rosewood and shades of amethyst and sage on a turquoise background.
"Anemone" is a flagship line this season for Missoni. Inspired by the flower of the same name, it juxtaposes large and small flowers in shades of blue and green against black and white blooms. Black and white appear again in the "Anemones Dream" fabric, alongside touches of pink, yellow and purple.
"Fireworks" uses a rainbow design — a hallmark of the Missoni brand, along with the zigzag. The bright colors are set against a black and white background.
The "Tropical Fish" line of outdoor fabrics puts colorful fish in a lively print, while "Floral Galaxy" captures a flower-filled English garden. (Prices on request)
Rosita Missoni founded Missoni 60 years ago with her husband, Ottavio. She left the fashion side of things to her children in 1997 and turned her attention to Missoni Home.
For more information visit: www.missonihome.it