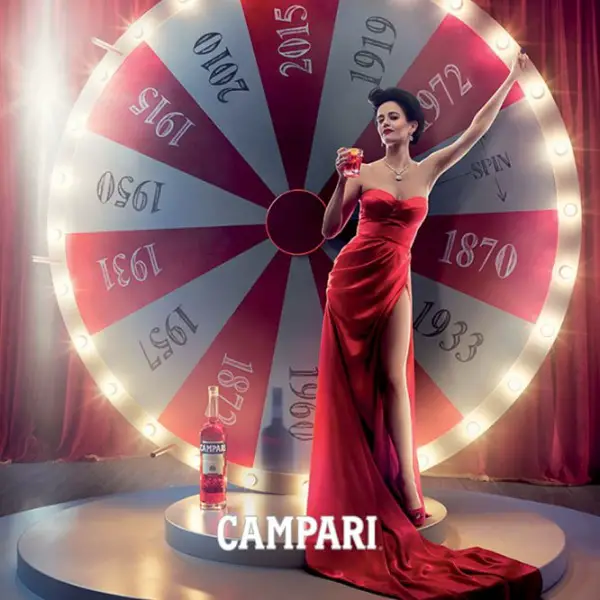 The 2015 exclusive Campari calendar features the gorgeous 34-year-old French actress Eva Green. The years coveted calendar is called Mythology Mixology and tells the story behind 12 of Campari's most iconic cocktails that have stood the test of time — such as the Negroni.
"For me, this project was about telling a series of stories in an imaginative, creative and beautiful way—and that's exactly what we've achieved," says Green, who is most known for her role in Bernardo Bertolucci's The Dreamers (which was actually her first film role), Casino Royale, and Penny Dreadful. "The 2015 Calendar is a real testament to Campari as a brand. Seeing all of the stories together just proves there will always be a firm place for a Campari cocktail in contemporary culture for generations to come."
Shot by famed photographer Julia Fullerton-Batten, the images showcase the Bond girl looking stunning in red, posing in a variety of history-inspired glamorous images while wearing designs from the likes of Vivienne Westwood, Versace, Alaia and Christian Louboutin. Shining a spotlight on the classic Negroni, which was created by Count Camillo Negroni in 1919, to the Boulevardier and the Americano, all of our favorite drinks are immortalized in glamorous detail.
"I was delighted to have the opportunity to shoot the 2015 Campari Calendar with Eva Green as the star," comments Fullerton-Batten. "For me, the Calendar really celebrates the timelessness of Campari as a brand."
As usual, only 9,999 copies of the limited edition calendar have been printed and will be shared with friends of Campari. Since Mythology Mixology won't be sold on any shelves anywhere, if you want your hands on one, let's hope you're a friend to the brand or at least know someone who is.
You can view the entire calendar shoot at: http://www.camparigroup.com/en/media/multimedia-kit/campari-calendar
For more on Campari visit:
www.campari.com
www.facebook.com/campari