"Driving a 250 SWB is like wielding a hammer, it commands your respect through aggression and raw power. The Zagato, however, feels more like a tailored suit. It's agile, sophisticated, and equally responsive…it's a truly beautiful car to drive. And it fits perfectly." – Peter Read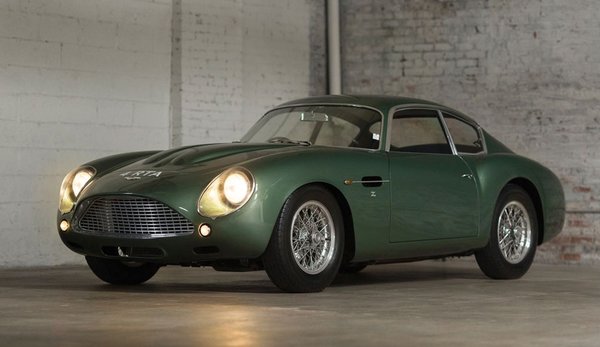 With only 19 DB4 GTs graced with coachwork by Zagato, just having the opportunity to see a DB4GT Zagato is a dream few realize. So treasured by their owners, not a single example has traded hands for the greater part of a decade. While its direct competitor from Italy would be the Ferrari 250 GT SWB Berlinetta, it would be more appropriate to compare the car to the vaunted 250 GTO, though both were produced in greater number. Both Aston Martin and Ferrari pushed the envelope of performance when these models were new, both boast wins on the world's most competitive stage, and both boast handcrafted aluminum bodywork with designs worthy of inclusion in any major art museum. However, in terms of rarity, nearly half as many DB4 GT Zagatos were built compared to the 250 GTO. One is set to go under the hammer at RM Sotheby's this December.
The 1962 Aston Martin DB4GT that's to be auctioned is the 14th of just 19 DB4GTs tailor-made by Zagato. The car has 314 bhp, 3,670 cc DOHC twin-plug alloy inline six-cylinder engine with triple Weber 45 DCOE carburetors, four-speed synchromesh alloy-cased manual transmission with overdrive, front and rear coil-spring suspension, four-wheel Girling hydraulic disc brakes and a wheelbase of 95 in.
Considered by many to be the coachbuilder's finest design, the DB4GT Zagato is instantly recognizable as both an Aston Martin and a Zagato, thanks to the famed carrozzeria's deft ability to masterfully craft distinctive design elements from each company into one harmonious work of art. Boasting a slightly elongated nose with a more pronounced grille, visually the car appears much more aggressive than the outgoing DB4GT. At the rear, the taillights were set into the fenders, and the C-pillar was reduced by featuring a larger rear windshield. While the DB4GT was already a highly attractive automobile, the Zagato coachwork gave the Aston Martin a more voluptuous appeal, smoothing out the harder edges in favor of a more dynamic and fluid shape. Changes were more than just skin deep, as Zagato and Aston Martin also endeavored to make this car faster than its standard brethren, reducing nearly 50 kilograms of weight and adding 12 horsepower to the total output.
As an engineering masterpiece and a design icon, the Aston Martin DB4GT Zagato has few peers, and its significance to Aston Martin, Zagato, and its genre simply cannot be overstated. The DB4GT Zagato embodies the essence of Driven by Disruption and deserves to be regarded not only as a historically significant machine but also as a groundbreaking work of art.
RM Sotheby's Auction – New York
December 10th, 2015 – Listing: 1962 Aston Martin DB4GT Zagato