An exceptional olive oil recognized as 2020 Gold Medal Winner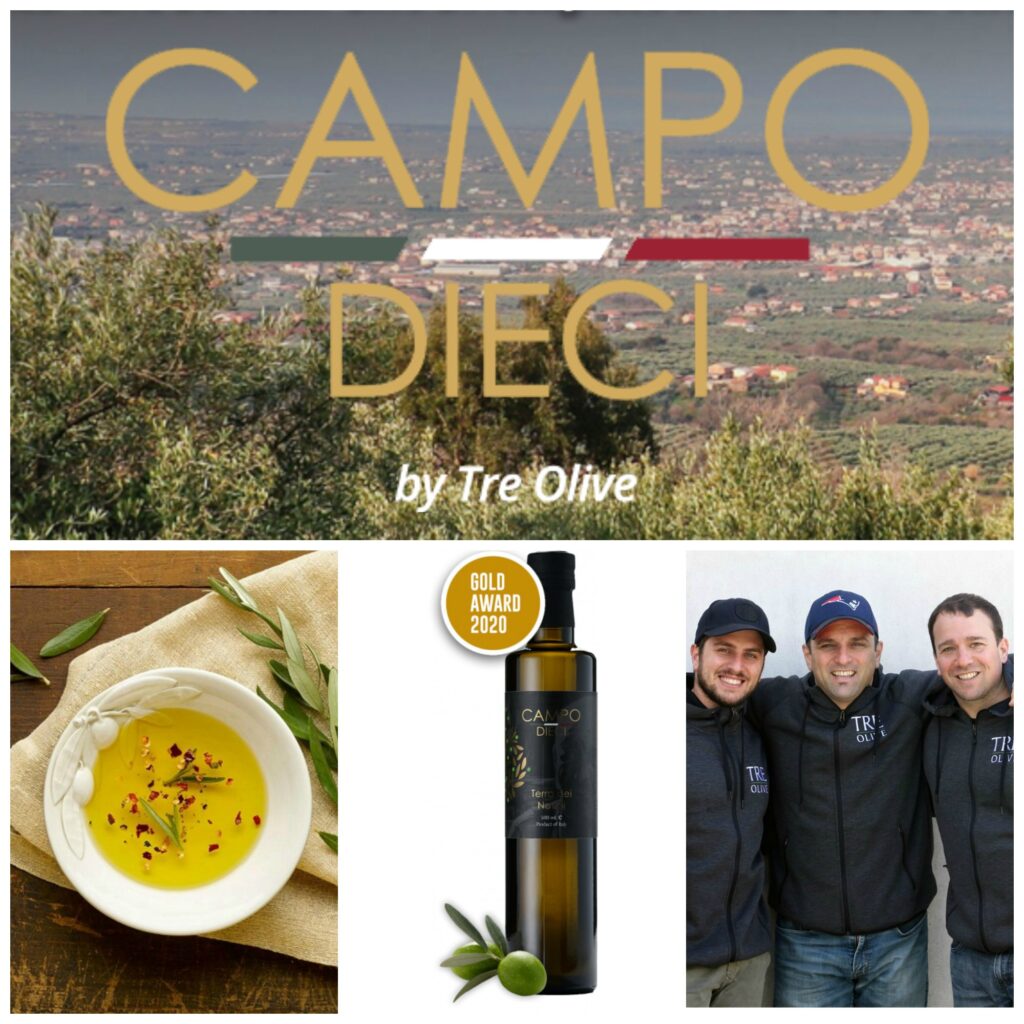 TRE Olive was started by three (tre) cousins in 2010. The family has been making extra virgin olive oil in the Calabria region of southern Italy for generations – opening their olive mill in 1934. They pressed the olives from their family groves along with olives for many local farmers in the area. Over the years they have received many accolades for their exceptional oils. They have just been awarded another accomplishment.
The NYIOOC World Olive Oil Competition, held each spring in New York, is the world's largest and most prestigious olive oil contest – and its annual listing of award winners is considered the authoritative guide to the years's best extra virgin olive oils. TRE Olive has just been honored to have their Campo Dieci 'Terra Dei Nonni' Olive Oil recognized an International Best.
The 2020 Gold Medal Winner – Campo Dieci – 'Terra dei Nonni', is a medium intensity Carolea monovarietal. "Terra dei Nonni," means 'land of our grandparents.'
"We are very excited and grateful," co-owner Joe Maruca said. "For us, the awards validate the improvements that we committed to over the last several years: investments in grove equipment, upgrades at our mill, and changing processes that have been in place for decades in order to improve quality."
Campo Dieci is the name of one of their famed family olive groves in Calabria, Italy. The grove used to be the location of a military camp during WWII and the name, Campo Dieci, has remained ever since. The grove is situated on a hill, high above the families olive oil mill, and has spectacular views of the Tyrrhenian Sea. The altitude here makes it perfect conditions for growing olives.
You may order here: Campo Dieci – Terra dei Nonni (500ml)
You can also get a gift set of two 500ml bottles of TRE Olive award winning olive oils in one box! CAMPO Dieci (Gold Medal – NYIOOC) and TRE Select (Silver Medal – NYIOOC). Order at: Gold & Silver.