by Valeria Carrano –
I am extremely excited to have ValeriaStyle collaborate a bi-weekly  column for Italialiving.com.  We will be delivering our readers Italian fashion and culture straight to their inbox! New York is my city, and Italy is my country, so what better way to bring them together?  Buon appetito!
With February approaching and snow storms bombarding most of the USA, we need to stay warm and cozy.  I hate walking the New York City streets when it's freezing, so I make the best of it by dolling up with some glam accessories.  Here is a list of three Italian must haves for ladies to keep warm this winter…ValeriaStyle…or Italian Style.
Rabbit Fur poncho– I travel frequently to the Amalfi Coast in Italy to visit my cousins.  Amalfi is fabulous in summer, but tends to be cold in winter.  So last winter I was in Amalfi and freeeeezing!  We took a trip to a fabulous store called Conbipel in Salerno.  Conbipel is a department store.  When I walked in I was a bit overwhelmed.  But being the professional shopper that I am, I took to the store section by section, and left with one of the most amazing fashion staples ever!  Sleek, sexy, and soft.  A black rabbit fur poncho.  Winter essential.  Check!

Alberta Ferretti has a line called Philosophy, and Philosophy's extending leather gloves are classic and glamorous.  There is a reason why I wrote "extending".  Ferretti's leather gloves are of course a warm and chic alternative to shorter gloves that stop at the wrist.  Pair them with a coat that has cropped sleeves to bring out the sexiness of your forearm.  The best part is, Ferretti created her "Philosophy" line for women who are more budget conscious, so you won't break the bank.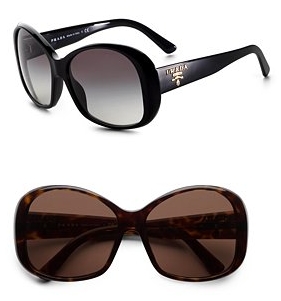 Prada's "New Heritage" Sunglasses:  Once the storm has passed, the glare from the sun off the snow is enough to have you trip on a curb and break a stiletto.  Prada's large, oval sunglasses are a classic way to protect your eyes while looking feminine and sophisticated.  The best part is that the temple logo isn't over the top.  Keep it classy, New York.

---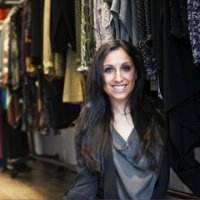 Valeria Carrano is Fashion Director for Italia Living.
To learn more about her, visit our About Us page.