Unveiling of the Highly-Anticipated New Maserati SUV at Exclusive Launch and VIP Dealership Events in South Florida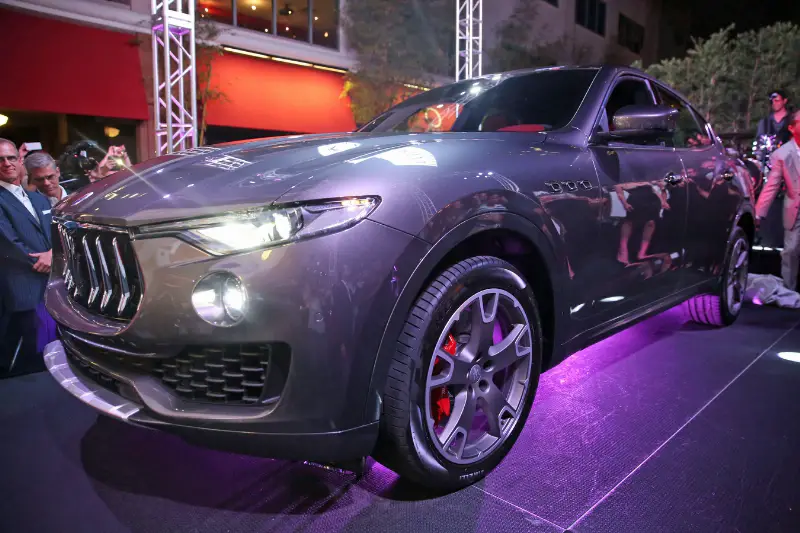 FORT LAUDERDALE, Fla., April 26, 2016 /PRNewswire/ — Maserati Fort Lauderdale—South Florida's premier dealer of luxury performance Italian automobiles—hosted an exclusive three-day launch of the highly-anticipated 2017 Maserati Levante April 14–16, 2016 in South Florida.
On Thursday, April 14, more than 500 South Florida influencers joined the Maserati Fort Lauderdale dealership as it presented the official VIP unveiling of the coveted new luxury SUV with a private outdoor reception at the Courtyard at YOLO in Fort Lauderdale. Guests of the invite-only event mixed and mingled over signature cocktails courtesy of Punzoné Organic Vodka, and were treated to a special presentation of the vehicle by Garrett Hayim, owner of Maserati Fort Lauderdale. The event also featured a surprise performance by acclaimed Western pop and Latin music group the Gypsy Kings, with a live stream on the dealership's Facebook page sharing the VIP action in real time with viewers worldwide.
Continuing the celebration of the Levante's arrival in South Florida, on Friday, April 15, the dealership hosted a full day of private viewings of the vehicle to discerning clientele at its state-of-the-art Fort Lauderdale showroom, followed by a Barbecue & Rally on Saturday, April 16 in honor of the Levante's final showcase in Fort Lauderdale. More than 350 members of the South Florida community came out for the afternoon of good old-fashioned food and fun, which featured delectable eats by acclaimed Red Cow Barbecue, luxury and exotic vehicle displays, bounce house and face painting for the kids, and more.
Saturday's event also featured a Super Car Run to Naples for select customers and exotic car owners, and an 'Adopt Don't Shop' pop-up adoption by Miami Dade Animal Services and Pet Adoptions, with three lucky pups finding a forever home with Maserati Fort Lauderdale clients.
"We were honored to host this incredible three-day presentation of Maserati's new in-demand vehicle in South Florida," said Hayim. "The Levante is truly on its own level, setting a new standard for luxury SUVs—a real game changer in the market. We appreciate all of our clients and the local community who came out to celebrate with us."
Designed to be unique and built to be heard, the all-new Maserati Levante is destined to make an unforgettable impression, offering the ultimate combination of on-road performance and off-road capabilities that make it 100% sports utility vehicle, and 100% Maserati. Along with its ground breaking Q4 intelligent all-wheel drive system, the Levante benefits from advanced active air suspension and six levels of capability and comfort, with exceptional power, superior handling, highly-crafted interiors and limitless personalization options.
The new luxury SUV is now available at Maserati Fort Lauderdale, located at 5750 North Federal Highway in Fort Lauderdale, Fla.
Media Contact:
Mallory McQuail
Susan Penrod PR (SPPR)
For Maserati Fort Lauderdale
mallory@susanpenrod.com
Photo – http://photos.prnewswire.com/prnh/20160426/360112
SOURCE: Maserati Fort Lauderdale