Live from Las Vegas, a romantic evening in your own home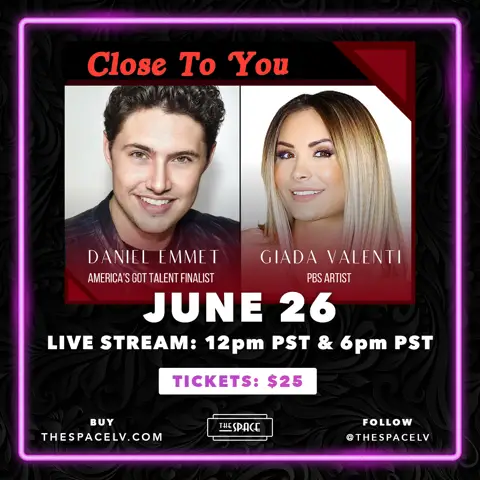 NBC's America's Got Talent finalist Daniel Emmet and PBS artist Giada Valenti will join forces to perform an exclusive, romantic, virtual concert. Streaming two (2) live shows, Friday, June 26, at 3:00 PM EST and 3:00 PM EST, this duo will be broadcasting live from The Space, the intimate Las Vegas venue that has hosted Tony and Grammy Award winners. On this intimate, acoustic evening, Daniel and Giada will take you on a multi-genre journey complete with show-stopping solos and breathtaking duets accompanied by piano and guitar. The blending of these two artists come together as the perfect compliment… like the pairing of fine wine. This unforgettable experience promises to give you a night out, right in your own home.
Embracing the new normal of the entertainment landscape, Daniel and Giada have taken their music to the virtual screen, connecting with their audiences around the globe and bringing the live music experience right to them.
Giada Valenti: "I'm aware that many couples were using our concerts for a special night out, often a dinner and a show. Now they can experience live music in their living room. Therefore, I encourage everybody to dress up and to make some delicious drinks to sip on during the concert".
Daniel Emmet: "There's a huge silver lining to working in a creative industry during this new normal we find ourselves in, and it's that we will always find a way to make music. Life is all about how you keep going, so while venues can't open their doors just yet, having a virtual concert is an opportunity to reach people all around the globe and to experience an intimate evening full of love for music."
Get tickets now and enjoy the new alternative for a great night out!
Tickets are $25. and those that purchase their ticket in advance can watch the show live or within the following 24 hours.
For tickets: www.thespacelv.com or call 702.903.1070
ABOUT GIADA VALENTI
Giada Valenti is an award-winning singer and songwriter, born and raised in Venice, Italy. She is most known in the United States for her stunning music special, entitled "From Venice With Love" aired by PBS Television. The airings made it possible for her to perform in theaters around the United States. In 2017, she made her debut as a headliner in Las Vegas. In 2018, she was asked to do a concert at Carnegie Hall in NYC, where she returned by popular demand in 2019.
A recent career highlight was being asked by Andrea Bocelli to sing with him at a concert benefitting his foundation.
Since March 18, 2020, Giada has been hosting a daily live video, entitled Giada Live. To bring some joy into the life of her fans, Giada livestreams content every day for almost an hour, where she tells fun stories, cooks, sings and interviews several of her celebrity friends.
For the past eleven years Giada, currently a resident of Los Angeles, has released her CDs "And I Love You So, "Italian Signorina" and "My Lullaby", "From Venice With Love", all garnering rave reviews.
She has been featured on morning shows of ABC, CBS, FOX, and NBC television where she did cooking demos, often making her famous Tiramisu, while talking about her new CD and PBS special.
The people of Italy continue their love of Giada, particularly the press who is continuously following her career and covers her on Italian media and television.
ABOUT DANIEL EMMET
A Finalist on NBC's America's Got Talent, Daniel Emmet is best known for taking on the "impossible challenge" levied by Simon Cowell; to learn a brand new song in Italian, in one hour, and then perform it live on national television!  It was a spellbinding moment that, as in all of Daniel's AGT performances, brought the judges and America to their feet in fervent applause.  Daniel's run on AGT was sensational, culminating in his command performance in the finale of the season, a stunning duet with Plácido Domingo.
Since his 2018 appearances on NBC's America's Got Talent,  Daniel has released his first single "Passerà" which debuted at #2 on the iTunes Classical Chart, has been featured on the CW's "The Big Stage", and in 2019 Daniel debuted on the Las Vegas strip as a headliner at Caesars Palace for the exclusive run of his show  "All That I Am", and continues to guest star around the country on tour with Marie Osmond as well as performing his solo and symphonic shows.