One of the Oldest and Largest Private Palaces of Rome
The Palazzo Colonna is a palatial block of buildings in central Rome, Italy, at the base of the Quirinal Hill, and adjacent to the church of Santi Apostoli. It is built in part over ruins of an old Roman Serapeum, and has belonged to the prestigious Colonna family for over twenty generations.
The only part of Palazzo Colonna open to the public, Galleria Colonna, is opulent 17th-century gallery that houses the Colonna family's private art collection. It's not Rome's largest collection, but with works by Salvatore Rosa, Guido Reni, Guercino and Annibale Carracci, it's well worth a visit.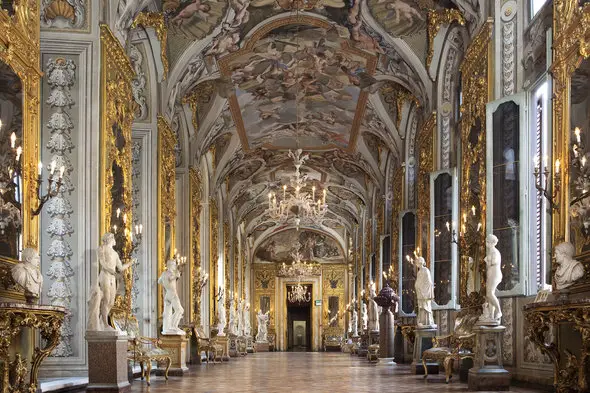 The gallery's six rooms are crowned by glorious ceiling frescoes, all dedicated to Marcantonio Colonna, the family's greatest ancestor, who defeated the Turks at the naval Battle of Lepanto in 1571. Works by Giovanni Coli and Filippo Gherardi in the Great Hall, Sebastiano Ricci in the Landscapes Room and Giuseppe Bartolomeo Chiari in the Throne Room commemorate his efforts. Of the paintings on display, Annibale Carracci's Mangiafagioli (The Bean Eater) is generally considered the outstanding masterpiece. There is also a cannonball lodged in the gallery's marble stairs, a vivid reminder of the 1849 siege of Rome.
The palace consists of several wings built by the noble family over several centuries with an overlap of architectural styles. The family has lived there for 23 generations and continues to occupy the palace to this day. Because the palace is also a residence the building is only open to the public on Saturdays.
The Galleria Colonna also plays host to elaborate private dinner events and galas. Such as one recently attended by Elisa Tozzi Piccini of Fratelli Piccini, the famed Firenze goldsmith and jewelry house.
For more info visit: www.galleriacolonna.it/en/
For more info on Fratelli Piccini visit: www.fratellipiccini.com