Some Italian tips for women… plus a couple extra for men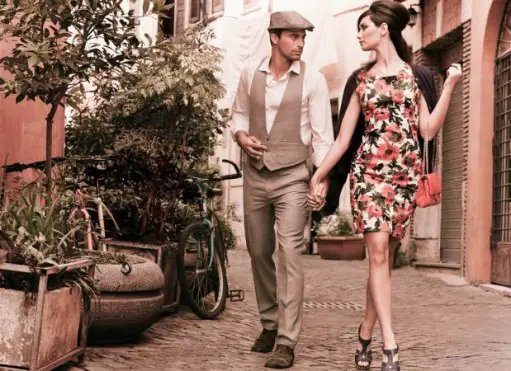 Here are seven rules of thumb I have deciphered on my recent Roman sojourn, for those who wish to transform their look, all'italiana . I have written a more in-depth article on this subject in my weekly column for The Italian Tribune. Buon Leggere!
1.  Buy Detailed Clothing. When a Roman woman buys a suit, it has to go beyond being just a gray blazer and skirt. The jacket may have a lace panel cutout between the shoulder blades, the waistband of the skirt may end high on the midriff and cinched in by a chic textured belt with gold hardware at the waist. The color of the suit will be anything but drab—grass green, sapphire blue or even bright chartreuse. Italian jeans are not unremarkable denim panels sewn together at the seams with orange thread. You will notice embellishment on the rear pockets, artistic seaming in pearl gray, and a fit that proudly caresses every curve of the body. When you shop for clothing you may have to spend a little extra on  the subtle details that make each piece  work of art, but Romans see well-made clothing as an investment and would prefer to have three unique pieces than twelve cheaply made outfits from a discount outlet.
2.  Get a Good Hair Cut and Consider Highlights. A great head of hair is the crowning glory of Roman men and women. Silver haired men of a certain age in Rome are still irresistibly chic because of a great layered cut. Or, if losing their hair, shaving the entire head is also in style, as it is here. Roman women get regular stylish cuts and highlights, whether copper, bronze, or warm chestnut, to contrast with their natural color. Hair is never sprayed into a still life, but cascades fluidly as its owner moves. Up-dos are neat, yet lose and feminine, with a long side-swept bang or pushed all the way back into a sexy topknot. Shine and body are always apparent.
3.  Compliment Your Look with  a Few Exquisite Accessories. A great pair of dangling earrings or hoops, a large designer hand-bag an a unique silk foulard tied at the shoulder are just some of the imaginative accessories Roman women use to polish their total look. Many of us think that a dress and heels are all we need to complete our look.  Italians would beg to differ.
4.  Get In Shape. My readers know I don't hold back and so I will come right out with it: Whatever you wear will look a hundred times better if you are in shape.  Rarely will you see Roman men with potbellies so big they can't even see their feet, or Roman women with rolls of flab around the tops of their hips. The Mediterranean way of eating is definitely more conducive to good health than most other diets out there, but it is more than that. The tendency for Romans to keep their shape is a matter of caring about it enough to take action each and every day to maintain it. Smaller portion sizes, less pane, and an everyday dedication to walking to where they need to go, are some of the secrets to a great body.
5.  Shoes to Boots.  Forget the jogging sneakers unless you are going for a jog, or the convent-style black pumps that you bought to go with everything. From here on in think of your shoes as specialty outfits for your feet. Italian shoes and boots are masterful works of art, and Roman women buy different pairs to go with different outfits. There is no "one pair spans all", nor is there a primary emphasis on the need to have your shoes feel like slippers. Slippers are worn in the bedroom, spiked heels on the cobblestone roads, if you want to make heads turn. While not every Italian (or American) can afford the latest multi-colored patchwork suede pumps I drooled over in the Salvatore Ferragamo shoe store window display in Rome, there are plenty of exquisite designs that are more affordable and still of great quality. It is time to think of shoes in a whole new way.
6.  Visible make-up. Roman women wear eyeliner as if to say "what's the point if no one can see it?" Yet there is nothing clownish about the Italian approach to make up. Sexy is visible. Sofia cat-eyes; slightly darker lip liner to make the lips seem fuller, and blush that matches the lip color. I personally sought the advice of a makeup artist at a  local profumeria near the Vatican, where  I was advised to wear a warm coral palate as a compliment to my darker olive skin tone. It has made a dramatic difference in my total look.
7.  Two Additional Tips for Men. Roman men do not buy half sleeved shirts. Long sleeve button-downs are more elegant, especially when the collar is left open and the sleeves are rolled up above the wrist. This kind of shirt  makes for an alluring Italian look when  either tucked in with dress pants or suit; or with tails out over jeans. Finally, especially in warm weather, Roman men go sockless under a well made pair of leather shoes or loafers. Tri colored leather in tan, mahogany and black hombre are especially big these days, as are styles that are just a bit out of the ..well, shoebox, such as traditional tie dress shoes with a glimmer of red or green metallic at the seams.
And there you have it. Remember that it takes a while to transform yourself along the path to any goal you want to obtain, so pian piano. Take it one step at a time, and before you know it you too will have the confidence and the grace of the everyday Roman fashion icons you have admired in the eternal city.
~ Dr. Raeleen D'Agostino Mautner
---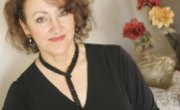 Dr. Raeleen D'Agostino Mautner is a self-help/personal development expert, speaker, certified Life Coach, Psychology Instructor, and Producer and Host of "The Art of Living Well", Connecticuts "hottest self-help radio show" on 88.7FM or streaming www.wnhu.net, Mondays 7-8AM. Mautner is the author of two books, including "Living la Dolce Vita: Bring the Passion, Laughter, and Serenity of Italy into Your Daily Life", has been quoted in many publications, including Family Circle and First for Women. She has written for Psychology Today, The Chicago Tribune, Quirks Market Reearch, The Italian Tribune, America Oggi, and Italian America. Dr. Mautner has made guest appearances on numerous national radio and TV programs. Her self-help blog has become a treasure trove of inspiration, motivation, and new ideas for living well.
---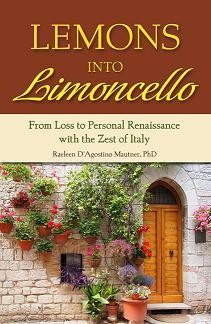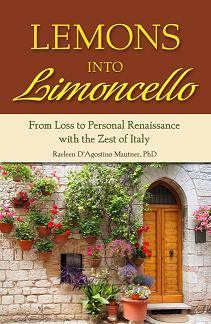 Dr. Mautner's most recent book published by HCI is called "Lemons into Limoncello: From Loss to Personal Renaissance with the Zest of Italy". This extraordinary book will help ease recovery and renewal for readers who are going through loss, change, or transition and is all about rebuilding your life following adversity. The cultural wisdom, comfort, and (extra)ordinary Italian lifestyle habits presented can help you re-establish your passion for living.
It has received several rave reviews and is a highly rated and recommended book by Italia Living's Founder/Executive Director, Richard J. Michelli.