Finally an E-bike With Style and Panache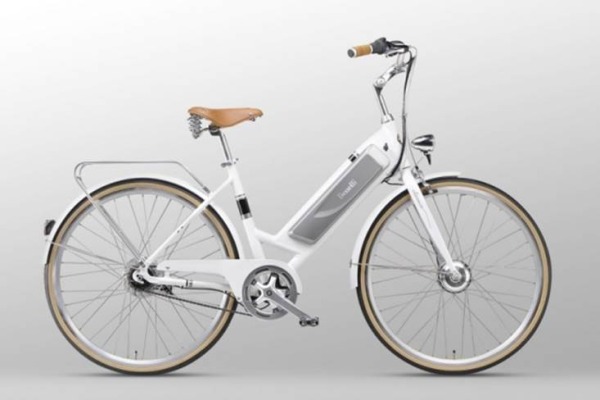 Boasting over a century of passion for two wheels and a renowned history of exquisite Italian motorcycles, Benelli makes its electric bicycle (e-bike) debut in the USA.  The launch of the Benelli Classica model kick-starts the delivery of a line-up of pedal-assist e-bikes with European flair.  Packed with plenty of punch and gorgeous Italian design, the e-bike market finally welcomes a stylish contender.
Inspired by the original 1920s hybrid Benelli which was halfway between a bicycle and a motorcycle, the Classica e-bike was conceived for the urban streets, offering a top speed of 20 mph and a range up to 40 miles.  Although it can be enjoyed without pedal-assist, the patented Twist Shift LCD control quickly allows the rider to engage the motor and easily change the power level while hands remain on the handlebars. Integrated display informs rider of battery capacity, current speed and total distance. A Shimano® Nexus 8 speed internal hub eliminates a derailleur, providing a low maintenance solution and allows gear changes even when stopped. The sturdy aluminum frame is fitted with alloy wheels and puncture-resistant tires, ensuring stability and reliability in all conditions. A light-weight lithium battery pack, featuring Samsung® cell technology, is concealed in the front frame resulting in better handling and balance, freeing the rear rack for mounting bags, groceries or a child seat.
At a MSRP of $2,100 USD, luxury is not out of reach. Projecting elegant Italian bravura throughout, the Classica is finished with a Gyes® leather seat and grips and is offered in the timeless colors of white, cream and black. The low step-thru frame design and choice of 26″ or 28″ wheels provide optimum height and comfort, making the Classica fun for all types of riders around town, at the beach or on campus.
The Classica provides a chic option for those choosing to be green without foregoing style. Aside from looking fabulous, it provides limitless benefits … covering longer distances, stress-free travel, conquering hills with ease, reducing fuel costs and pollution and, of course, enjoying the great outdoors.
Available for immediate delivery, the Classica is now stateside at select boutiques and specialty bicycle dealers. Benelli Bicycles are distributed exclusively through Ferracci Distribution.
For more information, please visit www.benellibikesusa.com

Benelli Bikes USA – Electric Bicycles of Italian Design
Ferracci Distribution, LLC – Exclusive US Importer & Distributor
1901 Davisville Road, Willow Grove, Pennsylvania 19090-4112 United States of America
Telephone: +1 (484) 484-4800 x1000