Connecting Riders Online with Heritage/Racing DNA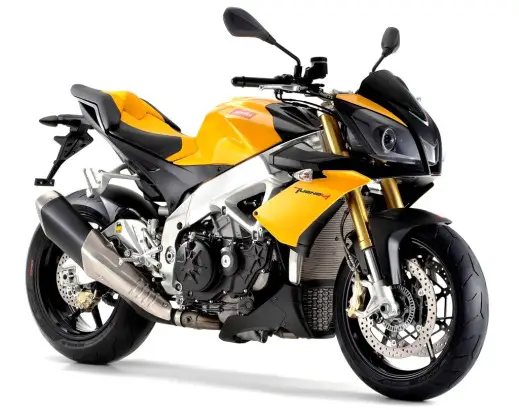 Aprilia USA, the North American subsidiary of the Piaggio Group's Aprilia brand, the Italian motorcycle manufacturer with more racing championships than any other European brand, is taking American moto enthusiasts for a memorable ride – both virtually and in real time!
The company is launching a national multi-media campaign that invites riders to get more familiar with the brand and its award-winning sportbikes through real customer experiences, online trivia with user rewards, action-packed videos, an infographic featuring company "firsts" and other race wins, and a test ride tour featuring the new Aprilia Tuono V4 APRC (pictured above), the fastest naked sportbike in its category. 
"To ride an Aprilia motorcycle is to fully understand what it is like to take race-proven technology, power and design and apply it to street bikes," said Melissa R. MacCaull, Vice President, Marketing.  "We created a campaign that features riders of competitor brands speaking freely about their Aprilia experience. Their opinions, along with other digital and social elements, are designed to engage and inform visitors about our brand in visually impactful ways."
The campaign debuts with a new microsite, www.apriliamasters.com and Facebook app at www.facebook.com/ApriliaAmericas.
About The Piaggio Group:  
Established in 1884 by Rinaldo Piaggio and based in Pontedera in Pisa, Italy, the Piaggio Group is one of the world's top manufacturers of two-wheel motor vehicles. With more than 7,000 employees, an annual production of 653,000 vehicles in 2011, five R&D centers, seven production facilities in Europe and Asia and world-wide commercial operations, the Piaggio Group has a strong  and increasing leadership in the European two-wheeler market.  The company produces scooters, motorcycles and mopeds in the 50cc to 1,200cc displacement range, marketed under the Piaggio, Vespa, Gilera, Derbi, Aprilia, Scarabeo and Moto Guzzi brands.  The Group also manufactures three- and four-wheel light transportation vehicles for the Ape, Porter and Quargo ranges.