Vespa Elettrica will be available in Europe fall 2018 and will hit the US and Asia in early 2019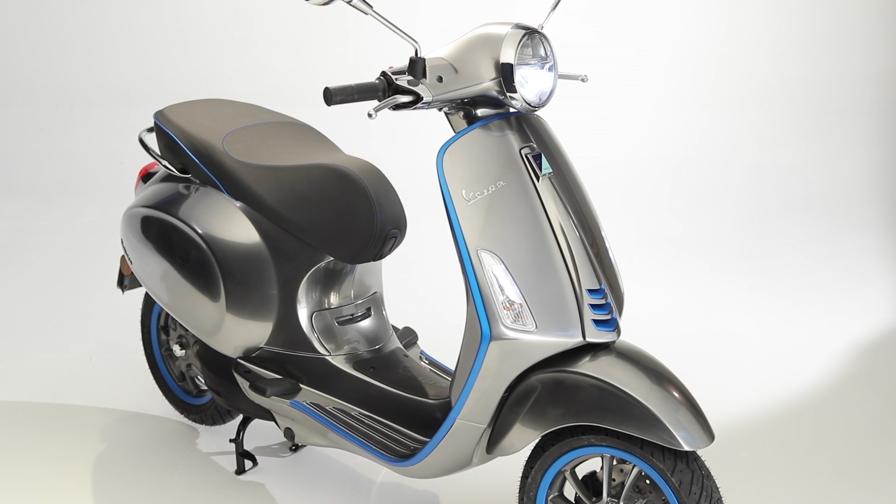 Developed by Piaggio Group, the Vespa Elettrica is a silent, fully electric scooter with acceleration capabilities in line with those of traditional scooters, according to Vespa. It has a 62-mile range and can be fully charged in just four hours through a normal wall-mounted electrical outlet. The battery will reportedly last around 10 years, but will drop to 80 percent capacity after 1,000 charge cycles or so – which translates to about 30,000-45,000 miles. That's equivalent to an average of a decade of regular urban use. Two riding modes, ECO and Power, allow a rider to tailor power delivery and consumption to their current riding conditions. There is also a reverse mode for easier parking.
The Elettrica comes in a chrome grey color, but buyers can choose between seven color options for the decorative trim.
The Elettrica has also been outfitted with a myriad of trick high-tech bells and whistles such as a remote-control key, adjustable 4.3" full-color TFT display, USB charging port, and full LED lighting. As a thoroughly modern machine, it also features bluetooth connectivity that allows riders to answer calls, view texts, GPS, etc., thanks to the Vespa Elettrica App and handlebar mounted joystick. In addition to the rollout of the App, Vespa is launching several supplementary offerings, such as the Vespa Elettrica hi-tech Jet helmet (which comes in the same colors as the scooter itself), and an LED backlit backpack that features a power bank and removable back-protector. There will also be an array of factory add-ons and options such as an electronic alarm, wheel-lock, and saddle-cover.
Along with the Elettrica, Vespa is also releasing a hybrid version – the Elettrica X – which can be driven twice as far as the fully electric version on a single charge, and stretch your cruising distance to 200 kilometers (about 124 miles).
Production will start in September, and Vespa will open up online sales to Europeans in October. Those in the US and Asia will be able to buy the scooter starting early 2019. Parent company Piaggio Group hasn't announced pricing yet, but says the Elettrica will be in line with Vespa's current high-end models.