Experience luxury watch and autos from February 15 – 17 at the Miami Design District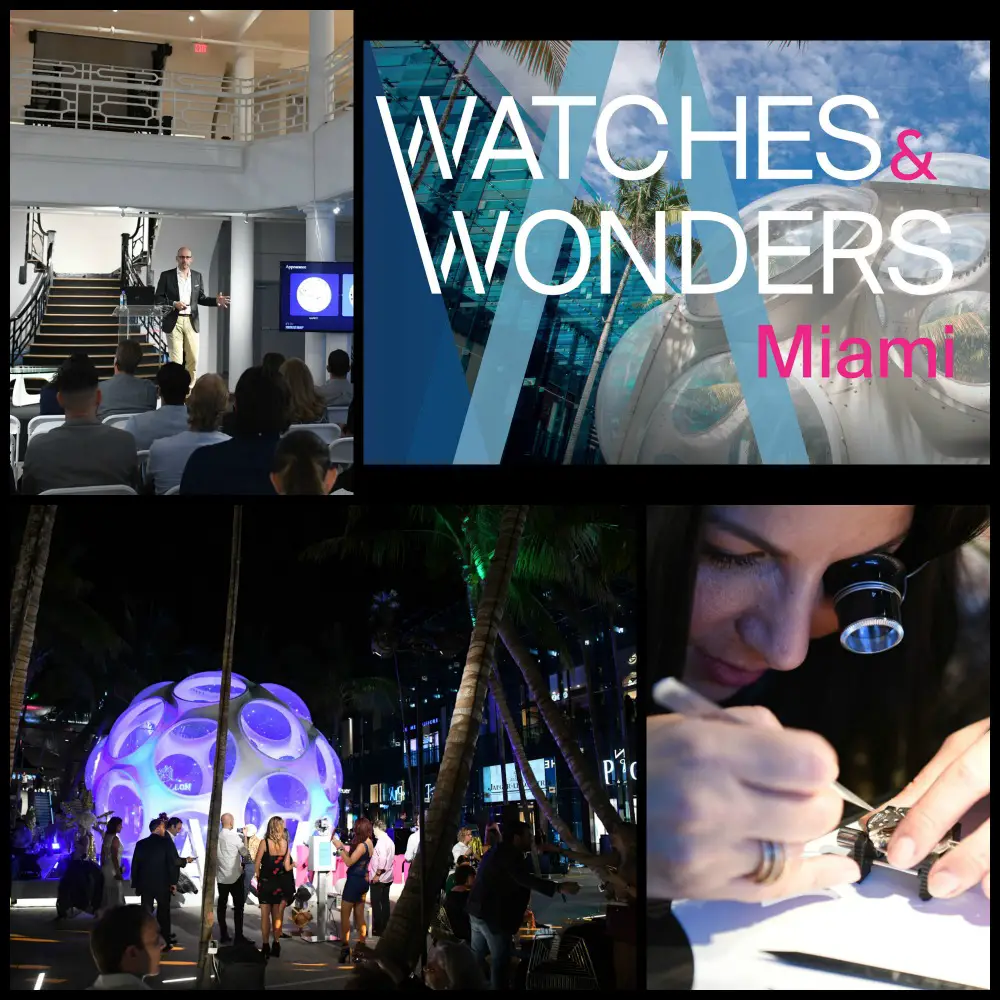 After an enormously successful first edition debut in 2018, which attracted over 20,000 attendees, Watches & Wonders Miami will returns from February 15 – 17 at the Miami Design District, a center for art, fashion and luxury. The public event is co-produced by the Fondation de la Haute Horlogerie (FHH), a Geneva-based organization that promotes fine watchmaking internationally. FHH is best-known for the Salon International de la Haute Horlogerie (SIHH), an annual luxury watch trade fair in Geneva held in January.
This years edition will expand to 28 watch brands participating in this inaugural event, including A. Lange & Sohne, Audemars Piguet, Bulgari, Panerai, Cartier, Hermès, Hublot, IWC, Jaeger-LeCoultre, Louis Vuitton, Ulysse Nardin, Piaget, Tag Heuer, Vacheron Constantin and Van Cleef & Arpels among others. Several of the brands already have retail spaces in the Design District. The remaining firms will set up pop-up stores in the district for the weekend.
The weekend will include workshops, lectures and virtual reality experiences. With its direct access to watch enthusiasts, connoisseurs and collectors, exhibiting maisons are using Watches & Wonders Miami as an ideal platform to showcase their newest collections, as well as launch new products and concepts.
In addition to new exhibitors and new product debuts, the FHH is also expanding conference and workshop offerings for 2019. A total of five panel discussions will be held over the course of the weekend and include topics such as 'Can Women Save the Watch World,' 'What's the Point of Watch Creation,' and 'Getting Your Super Collector All-Access Pass.' Expert panelists will include collectors, executives from premier luxury brands and auction houses, major retailers and top journalists. There will be three workshops offered a day where attendees will have the hands-on opportunity to assemble and disassemble watch movements.
Sophy Rindler, head of business development at TrueFacet, will be participating in a couple of the panel discussions.
"Watches & Wonders Miami unites the top luxury timepiece and jewelry brands for a spectacular weekend program and we are thrilled to host once again in the heart of the Miami Design District. Watch aficionados will be able to view magnificent timepieces, many of which are being debuted in the US for the first time. Likewise, car enthusiasts attending from all parts of the world will not be disappointed with the unparalleled selection of exceptional cars at the Miami Concours," said Craig Robins, CEO of Dacra Development and developer of the Miami Design District. "As this event really creates and brings one of a kind experiences to the neighborhood, we highly anticipate all the immersive experiences that will unfold from the robust lineup of activities in store."
Watches & Wonders Miami is also partnering with the 31st annual Miami Yacht Show that will relocate to a new, more expansive location at One Herald Plaza. The 2019 show will feature a 60-acre display, including a massive 67,000 sqf. Exhibition space and nearly 500 yachts from the world's foremost manufacturers and brokers. For automobile enthusiasts, the Miami Concours will take place the Saturday and Sunday of Presidents' Day weekend in the Miami Design District and feature an exclusive presentation of incredibly rare vintage, sports and exotic cars from some of America's most respected collectors.
Watches & Wonders Miami will be the ultimate weekend of luxury with watches, jewelry, exotic cars, and super yachts.
Visit the Watches & Wonders Miami website for further details and to register for event news and updates: www.watchesandwonders.com
@watchesandwondersmiami
#watchesandwondersmiami
@miamidesigndistrict
#atMDD