Giada will introduce fans to her favorite places in Venice and the Veneto area on a romantic journey that you will remember the rest of your life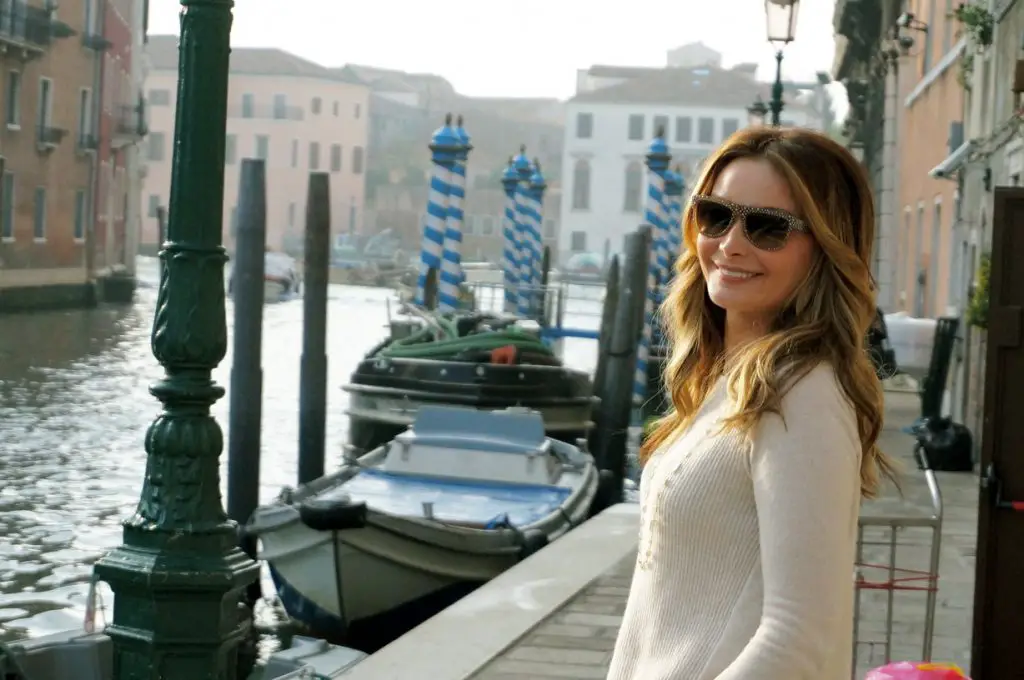 Venice born songstress Giada Valenti, known for her stunning PBS special entitled "From Venice With Love, is inviting her fans to join her on a romantic trip she is organizing May 19-27 2019 to Venice and a part of the Veneto region. This will include an exclusive excursion to one of the oldest glass factories in Murano, the one of the Seguso family. This company has works in museums, luxury hotels and Royal palaces all over the world.
Normally the factory of this glass making dynasty does not do tours for tourists. But Giada Valenti is very good friends with the Seguso family. As a courtesy for her and her group of fans & friends they have created a special tour, the Seguso Experience.
If you want to experience the family traditions that goes back 23 generations (since 1397), you have to join Giada on this very unique trip!
For more information about the Seguso Glass factories and this experience of Venice and the Veneto region visit www.viavalenti.com.
Giada writes passionately, almost every week, about the special things of her beautiful hometown on social media and her blog. The love for her Venice and the region of Veneto inspired her to organize this unique trip with herself as tour guide.
She will bring her group of fans to some of her favorite places, taking them to Sirmione at Lake Garda, Verona, Vicenza, Venice, Murano Burano. She will introduce them to some of the best food and wine of North East Italy. She will have them try the best risotto, the most delicious Tiramisu, fabulous prosecco wine and much more. She will take them to the places where the locals eat.
"Since I live in the United States and only go back twice a year for a few weeks, I see even more and better the beauty of my hometown. This is how I became more motivated to share stories about Venice and the Veneto region. I like to encourage everyone to come experience this place at least once in their lives."
Giada will also do two intimate concerts for the group that travels with her.
The first three nights the group with stay at the Palace Hotel in Sirmione. This 4-star hotel has a beautiful view on Lake Garda. The remaining four nights the group will stay at Hotel Santa Marina in Venice. This 4-star hotel is still family owned and has a wonderful romantic feel, but has also all the modern facilities.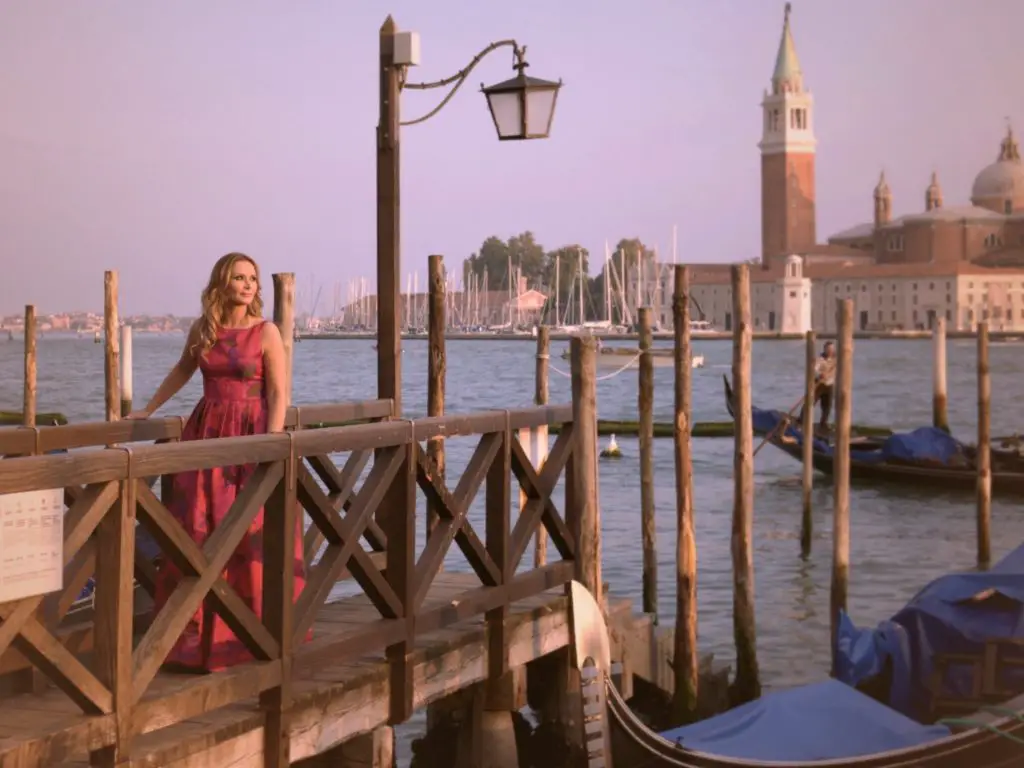 Brief Itinerary:
Day 1:  Travel to Italy.
Day 2:  Arriving at Venice Marco Polo Airport. Transfer to the Palace Hotel at Lake Garda.
Day 3:  Discovering the historical town Verona and a cooking class at the end of the day.
Day 4:  Visiting some of the most beautiful places around Lake Garda, like the town Sirmione, including a little cruise on the lake and wine tasting.
Concert by Giada Valenti
Day 5:  On the way to Venice, discovering the historical city of Vicenza including visits some magnificent villas.
Day 6:  Visit to the islands Burano and Murano, with visit to the oldest and most prestigious glass factory of the famly Seguso.
Day 7:  Discovering special many places in Venice.
Day 8:  Day at leisure to discover Venice on your own. At night dinner at one of Giada Valenti's favorite local restaurants.
Concert by Giada Valenti
Day 9:  After breakfast, transfer to the airport and Arriverderci Italia.
– Two concerts of Giada Valenti.
The trip includes:
– Round trip airfare from USA*. Fuel surcharges and airport taxes are included. (Valid at present time).
– 3 nights accommodation at the beautiful Palace Hotel at Lake Garda. Hotel taxes and service charges are included.
– 4 nights accommodation at Hotel Santa Marina in Venice. Hotel taxes and service charges are included.
– Daily breakfast, two lunches and four dinners with wine and bottled water.
– One cooking class.
– Visit to a winery and wine tasting.
– Excursion by private boat to Murano and Burano including visit to the most prestigious glass factory of the Seguso Family.
– Service of an English speaking tour director.
– Guided tours in Verona, Vicenza and Venice.
– Entrance fees at Teatro Olimpico and St. Mark's Basilica.
– Porterage at the hotels. One luggage per person.
– City Tax.
– Two concerts of Giada Valenti.
Price:  4,895 USD   Per person, double occupancy, including flight to Italy*.
*Pricing is based on flights from the East Coast of the USA. For those traveling from other gateways, an air supplement may apply at the time of reservation, depending on USA gateway.
For reservations & more information: 1-855-538-0999 or visit www.viavalenti.com
This trip is organized together with Jet Vacations, an expert in Group Travel.
---
ABOUT GIADA VALENTI
Giada Valenti is an award winning singer and songwriter, born and raised in Venice, Italy. She is most known for her stunning television special "From Venice With Love" on PBS, which since its debut in December 2015 has been aired over a 1,000 times all around the United States. Giada, who sings and speaks in five languages, takes her audience in this television special on her romantic journey performing her own interpretations of hits from the 60s, 70s and 80s.
But her career started in Europe where she was signed as a young singer with record label Sony BMG and had hits climb directly to the top of the charts. She has received critically acclaimed awards such as the prestigious San Remo Giovanni Talenti Nel Mondo and Festival di Castrocaro. For the past eleven years Giada, currently resident of Los Angeles, has released her CDs "And I Love You So, "Italian Signorina" and "My Lullaby", "From Venice With Love", garnering rave reviews.
She has been featured morning shows of ABC, CBS, FOX and NBC television where she did cooking demos, often making her famous Tiramisu, while talking about her new CD and PBS special. The people of Italy continue their love with Giada, particularly the press who continuously following her career and cover her on Italian media and television.
In November 2017 she made her debut in Las Vegas with a concert at The Smith Center for the Performing Arts. In October 2018 she will make her debut at Carnegie Hall in New York City.
– Giada Valenti LLC-
CONTACT:  J.J. Pouwer    T: 213-632-6211    C: 917-478-4217    E: jj@perlaentertainment.com