by Ashley Bartner –

Truffle season has officially started – marked not only by the many festivals promoting this ever sought after rare & strange funghi but also by the cars of foragers parked in our driveway of our Agriturismo every morning.  They head into our woods hunting for gold.
The festivities kick off every year in our neighboring town of Apecchio where they host the first truffle festival of the season.  We make it our duty to hit up as many of the truffle festivals as possible.  First stop Apecchio were we saw lots of familiar faces and of course the Fusciani brothers selling meat & cheese, drank lots of wine (at 0,80 cents a glass) & sampled truffles in a whole array of products.
You can find loose truffles, truffle slicers, truffle oil, truffle cheese, truffle jams, truffle pasta, truffle rice, truffle salumi, truffle infused anything & everything!! The purest will tell you to only buy the truffle itself – nothing else can compare or capture the flavor like a truffle shaved over the top of pasta with butter or in a frittata. Keep it simple – it's the truffle you want to smell & taste!
Apecchio does a great job hosting this festival – lots of food stands, arts & crafts, antiques, live music & even a climbing wall for kids! Did I mention all the meats & cheeses…..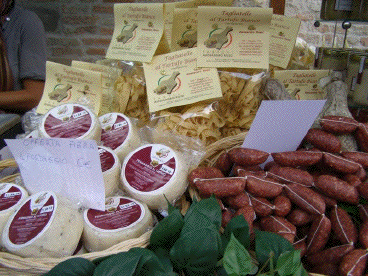 Next stop the sleep town of Sant'Angelo in Vado, where throughout the month of October they host the National White Truffle Festival.  We headed into town with our friends Rossana & Dott. Gaggi and strolled through the streets sampling the goods & comparing it to Apecchio's latest truffle festival.
Judges, for a lack of a better term, 'do the sniff test' – with truffles (both black & white) the flavor is more in the smell than the taste. Here, the sniff test is taken seriously!
The truffle in the Marche has ancient historical roots, thus integral part of our culture and tradition. You must take this into account to understand why today it is considered so important in terms of social, ecological, agricultural, forestry and economics. In reality there is a whole world that revolves around this extraordinary product of the earth: the Tartufi first, the dogs & hunters of these truffles, merchants, entrepreneurs for the processing, restaurants & of course the consumer. That is why every year Sant'Angelo in Vado truly celebrates the truffle & all that it means to our community!  Truffles are also found in other parts of Italy, however if you ask a local around – they are of course best in this region!
We strolled around, sampling the goods at the various stands & chatting it up with the hunters, sipping delicious local red wine.  I had a fantastic plate of polenta with porcini & truffles – one of my absolute favorites.  The smells of roasted chestnuts filled the air as the self proclaimed "Drunk Band" marched the cobble stone streets, serenading the locals with music.  You can't help but get swept up in the fall festivities.  Italians know how to celebrate food, wine & good times better than anyone!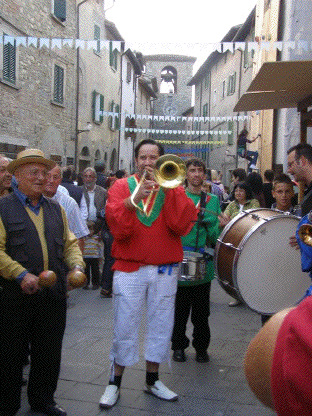 There is such a mystery surrounding truffles, here are some of the questions we get on a regular basis:
What is a truffle, what do they look like? It's in the mushroom family & is ugly – if you didn't know what it was, you'd toss one aside thinking it was a clump of dirt.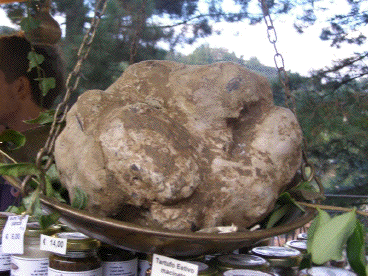 How much do they cost?  Right now they are about 1,000 Euro a kilo (about $740 USD a pound).  As the season continues & the truffles get bigger, more aromatic, the price goes up. Also of course, supply & demand change the price a LOT – if it's a 'bad' season without a lot of rain, making the truffles not only harder to find, but smaller in size the price soars.  Normally by the end of the season truffles can easily be 5,000 Euro a kilo!
That's why they are 'gold'!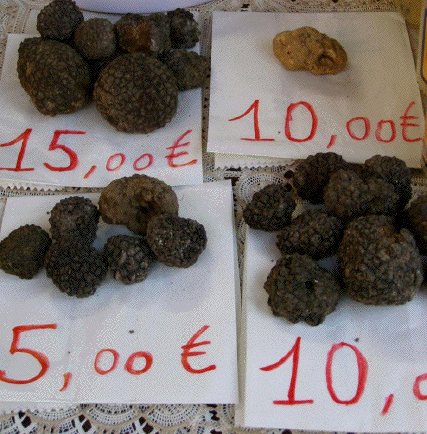 Where  & how are they found?  They are found in the woods, under the roots of old oak trees. Normally hunters take their dogs to sniff out the truffles, springer spaniels are the most popular breed for this (and the dogs are very expensive to buy).  Some use pigs, but not really around here – you have to stop the pig when they find a truffle because they tend to get so excited they eat it!
Are they related to the chocolate truffle? No
How do you eat one? There is a special tool used to slice them very very thinly. They are used to finish a dish – shaved ontop of pasta for example. Another popular way to eat them is on crostini with melted cheese or in a frittata.
Why are they so special & expensive? They are hard to find & it's not possible to cultivate them.  You must hunt for them in the woods.  They are very particular for where they like to grow & the climate, rainfall & soil must be perfect!
Truffles do not travel well & are very hard to export. Most likely in the States you will find truffle rices or truffle infused oil, perhaps even a truffle paste.  Be aware that most of these products only have the essence of truffles mixed with other types of mushrooms.  (The Italians tend to scoff at these products, claiming the only true way to experience & enjoy the pungent taste & aroma of a truffle is to eat them fresh! It's true!
I remember my husband Jason's grandma at 80+ saying she had never tasted a truffle and always wondered what the fuss was about.  If you tell that to an Italian they will look confused – not only because they can't believe you may have never tasted one (since here, they literally grow in our backyard) and 'what's the fuss about'….ha! they are sacred.  Most truffle hunters will take their secret hunting spots to the grave, only passing their secrets on to their sons, the next generation of truffle hunters.
Looking for accommodations during your Truffle Holiday?
La Tavola Marche ~For a deliciously unforgettable holiday