Cristallo Hotel Spa & Golf in Cortina d'Ampezzo, Italy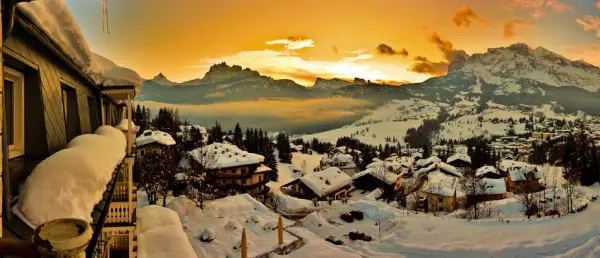 Nestled in the Italian Dolomites, Cortina d'Ampezzo has been one of Europe's premier see-and-be-seen resorts since the early 1900's, when royalty and high society wintered here. Even better than the people-watching, however, is the stunning setting. The town lies in a vast valley surrounded by massive jagged mountain ranges.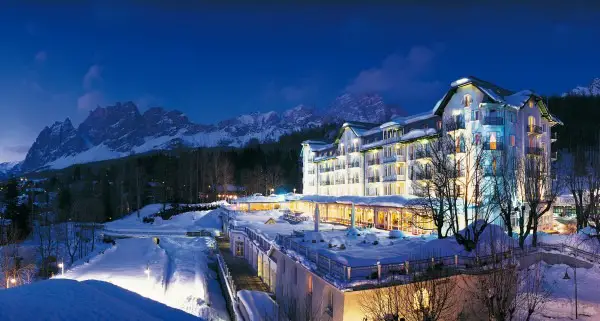 The Cristallo Hotel Spa and Golf is a 5-star hotel in Cortina d'Ampezzo, located amidst the Dolomites mountain range, a UNESCO World Heritage site. The resort is a 5-minute walk from the centre of Cortina, with a complimentary shuttle service available for guests. The city of Venice and Venice Marco Polo Airport are around one and a half hours away.
No hotel boasts better views of the limestone cliff-faces than the Cristallo, thanks to the property's elevated hillside position. First opened in 1901, the hotel has beautiful interiors, full of hand-painted ceilings, boiserie and chandeliers. The acclaimed Transvital Swiss Beauty Center offers the latest in wellness and fitness technology. Most guests come here for the great outdoors (hiking in the summer, skiing in the winter), but the Cristallo is also a perfect perch for those craving relaxation.
This time of year, The Cristallo is a winter paradise ski location, but for those non-skiers, it is a luxury haven resort that is also renowned for its world-class spa that includes everything from anti-jet lag facial treatments and Lomi Lomi massage, characterized by slow, winding movements that evoke the rippling of waves for long-lasting relaxation. The hotel is also located near the Olympic bobsleigh track for non-skiing thrill seekers. On the 18-hole golf course nearby, residents can enjoy a game surrounded by the breathtaking scenery of the Dolomites… although this time of year your golf ball would be lost in a blanket of snow.
Guestrooms at Cristallo Hotel Spa & Golf envelop guests in refined luxury, with sweeping views of the Valley d'Ampezzo, majestic mountains or picturesque woods. Five Royal Suites are dedicated to legendary guests from the past, including Frank Sinatra and Peter Sellers. The three hotel restaurants serve exquisite gourmet cuisine, combining traditional flavours from the many regions of Italy.
For more info visit: www.cristallo.it