Don't simply tolerate the holidays… rejoice!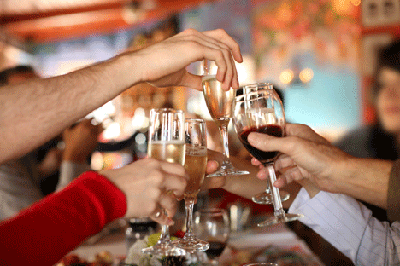 As I reflect in the trajectory of my life–the ups and downs, the people who have come and gone, the situations that gave rise to both personal tragedy and celebrations of victory, I cannot help but recognize the one thing that I know never changes: the human capacity – OUR ABILITY – to "arrangiarsi"; to make it though.
No experience is random. No person, place or thing that crosses our path comes without purpose; usually to teach us something we need to know, or to serve as examples of courage, inspiration, or even warning.
All in all, I look at the tapestry of my life and feel humbled. The parts that are shiny and new would not be as brilliant if they did not stand out against the duller, worn threads of my sorrows. I neither focus on one aspect nor the other. Both are important to a life well lived. The dark times teach me; the good times encourage me to go on.
Marco Aurelio said this: "Nothing can happen to any man which is not a human… nor to an ox which is not according to the nature of an ox, nor to a vine which is not according to the nature of a vine… if then there happens to each thing both what is usual and natural, why should thou complain? Nature brings nothing which cannot be borne by thee."
It is natural to feel blue during holiday times when we think of the loved ones we have lost, or the situations that did not work out for us. While it is important to remember those who no longer grace our holiday tables, those whose voices we can no longer hear, or whose eyes can no longer look back into ours in the flesh, it is also important to rejoice in the gifts that our losses have uncovered. We have the treasure of our memories, the personal development they inspired, the inner strength they have forced us to discover when we least believed we had it. Yes, we have the continued blessings of every day life.
I don't want you to simply "tolerate" the holidays, but rather, find that place in your heart that allows you to celebrate them and give special meaning to each and every day. You can begin by accepting and embracing ALL of the threads of your personal life's tapestry, and giving thanks for how both the ups and downs have shaped you into the wonderful human being you have become and will continue to be.
May joy be yours.
~Raeleen
---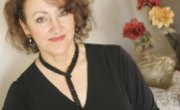 Dr. Raeleen D'Agostino Mautner is a self-help/personal development expert, speaker, certified Life Coach, Psychology Instructor, and Producer and Host of "The Art of Living Well", Connecticuts "hottest self-help radio show" on 88.7FM or streaming www.wnhu.net, Mondays 7-8AM. Mautner is the author of two books, including "Living la Dolce Vita: Bring the Passion, Laughter, and Serenity of Italy into Your Daily Life", has been quoted in many publications, including Family Circle and First for Women. She has written for Psychology Today, The Chicago Tribune, Quirks Market Reearch, The Italian Tribune, America Oggi, and Italian America. Dr. Mautner has made guest appearances on numerous national radio and TV programs. Her self-help blog has become a treasure trove of inspiration, motivation, and new ideas for living well.
---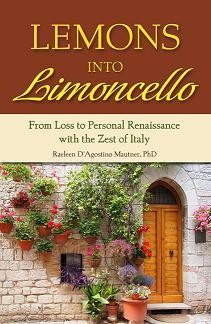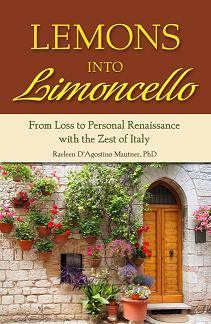 "Lemons into Limoncello: From Loss to Personal Renaissance with the Zest of Italy". This extraordinary book will help ease recovery and renewal for readers who are going through loss, change, or transition and is all about rebuilding your life following adversity. The cultural wisdom, comfort, and (extra)ordinary Italian lifestyle habits presented can help you re-establish your passion for living.
The book includes a high recommendation by Italia Living's Founder & Executive Director, Richard J. Michelli.