Celebrating its devotion to art, illy continues its Art Collection with a new range of cups and cans designed by American artist Kiki Smith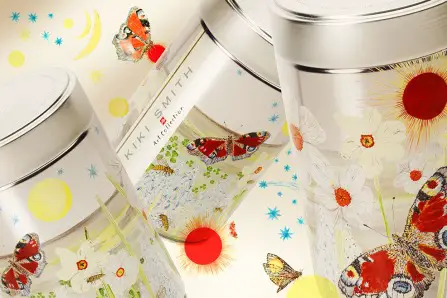 Flowers, butterflies, suns and moons adorn the new illy Art Collection designed by Kiki Smith, inspired by the natural charms of day and night.
The American artist's flowing, poetic images are beautifully expressed on the canvas of the illy cups and cans, reinterpreting the European decorative arts tradition of flower painting on ceramics with a fresh, whimsical twist. The fluid and fanciful designs of the Kiki Smith collection transform the simple pleasure of drinking a cup of illy into an even richer sensory experience, heightened by the visual and tactile aesthetics of contemporary art.
Kiki Smith (b. 1954, Nuremberg, Germany) is an American artist whose explorations of the human condition, the body, and the realms of spirituality and nature have resulted in works of exceptional power and beauty spanning mediums from sculpture and printmaking to installation, textiles, and glass.  Since 1982, Smith's work has been exhibited in nearly 150 solo exhibitions at museums and galleries worldwide and has been featured in hundreds of significant group exhibitions,  including the Whitney Biennial, New York (1991, 1993, 2002); La Biennale di Firenze, Florence, Italy (1996–1997; 1998); and La Biennale di Venezia, Venice, Italy (1993, 1999, 2005, 2009, 2011).
Kiki Smith lives and works in New York City.
To view the collection and purchase, visit: illy Art Collection