French luxury goods group Kering, puts Brioni growth in hands of experienced executive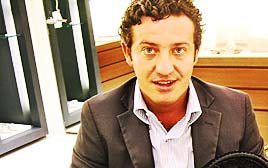 A new phase is on the way for Brioni with the arrival of Gianluca Flore in the CEO position as of 1st November 2014. The appointment was announced this week in a press release by the Kering group, which acquired the Italian luxury ready-to-wear brand at the end of 2011. Flore will replace Francesco Pesci who will take his career in a new direction, after having successfully achieved the integration of Brioni within the Kering Group. Gianluca Flore will report to Marco Bizzarri, CEO of Kering 'Luxury – Couture & Leather Goods' division.
As Brioni CEO, Flore is expected to continue to support the brand's international growth goals in the high-end menswear market.
Marco Bizzarri, CEO of Kering's 'Luxury – Couture & Leather Goods' division, declared: "I am enthusiastic about Gianluca Flore's arrival at Brioni. I am confident that his understanding of the luxury market and his knowledge of brand development overseas will be invaluable in perpertuating the success and international reputation of the house". He added: "I would like to warmly thank Francesco Pesci for his dedication to Brioni. The integration of the company into the Kering Group was a highly important mission and he accomplished it successfully. The brand can now enter a new phase of its development".
Gianluca Flore has been part of Kering since 2008, having most recently spent six years at Bottega Veneta. He started his career within the Group as president of the Americas region for Bottega Veneta. He was then appointed worldwide retail & wholesale director and Chief Executive Officer of the Asia-Pacific region. In this position, Gianluca Flore also managed worlwide retail training as well as worldwide store planning. Before joining the Kering Group, Gianluca Flore was president of Fendi Americas, from 2004 to 2008. From 1998 to 2004, he was president of La Perla North America, where he started his career in luxury. Prior to that, he was an auditor and financial adviser at Arthur Andersen. An Italian national, Gianluca Flore holds a degree in business administration from LUISS in Rome.