A gentleman's club escape for Italian fashion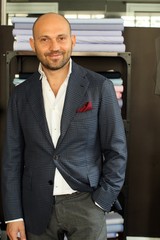 NEW YORK – Owner and designer Nedo Bellucci has brought a bit of old world to the island of Manhattan – creating an inviting menswear mecca set via an impressive three-floor 'palazzo' on 5 East 57th street.
A former corporate finance professional, Bellucci made a bold move, quit his job and moved to New York to bring his bespoke concept to life. With him, he brought several master Neapolitan artisans.
His company Bellucci Napoli makes bespoke suits, custom-made shirts and accessories for men which include ties, pocket squares, scaves and small leather goods. The concept is quite appealing to the Wall Street crowd – offer custom services, fittings and suit creation all under one roof.
Customers can browse roughly 3,000 fabric swatches and trims sourced from Naples, and begin their made-to-order process. Clients can see shirts and suits being made before their eyes by an artisan. 
The top floor is reserved as a lounge area, with a whiskey bar that serves complimentary drinks, additional seating and an outdoor terrace boasting a view of midtown. The 20th floor of the building is home to a VIP service area where new collections are shown, wine tastings are held and other intimate cocktails and events take place.
Two-piece suits generally range from $3,000 to $5,000, and shirts, including solid and patterned fabrics and contrast-color stitching, are $350–$700. Accessories, such as silk ties ($95–$230), leather bags ($1,200–$2,000) and Talarico wooden-handled umbrellas ($395–$600), which are exclusive to the store, are displayed throughout. You'll have your handmade goods in four to six weeks, following two fittings.
Visit their website at: www.belluccinapoli.com