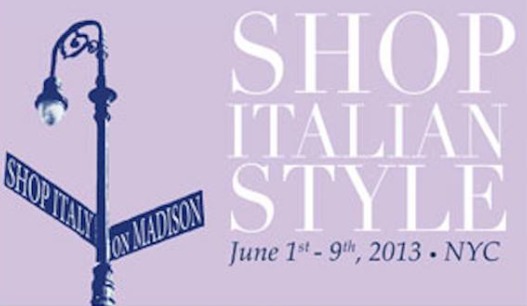 To celebrate and promote Italian fashion in New York City, the Italian Trade Commission would like to invite you to participate in SHOP ITALY on MADISON.
SHOP ITALY on MADISON, promoted by the Ministry of Economic Development and organized by the Italian Trade Commission, celebrates Italian quality and heritage with a series of consumer shopping events and promotions designed to highlight the sophisticated experience of shopping at Italian brand boutiques.
From June 1st to June 10th 2013, shoppers will experience all that the finest Italian retailers on Madison Avenue have to offer.  More than 25 leading Italian fashion, accessories and jewelry retailers will host a dynamic variety of in-store events, offering special deals, cocktails, promotions and activities for New York shoppers.
Schedule of events:
June 1st
– Davide Cenci from 2pm to 6pm
June 4th
– Beretta Gallery from 6pm to 8pm
– Claudia Ciuti from 2pm to 6pm
– Eredi Pisano' from 6pm to 9pm
– Fratelli Rossetti from 5pm to 7pm
– Geox from 2pm to 7pm
– Tincati Milano from 6pm to 9pm
June 5th
– Buccellati from 11am to 4pm
– Emilio Pucci from 4pm to 8pm
– Il Gufo from 4pm to 7pm
– Max Mara from 5pm to 8pm
– Michele Negri from 4pm to 8pm
– Paola Quadretti from 4pm to 7pm
June 6th
– Bellucci Napoli from 4pm to 9pm
– Brics from 4pm to 7pm
– Canali from 1pm to 6pm
– Dino Baldini from 4pm to 7pm
– Fabrizio Giannone from 2pm to 7pm
– Galo Shoes from 4pm to 7pm
– Giuseppe Zanotti from 4pm to 7 pm
– Pratesi from 4pm to 7pm
– Pravda from 4pm to 9pm
June 7th
– Brioni from 5pm to 7pm
– Monnalisa from 4pm to 7pm
– Sermoneta Gloves from 4pm to 7pm
June 8th
– Frette from 2pm to 5pm
– La Perla from 11am to 4pm
– Marina Rinaldi from 2pm to 6pm