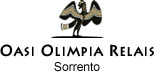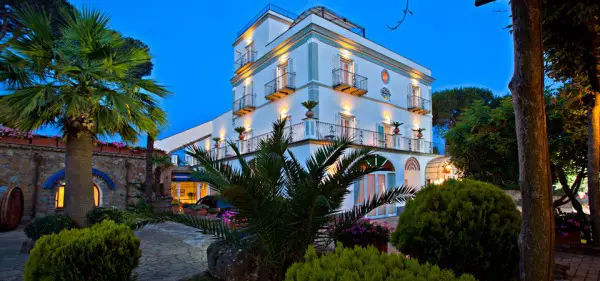 The cooking school "La Cucina Del Gusto" specializes in culinary vacations on the Amalfi Coast since 2002. It is a unique opportunity for food-lovers and even professional chefs who wish to discover the flavours of the Sorrento and Amalfi Coast wines and fine food.
The school is ideally situated half way between the territories of Sorrento and Amalfi, in the charming Village of Sant'Agata sui sue Golfi (Sant'Agata on the two Gulfs), so called this  because of its special geographical position which allows a view of the Gulfs of Naples and Salerno.
The school is set on the first floor of a skillfully renovated ancient colonial house erected in 1892, surrounded by a lush 22.000 mq Mediterranean Garden. The complex also comprises the stunning boutique hotel Oasi Olimpia Relais which boasts 12 truly charming rooms and suites, an indulgent panoramic pool and a fine Gourmet Restaurant.
La cucina del Gusto offers culinary packages combining life's great pleasures, food and travel, in a stunning and friendly Italian setting. The packages include delicious Sorrento and Amalfi Coast food, cooking classes with chef Carmen, private wine tastings, farmhouse visits, guided sightseeing of Capri and Pompeii, teamed with lazy afternoons by the pool and exploring the country side.
The courses are held in a superb kitchen specially designed to make your holiday a perfect culinary delight. The kitchen is equipped with every kind of kitchen tool, including an accessory set which is assigned to each student at the start of each course. The school is also equipped with an ample outside veranda for enjoyable breaks during the course. The classes are limited to a maximum of 12 participants working around an ample granite bench.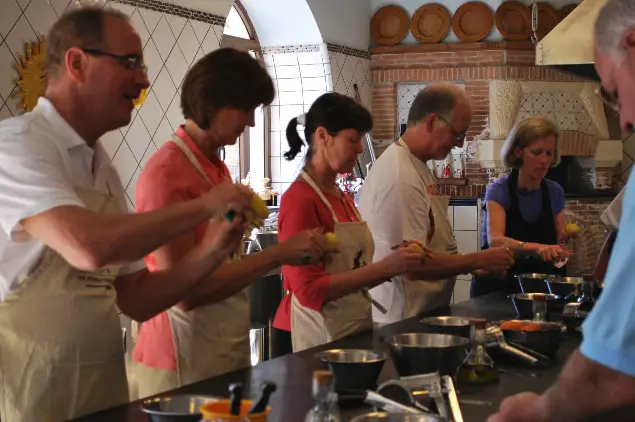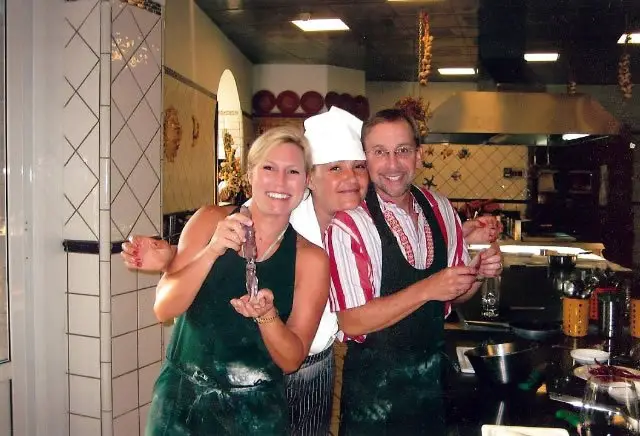 The ingredients such herbs and vegetables used in the fabulous dishes you will prepare come prevalently from the estate's surrounding garden. Students may also participate in picking and collecting the vegetables and have the certainty of always utilizing and eating 100% organic ingredients.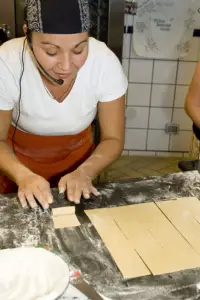 Your teacher at the school will be Chef Carmen Mazzola, a passionate cook since the age of 14, when she would spend a large part of her time, in the kitchen with her mother. Her imagination and passion for the Italian cuisine renders Carmen a fantastic chef. Through her lessons, you will learn the secrets for the preparation of typical southern Italian and Sorrento dishes such as, gnocchi, stuffed Napoletan style squid and artichokes. Chef Carmen will personally take care of the programme to guarantee a pleasant and most memorable stay.
Indulge yourself in the divine Amalfi Coast. "La Cucina del Gusto" and chef Carmen are yours alone for your stay.
For more info visit: www.oasiolimpiarelais.it

Also: Amalfi Cooking Vacations